by jazzcat on Jun.20, 2008, under Events, News


LeRoy Downs will be the host at the
Hollywood and Highland Jazz Series

June 24th
7:00 PM – 9:00 PM

for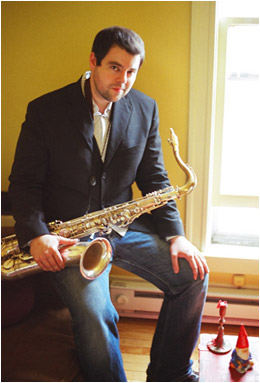 Frank
Catalano
Right place at the right time? Absolutely. Luck? Definitely. But after Frank
Catalano stepped in for a no-show tenor sax during jazz organist Charles
Earland's set at Andy's Jazz Club in Chicago (a club the then 17-year-old
slick-talked his mother into taking him to) it wasnt luck that made him the
youngest solo artist signed to the legendary Delmark label, a tour buddy of
Tony Bennett, a U.S. Patent-holding sax innovator or the youngest saxophonist
ever voted into the DOWNBEAT Critics Poll.
Catalano, who bought his first sax at 12 with the money he saved mowing
lawns, is a member of a small, but exclusive club: young musicians who have
experienced and worked with the greatness of people like Charles Earland, Tony
Bennett, Von Freeman and Randy Brecker. At only 28, his experience –which
includes a degree in classical composition from DePaul–fused with and a raw,
natural talent create a saxophonist with missile-speed fingering and a unique
styling that has attracted even the likes of Santana, whom he toured with at
the ripe age of 18. Stars like John Legend, Jennifer Lopez and Destiny's Child
all have invited Catalano to contribute to some of the top albums of the past
12 months, including Maurice Joshua's remix of John Legends Grammy
award-winning song Ordinary People.
Luck works in strange ways. At 16, while messing around with the engine of a
72 Beetle in front of his mothers house, Catalano severed off his right, middle
finger. A career ending move? It could have been. But after reconstructive
surgery, Catalano forced his hands to relearn technique, skill and artistry. He
triumphed a glistening musician and signed with Delmark to record his first
solo album, Cut it Out with trumpeter Ira Sullivan at only 19.
Catalano's tinkering with machines has a more musical bent now. While
recording with Ministry in 1999, Catalano was inspired by the bands use of
sampling and engineered a unique sampling keyboard attachment for the
saxophone. His device was patented on Dec. 11, 2001, coincidently on the
two-year anniversary of his mentor Charles Earlands death.
Catalano's performances both live and recorded are electric. His Delmark
solo albums include You Talkin to Me?!, which features a tandem tenor session
with Von Freeman, and Live at The Green Mill with Randy Brecker on trumpet.
Over the past ten years he also has worked with Louie Bellson, Tito Puente,
David Sanborn, Betty Carter, John Medeski and DJ Logic.
Catalano's sax-man days began at age 10, after a local music store held an
assembly at his school. He chose the sax because to his 5th grade eye "it
looked cool and it only cost $4.00 a week to rent." Catalano believes that
children come to music for as many reasons as there are children, and is
committed to contributing to that process. A Chicago native, he volunteers for the Off the
Street Club, running the after school jazz program, and is the artist in
residence at College of Lake County.
Catalano is a busy man. His latest release on Bright Records, Mighty Burner,
is due out in the U.S.
on May 30. Overseas response to the recording has been hot and DOWNBEAT has
referred to Catalano as full throttle front and center, a modal rocker that
suggests John Coltrane energy in the 21st century."
He is a contributor to WBEZ Chicago and recently participated in the IAJE
(International Association of Jazz Educators) in New York, where he conducted a clinic on
"Sax and Drums." Frank can be heard regularly at Chicago's Green Mill. Catalano is a
spokesperson and performing artist for Yamaha and Rico and is featured in their
international advertising programs.
If you ask Catalano when and how he knew that music and the saxophone were
going to be his life, hell pause, and then hell tell you, "Around 17, I
guess. People just kept saying that this is where I should be. I was already
making a living as a sax player by then. It's what I do." Lucky thing, for
us.
Click Banner at the top for entire series

:Jazz Event Calendars for 2009, Upcoming Performances