by jazzcat on Jul.13, 2006, under News

Slide Show
Tonight is the CD release party not only for an extraordinary player, but also a dear friend. John Rangel and I have history. This is the cat who answered all my jazz questions when my knowledge was a bit lighter on the subject. Yes, there was a time when the Jazzcat had to look to his musical elders for advice and John was there. I joke about him being the elder because his birthday is one day before mine. We are magnificent Taurians conquering the world of jazz music by all dimensions!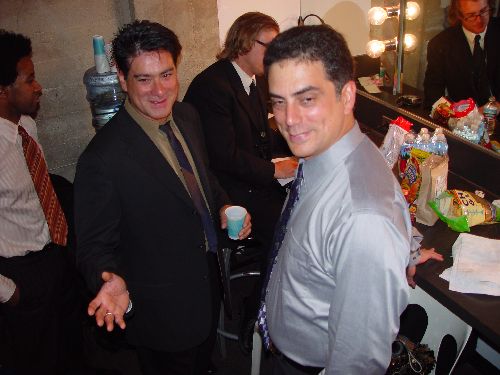 John was always pulling music from his library and saying, "Hey man, did you check this out?" He was always up on the new and the old. I told him I heard this guy named Sean Heikemper on the radio today and he sounded terrible. If they let him have a show on the radio, I cannot be denied. So, John and I put a demo tape together for me and the next thing you know, LD is on the radio killin' em! So now, when I look back on the "Pages" of my jazz evolution, I see the man I call Big John–John Rangel. I finally got my chance to say, "Hey man, check this out"!
Well, now it is time for you to "check out a new one!" It has been quite some time, but many people have been waiting for John to put out a disc of his music. He is not a newcomer to jazz music by any means. This cat has been shedding for more than 20 years and his skills, along with the players he has worked with, has amounted to a giant mass of intellectual musical matter. John is a thinker, a planner and a contemplator of philosophy. He knows the time and when he listened to the words of Thelonious, "Pages" was the result!
"Pages" is an album of all original music, which is quite a statement for a first CD. His confidence behind that cool, calm, humble demeanor suggests that his compositions stand on a solid musical foundation of their own, with no need for the classics and standards to support his claim.
John's spirit is full of love, humor and serious introspection. You can hear those aspects in how he composes. There is no doubt that the many sides of the man are revealed by his music. Influenced by many masters yet sounding so naturally authentic, John and his quintet drive through each piece, stopping for all red lights, signaling for right turns and obeying all the laws of the road. Swinging around curves with an energetic bounce and keeping time to a Joe LaBarbara backbeat.
On stage tonight are a few cats that John has had some long-time relations with as well as a few who are more recent members of the musical clan. Larry Williams has known and played with John for eighteen years. No need for me to tell you the telekinetic symbiosis that exists there. On saxophone and bass respectively, Rick Keller and Edwin Livingston represent the newest additions to the music. Then there's everyone's favorite drummer Joe LaBarbara, who has got more rhythm in one hand than the average cat has in his entire body.
John thanks Ruth Price of the Jazz Bakery, as well as all of the producers, engineers, artistic creators and musicians whose love, support and understanding of the concept made it all happen. Tonight was John's 15th anniversary with the woman who has been right there through it all, Barbara Bentree. Special love goes out to her through a tune written especially for her called "Birthday". You know that there has got to be love if she let John have a performance on their 15th anniversary instead of a nice dinner and flowers–unheard of in the world of feminine law. But, I guess since they make the rules, they can bend them.
Having that kind of love and support are key ingredients for creative thinkers. It enables one to concentrate, focus and transcribe God's creative messages with peace and clarity. "Inside a Memory" is a tune that does exactly that. Its romantic beauty ponders afternoon walks, planting gardens, outdoor cafés and playing with Angel (the dog). Precious!
John is a brotha who listens to you, to the music, to the cacophony in the silence of space and time, comprising all of the cerebral elements of the "Cosmic Mind". Bassist James Leary steps in to play the tune "Bonus," which he performed on the album.
Placement and phrasing are crucial for setting the mood and making a statement. There are questions that we as humans ask ourselves everyday. John speaks through his piano in search of the "Why" in life and in the music. The conclusions are often different, but this journey is a magical one deep inside the rivers you have known. In the reverberation of the silence lies the answer.
John Rangel is a man of his word, his music, his mind, peace and love. Enjoy the music of the "Pages" of a man's life, John Rangel.
LeRoy Downs