by jazzcat on May.20, 2005, under News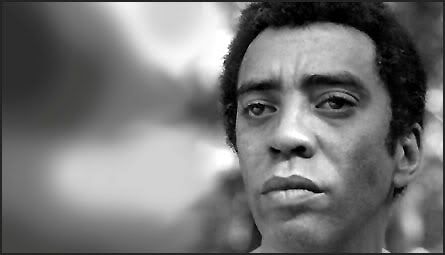 Oscar Brown Jr. RIP
Oct. 10, 1926 – May 29, 2005
Industry attorney Jon Waxman reports to us that Chicago native, legendary singer/songwriter, playwright, and true American musical treasure, Oscar Brown, Jr., is in intensive care at St. Joseph Hospital in Chicago. The 78-year-old veteran entertainer was recently admitted to the medical facility in severe pain and reportedly has suffered paralysis to both of his legs. Brown underwent successful 14-hour emergency surgery on Monday, May 16th to stop the spread of an infection in his lower spine. He is presently listed in stable condition recovering from the surgery, however, his prognosis remains uncertain as of this time.
Oscar Brown, Jr. is hailed as a cultural icon and Civil Rights activist, noted for his classic compositions including, The Snake, Signifyin' Monkey and his lyrics for Miles Davis' All Blues, Bobby Timmons' 'Dat 'Dere, and Nat Adderley's, Work Song. Early in Brown's career, he hosted Steve Allen's Jazz Scene USA and the PBS series From Jump Street/The History of Black Music. Brown has mentored several aspiring young performers and in 1968 hosted a Gary, Indiana talent show that led to his discovery of The Jackson Five and singer/actor Avery Brooks. In 1969, Brown is credited for rewriting the comedy production Big Time Buck White, and his musical version of the show was presented on Broadway, featuring former heavyweight champion Muhammad Ali in the lead role.
The Brown family requests "Prayers" from his Global family at this time and will provide a formal statement following his recovery period. For information about Mr. Brown and to send to him any personal messages you may have, please visit his web site at http://www.oscarbrownjr.com, which will also accept messages for Oscar. Good wishes from all of you will go a long way to help aid in his recovery.
:
Jazz Heaven