by jazzcat on Apr.27, 2011, under Events
1st Annual KPFK Hero Awards and Tribute: Billy Higgins@Catalina's 05.01.11
By George W. Harris
I'm not sure which was more crowded at Catalina's, the floor filled
with tables of well-heeled jazz devotees, or the stage with musicians
whose lives were touched by the musicianship and friendship of the late
Billy Higgins, the subject of KPFK's tribute. Hosted by the indefatigable
team of LeRoy Downs and Mark Maxwell, and directed by pianist John
Beasley, the 3+ hour musical extravaganza included auctions, video,
taped and written tributes by fellow musicians, and a rotating concert
that appealed to every musical taste.
Presentations included a video tribute by Cedar Walton, a call in by
Bobby Hutcherson and an email from Ornette Coleman, while the music
focused on the friendship and inspirational encouragement provided by
the respected drummer. John Beasley commented how Higgins told him,
"you've got to smile more often," while pianist Eric Reed reflected that
he was taught that "It's your job to make everyone else sound good."
Musically, it's pretty hard to beat having Charles Llloyd delivering
an a cappella reading, or delivering a duet with drummer/vocalist John
Densmore. Vocalist Kamau Daaood delivered an inspiring poem about
Higgins, mixing names of drummers with quotes from the Bible, while
Smitty Smith laid down some serious stick work. It was definitely a
night for drummers, as Clayton Cameron elicited some astonishing
brushwork supporting Kenny Burrell, Reed and Trevor Ware on a pair of
scintillating tunes dedicated to Higgins. Reed's piano work got the
crowd into a Pentecostal mood with some spirit filled chords.
The front line of Charles Owens/ts, Phil Ranelin/tb and Richard
Grant/tp delivered some classic hard bopping in front of Smith's shuffle
rhythms, preceding Will Calhoun, who mixed his synthesized djembe an d
synthesized flute with an avalanche of drumwork behind the traps.
Beasley and Daaood joined into the excitement, with some of the
adventurous spirit creating some of the most outside music of the
evening.
George Duke teamed up with Stanley Clarke and drummer Ronald Bruner
Jr for some catchy fireworks, particularly on a dreamy take of "Autumn
Leaves,"while vocalist Dwight Trible followed by joining with Beasley,
Ware, Dextor Story and Leon Mobley for some musical exuberance. Mobley's
riveting solo spot lead into a collective jam with just about everyone
from the preceding hours, making a perfect cherry on the top for a
delicious Sundae performance. If this is the portend of events to come
from KPFK, count me in!
Jazz legends Charles Lloyd, George Duke and Stanley Clarke headline
this all-star line-up of performances celebrating Billy Higgins and
benefiting Pacifica Radio KPFK.
Billy Higgins
Click either picture above to purchase tickets
$75 General Admission:
$125 Admission and VIP Reception: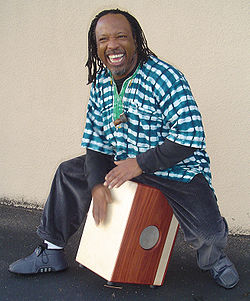 Including performances by
Clayton Cameron, John Densmore, Poncho
Sanchez, Leon Mobley,
Kamau Da'ood, Dwight Trible, Will Calhoun, Phil
Ranelin
and featuring John Beasley, Musical Director.
April 5, 2011 – North Hollywood, CA. KPFK
90.7 is Pacifica Radio for Southern California, known for its mission to
further peace and social justice and to uplift the community and
celebrate excellence through music and the performing arts. This
commitment is further realized through the launching of the 1st Annual
KPFK Hero Awards and Tribute Concert on May 1, 2011 at Catalina Bar and
Grill, 6725 West Sunset Blvd., Hollywood California 90028. The event
will begin with a VIP reception at 5:30pm followed by a Musical Tribute
that starts at 7:00pm. This groundbreaking and long overdue celebration
of the life and work of Billy Higgins has prompted an outpour from other
legendary Jazz icons who will come together on stage and perform to
celebrate Higgins' legacy. The concert line-up includes such greats as
Charles Lloyd, George Duke, Stanley Clarke, Clayton Cameron, Poncho
Sanchez, John Beasley, Leon Mobley, Kamau Da'ood, Dwight Trible, Will
Calhoun, Phil Ranelin, Charlie Haden and many other special invited
guests. John Densmore, one of the founding members of the Doors, will
also be on hand to dedicate a poem to Billy.
The entire night will be
hosted by KPFK's own Mark Maxwell and TheJazzcat.net personality LeRoy Downs.
KPFK DJ Carlos Niño, host of Spaceways Radio, will spin during the VIP
reception.
The KPFK Hero Awards and Tribute is the result of a heartfelt on-air
discussion between Charles Lloyd and KPFK Music Director Maggie LePique
about Billy Higgins. During this conversation, LePique realized that we
were nearing the 10th anniversary of his death and thought how relevant
it would be to celebrate his life and body of work. She enrolled Kasey
Lovelace, Music Consultant and friend of the Higgins family to develop
the idea into a full-scale event. Catalina Popescu, owner of Catalina's
Bar and Grill, honored her long-term friendship by donating her world
renowned venue for the salute from Higgins' esteemed contemporaries. All
instruments donated for the performance will be given to The World
Stage as a gift in honor of Billy Higgins.
Higgins, from Los Angeles, played on Ornette Coleman's first records,
beginning in 1958. He then freelanced extensively with hard bop and
other post-bop players, including Donald Byrd, Dexter Gordon, Joe
Henderson, Milt Jackson, Jackie McLean, Pat Metheny, Hank Mobley,
Thelonious Monk, Lee Morgan, David Murray, Art Pepper, Sonny Rollins,
Mal Waldron, and Cedar Walton. He was one of the house drummers for Blue
Note Records and played on dozens of Blue Note albums of the 60s. On a
whole, he played on over 700 recordings, including recordings of rock
and funk. In 1989, Higgins co-founded a cultural center, The World
Stage, in Los Angeles to encourage and promote younger jazz musicians.
The center provides workshops in performance and writing, as well as
concerts and recordings. Higgins also taught in the Jazz Studies program
at the University of California, Los Angeles.
KPFK 90.7 FM is a member station of the Pacifica Radio network,
established in 1949 by peace activist Lew Hill in Berkeley, California.
The Pacifica network consists of five radio stations throughout the
country: KPFA in Berkeley, CA; KPFK in Los Angeles, CA; WBAI in New
York, NY; WPFW in Washington D.C; and KPFT in Houston, TX. In addition
to the active radio stations, there are over 100 affiliate stations
around the country and abroad and the Pacifica Radio Archives,
preserving the voices of artists, activists and progressive journalists
since 1949. www.KPFK.org<http://www.kpfk.org/>; www.Pacifica.org<http://www.pacifica.org/>
:Billy Higgins, KPFK 90.7 FM, KPFK Hero Awards Tribute to Billy Higgins