by jazzcat on Apr.10, 2011, under Events, News
Afreecanos Quintet

Omar Sosa
Saturday, May 14, 2011
The Getty Center
Showtime: 7:30 PM
1200 Getty Center Drive, Los Angeles
Showtime: 7:30 PM
Tickets: $20, $15 students/seniors
For tickets, please visit www.getty.edu, or call 310-440-7300
Five-time GRAMMY-nominated Cuban composer and pianist Omar Sosa brings his unique style of Afro-
Cuban jazz to The Getty Center on Saturday, May 14. Omar Sosa continues to explore the African roots
of traditional music throughout the Diaspora, using modern jazz harmonies and the latest audio technology.
Sosa's new Afreecanos ensemble features noted percussionist and educator, John Santos, drum-&-bass
pioneer, Marque Gilmore, Mozambican electric bassist and vocalist, Childo Tomas, and New York-based
saxophonist and flute player, Peter Apfelbaum. The ensemble fuses the folkloric with the contemporary, the
ancestral with the urban – all with a Latin jazz heart.
featuring percussionist John Santos and saxophonist Peter Apfelbaum
Omar Sosa's musical trajectory has taken him from Camagüey and Havana to touring in Angola, the
Congo, Ethiopia, and Nicaragua in the 1980s; to a sojourn in the African-descent communities of Ecuador
in the early 1990s; to an extended presence on the San Francisco Bay Area Latin jazz scene; to his current
engagement with artists from Spain, France, Brazil, Cuba, the United States, and several North, West, and
East African nations. His career embodies the expansive outlook of a visionary artist who has taken Monk's
uncompromising spirit to heart, while working ceaselessly to craft and project a unique cosmopolitan voice.
Howard Reich of the Chicago Tribune has commented that "Cuban pianists often tower over their peers.
But within this elite class of pianists, few have been more stylistically adventurous than Omar Sosa.
Though deeply schooled in jazz improvisation techniques, Sosa always has pushed beyond jazz orthodoxy.
At his best, his art encompasses a remarkable range of influences: European symphonic repertoire,
religious music of Gnawa, traditional sounds of Senegal and other far-flung idioms have coursed through
his work. All of which piques one's interest in his newest ensemble, Afreecanos."
Four-time GRAMMY nominee, John Santos, is one of the foremost exponents of Afro-Latin music in the
world today. He is known for his innovative use of traditional forms and instruments in combination with
contemporary music, and has earned much respect and recognition as a record and event producer. He
has performed, recorded and studied with acknowledged masters of the Afro-Latin and Jazz idioms such
as Cachao, Dizzy Gillespie, Tito Puente, Lazaro Ros, Armando Peraza, Eddie Palmieri, Patato Valdés,
Francisco Aguabella, Orestes Vilató, Rene López, Max Roach, Batacumbele, Steve Turre, John Faddis and
Chocolate Armenteros. This experience has provided a solid foundation for Mr. Santos' current ground-
breaking work in bringing together styles, rhythms, concepts and artists from different generations.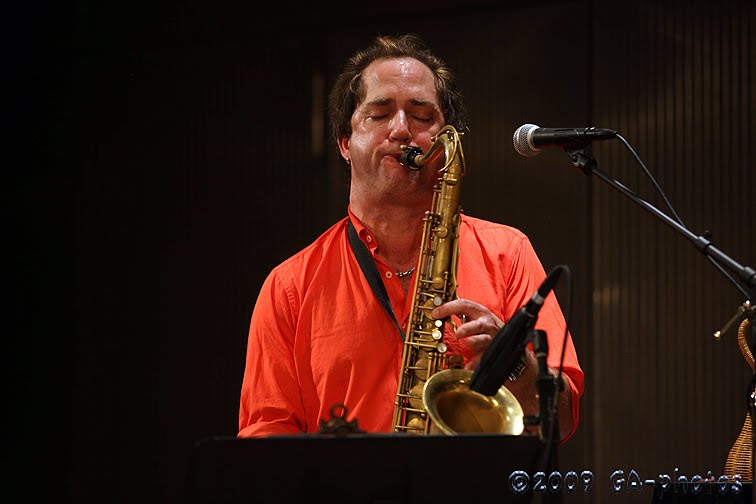 Originally from Berkeley, CA, multi-instrumentalist Peter Apfelbaum has been an influential figure in
new jazz for over two decades. While still in high school in 1977 he formed the Hieroglyphics Ensemble, a
14-piece big band which helped launch the careers of Joshua Redman, Benny Green, and Steven Bernstein,
and often featured legendary trumpeter Don Cherry, whose Multikulti group Apfelbaum toured with
extensively in the late '80's and early '90's. Now living in Brooklyn, NY, Apfelbaum formed the New York
Hieroglyphics in 2003. He has also worked with Cecil Taylor, Harry Belafonte, Nana Vasconcelos, Phish,
Dafnis Prieto, Josh Roseman, and the Kronos Quartet.
Drummer Marque Gilmore is a founding member of New York City's Black Rock Coalition, and pioneer of the
New York and London live drum-&-bass scenes. He has worked with an international array of artists, including
Joe Zawinul, Steve Coleman, Gonzalo Rubalcaba, and innovative musician-historian Cheick Tidiane Seck.
Marque is acclaimed for his multimedia performance project, DRUM-FM, and his recent remixes of tracks from
Omar Sosa's CD Mulatos are featured on the new Mulatos Remix CD.
In addition to the electric bass, Childo Tomas sings in his native Mozambican language of Ronga, and
plays m'bira.
New Omar Sosa solo piano CD, Calma:
Released in March 2011, Calma is Omar Sosa's fifth solo piano recording, a work of singular artistry,
featuring Omar's unique and original approach to the genre. The CD is comprised of 13 solo piano
improvisations, fusing stylistic elements of jazz, classical new music, ambient, and electronica. As the title
implies, the overall feeling is relaxed and introspective, without any attempt to impress technically. Rather,
the intent is to evoke a mood of reflection and contemplation.
As Omar describes: "Each song is an inspiration for the next, and improvisation is the basis of the musical
expression. I wanted to play from beginning to end without thinking – just feeling where each note would
take me, following the voice of my soul. It's possible that silence, yearning, hope, optimism, and sadness
all travel hand-in-hand in many of the songs".
Omar's unorthodox harmonic sensibilities are evident throughout Calma. We hear surprising harmonic
turns, with sonorities blending and resolving in unpredictable ways. And Omar's subtle and integral use of
the electronic elements lends a layer of sonic richness and depth to many of the tracks.
Rhythmically, the feeling of the CD is unhurried and meditative. Sensations of floating and suspension of
time prevail. And melodically, the thematic material on Calma is quiet and restrained. We can imagine the
melodic sensibilities of Erik Satie meeting those of Pierre Boulez.
To schedule an interview with Omar Sosa, or for CDs, photos, press package,
posters, or additional information, please call Scott Price at 510-339-3389, or email
scott@melodia.com, or visit www.melodia.com.
:
Upcoming Performances