by jazzcat on Oct.10, 2008, under News
Back in the city of brotherly love. The jazz festival is next week but I am here seven days early to take it all in before the festival starts to add more light, love and musical beauty to the city!
It is hot and muggy but the nighttime is a wonderfultime to take long walks and check out what is happening in downtown Chicago. One thing that I notice is that jazz music is celebrated everywhere. I look in the window of McDonalds and saw a picture of Wynton, Bird and Diz are on walls of Dunkin' Donuts, Kinkos, galleries and the music at the grocery stores, where ever I go jazz music prevails as the norm! Jazz clubs are vast throughout the city and the music is spilling into the streets on any given night.
On one of my walks north through the city, just around the corner from the famous "Andy's Jazz Lounge" is the Jazz Record Mart, holy cow Batman, an entire store dedicated and decorated wall to wall with jazz CD's, albums, posters, vinyl, 10-inch vinyl, you name it and if it is about the music, you will find it here!
Sitting in the back very nonchalant is Bob Koester who has owned this jazz business for some 56 years. The store has been in different locations and has gone through a few different name changes but has been standing strong for decades in this particular location on the corner of Wabash and Illinois. Bob is not only the owner of the record store, he also owns Delmark Records, a well known Chicago jazz label that has been instrumental in recording some of the more outside than in creativity around Chicago. AACM cats like Muhal Richard Abrams, Fred Anderson, Corey Wilkes, Ari Brown, Khalil' El Zabar, Nicole Mitchell and so many other wonderful artists that I am going to have to hip you to. For those of you who already know, I can't tell you how noble it is to have had the foresight to record such forward thinking music back in the day because with the commercialism of today, the world would never know it.
Bob mentioned to me that the great Julian Priester would be performing at Fred Anderson's Velvet lounge tonight so, guess where I am now! Julian Priester, man I could not even imagine. I have never seen him live and I am pretty excited because he is one of those guys that I play on my radio show but only really recognize from the sound and his picture on the CD cover. I missed out on so many heroes of the music simply because I did not arrive on the planet soon enough so it is always great to discover that he and many other cats are still doing their thing. It is also wonderful because you don't hear about many of these Chicago cats on the West Coast. I will certainly do my part to bridge the worlds of the music.
Click Pictures  to listen to interviews with Julian Priester and Fred Anderson
I got a chance to meet Fred Anderson and Julian both of whom I scheduled interviews for my weekly "Live with the Jazzcat" show! The last time I was here in Chicago I stopped by the Velvet Lounge and the jam session proved to be quite the killer hit! Before the hit began, the sounds of Trane bless the walls of the Velvet. It's almost like we must get baptized and purified before we indulge in some deeply rooted South Side Soul!
Mike Reed is the Drummer and the leader of this octet which features Jason Roebke on bass, Greg Ward on alto, Jim Haldeman and Ira Sullivan on tenor, Art Hoyle on trumpet and flugelhorn and Jeb Bishop and Juliann Priester on trombone. Mikes concept behind this band is to pay respect to the musicians who recorded and were hittiin' on the scene from the period of 1954 to 1960 and Art, Ira and Julian were there then and are "hear now", still doin' it!
These cats have been working on this music and this concept for a couple of years and the absence of piano is not missed as the bass and drums hold down the rhythm while the heavy brass provides the hamalodic electricity! The entrée for the evening is "Horn Heaven", a medley of brass beauty all over a bed of percolating rhythm!
"The Sound of Joy", a Sun Ra piece that definitely describes the feeling of he music. The way these cats all hold one note is like the sound of a Trane approaching. Each member contributes their own compositions and he music is worked out right there on the spot. Fresh music all in preparation for the big gig the next evening at the Jay Pritzker Pavillion in Millennium Park all as part of a series of pre-Chicago Jazz Festival music events.
The City of Chicago and the Mayor's office is to be extreeeeeeeemly commended for all of their dedication to the music and arts that happen in this town that are provided as a free service to the people of Chicago. Yes, I said FREE! Even with a government run by selfish idiots who have not regard for the people for whom it is suppose to represent, here is a Mayor who insists on having art, music, flowers and spotless streets be a staple for the people he represents. A fertile environment for the growth of well-rounded beings and presidential candidates!
After a wonderful night in the park Joel Siegal, another significant jazz icon on the Chicago music scene opened up his legendary jazz club "The Jazz Showcase" for free in its new location in the Printers Row district on Plymouth Court and Dearborn in downtown Chicago. It was a little light in attendance tonight for the jam session but soon to be thriving with patrons as the week of the jazz festival approaches.
On September 3rd there was a tribute to one of the great Chicago horn players Johnny Griffin who just recently got his wings. Players like Ira Sullivan, Benny Golson and a host of other cats who have unselfishly given their lives to the music were all in attendance. I had to roll out before that one but I am sure that it was a special evening. Ira was happy to be there and he said that Joel has been booking him at the Showcase since he was 17 years old.
On Tuesday evening I had a conversation with Chicago Jazz Legend Fred Anderson. He spoke of some of the history of the jazz here in Chicago with people like Louis Armstrong and Charlie Parker who were his idols and other legendary tenor players like Johnny Griffin, Gene Ammons, Von Freeman, himself and the great Sonny Rollins who spent a part of his life in Chicago and in 2 days would return to bless the city with a free concert to kick off the beginning of the Chicago Jazz Festival.
After our interview I headed down to the UIC, the University of Illinois at Chicago Student Forum to check out an African Soul Jazz Tribute to the Godfather of Soul, James Brown. Chicago trumpeter Corey Wilkes opened up the show with his 9 piece band playing some of the music of James Brown and a few from his brand new one on Delmark Records, "Drop It"
Corey even had dancers as a part of his performance dressed up and tossin' rhythms in full on African paint and apparel; one of them was his wife!
During the set change, Executive Director of the Chicago Jazz Institute Lauren Deutch and her associate gave out Walter Diet Lifetime Achievement Awards to a few of Chicago's musical educators of the music. Dyett was known to be very strict in his banishment of the word "Can't" from the vocabulary of his students and he did not want the young musicians jamming until they knew all of the proper facilities of their instruments. Bob Koester of Delmark Records was there and was also honored for his dedication to the music. He said "I went from ornery to honoree" and took home a well deserved award for all of his hard work and continued dedication to the music.
Soul, soul, soul and on the funkiest side for the Godfather! Lots of rhythm, lots of blues but, and African influences but when Roy Hargrove hit the stage, you better git ready for "The Big Payback!"  The show's structure was a little shaky but when they started rollin' many of us got up to get down!
On Wed there was a tour of the jazz clubs around town. Open-air trolleys serviced the affair and swept us off north to south to visit all of the clubs in the city. I know it is impossible to see everything and I spent more time on the trolley than actually checking out the music but I did get around to a few clubs that I have not been to before. I say the evening was quite a success. Most of the clubs were crowded with patrons and hopefully some of the people will come back to frequent them.
FLAshing ligHTS! It is the kick off of the 30th Annual Chicago Jazz Festival and Sonny Rollins hits the stage with a camera flash frenzy down in the pit and throughout the entire audience at the Jay Pritzker Pavilion at Millennium Park, a spectacularly gorgeous Frank Geary musically architectural creation. The park is well attended which is what the Jazz Institute of Chicago, the sponsors and everyone involved was hoping for.
I always profess how important it is for everyone to step up and support the music. Sonny Rollins should be a no brainer and the economy is no excuse for a concert that is absolutely FREE, but you never know. The Jay Pritzker Pavilion can hold about 11,000 plus patrons with chairs and grass to picnic on and Chicago showed up in full force! The Chicago Jazz Festival has been one of the very few jazz festivals that has remained free over the years due in large part to the dedication of the sponsors as well as the mayor's office who have remained and continue to be an integral force, foundation and support for music and arts in the city.
The weather is perfect and Sonny does not waste precious wind on words but the deeds of beautiful tone, full round sound and a melody that ascends and astounding musical precipitation abounds. I have heard Sonny only a few times in recent years and this is one of the best performances that I have seen. The universal language of music, love and happiness swirl in the air as Chicago inhales its fragrance. Legendary status, masterful music and cerebral parallels of a time spent on a bridge brings history and the present to the cross roads of resilient times and good fortune making life's journey a pleasant recollection.
"They Say That Falling in Love is Wonderful" is something that the crowd certainly takes to heart especially when experiencing the "Sentimental Mood" of Sonny's rendition of the classic Ellington-Strayhorn compositions. There is plenty of room for all of the cats to lay down some sweet melody. Bobby Broom is lickin' it up, Bob Cranshaw is taking the bottom to the top, the young Chicago drummer ———- is ting tinging the symbols in time and nephew Clifton Anderson complimenting the tone on bone all adds up to sinfully delicious Sonny soup!
7:00am Flight 127 destinations "Motor Citay"! Yes off to Detroit for a day for the opening of the 29th Annual Detroit Jazz Festival. I was backstage at the Hollywood Bowl after a Cassandra Wilson concert and was speaking with Don Lucoff of DL Media. I told him I was on my way to Chicago and he invited me to drop in on Detroit, an offer that I could not refuse. Four days of exciting jazz music starting off with my peeps Dianne Reeves and Christian McBride. This is another entirely free Midwest jazz festival with many thanks to the generosity of the Carhart Corporation.
I was greeted by Detroit native and world renown on the scene jazz aficionado Dr. Jazz. We scooted through downtown on a four-seater cart, threw down at the Hard Rock and hit the VIP party just before the kick off!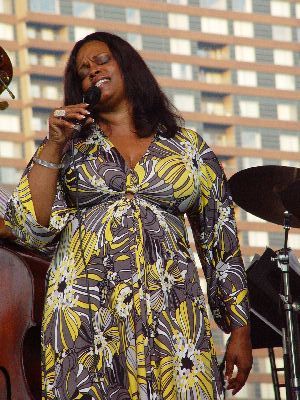 Dianne just arrived from Denver where she was up most of the night hanging at the biggest, most optimistic party that this country has ever thrown, Obama's acceptance of the Democratic candidate for the President of the United States! After all of the emotion and excitement of a chance make this country and world a much better place for all, she is here and filled with new exuberant desires that are certainly expressed in the music. At every point in history the political status quo as made its way into the music and can we as artists, businessmen and women, lay people feel this change in the air? "YES WE CAN!"
She performs tunes from her latest disc, "When You Know" and the sentiment of her spirit and vibrant personality along with an optimistic confidence has everyone really knowing that we do. At a few points in the performance, the audience sang and substituted "O-BAM-A" for the hook in the harmony of "What's Going On". She always reminds people that stories are the fabric of our lives and today, on the heels of an incredible moment in history, is a true American story that will soon be an enlightening reality, a sigh of relief and a breath of the freshest air. We are acquiring a fixer that we did not get a good deal on but, after a few years of clean up, repair, restructuring and some paint, our investment will reap great dividends!
Christian McBride is in the house and he is doing it big as he and a cast of others, give tribute to the great Marvin Gaye. He brings his quartet, and 11-piece horn section, vibes, percussion and of course what would a tribute to Marvin be without vocals to take it to the Grapevine! Jose James, Rashan Patterson and Lala Hathaway take us through their versions of the classic Marvin signature songs, "Trouble Man", "What's Going On", "I Heard it Threw the Grapevine", "Hitch Hike", "Makes Me Want to Holler" and all of the emotionally poignant songs that have forever remained prevalent to modern days and times.
This very cool cat was the host for the show and his exuberant narration added insight into the trials and tribulations of Marvin's personal life and strife that made us feel the music of the artist who lived the life.
A quick but, sweet hit in Detroit and a hop back to Chicago for more of their festival. A man can only do so much but it's do or die. I know it is not possible to do it all but, I am on a roll and the music will not let me stop!
On Saturday I got to Petrillo Shell in Grant Park to only catch the last few notes of the Pharez Witted Sextet but just in time to check out a pianist I have been waiting to see, Vijay Iyer. I am so very into cats that take this music, explore its vast possibilities and forge their own creations. Different approaches that search for other vortexes in non-existent dimensions and make them audible reality!
The sleeping giant has been awakened and our youth are stepping up to take an active roll in the socio-political economic structure that they recognize as their future. Musicians of every generation have always been aware and the music can act as a conduit that directly syncs into the hearts and minds of their peers as well as represent the voice of an ever-emerging generation X.  "Far From Over" is a brand new suite written by Vijay based that spirit of hope, change and a future that will be crafted by intelligent leaders, thinkers and those who seek justice for each and every American. These were specially commissioned compositions that serve as musical intelligent portals that in the end bring us together as one people, on love. It was written in the sense of that new world, "Optimism" that the Obama camp brings to the table.
Prasanna on guitar is one color that has a new brilliance. My main man Ambrose Akinmusarie, 2007 Thelonious Monk Trumpet sensation, is stretching the limitations and boundaries of his instrument all over a bed of Iyer sumptuous noir temptations and vast sketches of polyrhythmic radiance.
Dave Douglas and his Brass Ecstasy band is up and anyone who puts together a band with tuba and French horn has to be hip. Dave has also been commissioned to write new music. He has his own record company called Greenleaf and even though New York is the Mecca to be in, he also has his headquarters located right here in Chicago.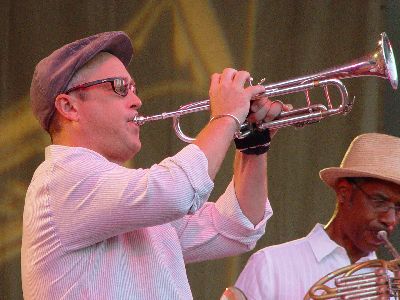 The music has many New Orleans influences, with a touch of George Russell cacophony, Louis Armstrong, timber mixed in with the modern sounds of the 21st Century that epitomizes the fantasy of brass. Tuba in replacement of he bass is a pretty hip concept that works. It gives more of a spotlight to an instrument, opens ears up and broadens horizons! The tune "Brass", which is the third part of a suite, was also dedicated to Barak Obama as well as the great Lester Bowie. Music in homage of Nov 4th, where every American can stand up and be counted.
Since I celebrated Gerald Wilson's 90th birthday at the Hollywood Bowl with he and Hank Jones and I hosted his stage last year that the Monterey Jazz Festival celebrating its 50th years with Gerald's "Monterey Moods", I opted to run uptown to check out Greg Osby at the Green Mill.
Greg's approach is preciously designed as an aphrodisiac to delight he senses while at the same time tossing the notes in the air and having them melodically float down into the splendor of the phrase. The casts make a cozy bed of dreams out of the music. Greg is playing with a number of players in his band that I have never seen before. I believe he has recognized the talent of these younger players and has put them to the test and they are passing with brilliant corners!
Greg, as well as so many other hip players of today recognizes Bjork as an outstanding artist and paints a tapestry using her textures and colors to create a new fabric. Greg is cool in his delivery of shapes, some with rounded edges and some as sharp as daggers but no matter what he plays; there is always beauty with malice towards none. The Green Mill is super packed and standing room only is almost non-existent. I wish all jazz clubs had this as a constant problem. Greg said that "the Green Mill is his home where many magical moments in the music happen and the energy always creates a special kind of vibe". The owner said, "Greg will always have a gig here until he is no longer gigging"!
Saturday night continues late into the night with a Redline trip from the north side to the south side straight to Cermack and Wabash where I get to the Velvet in time for he last set with Fred Anderson, Harrison Bankhead, Kid Jordan, Henry Grimes and Isaiah Spencer for a shot of music directly into the bloodstream! Old guard or avant guard call it what you will but the Velvet Lounge is the place for the killer hit, the land of the giants! It is not often that I have a chance to experience this on the West Coast so I am strapped in and ready to surrender to the ride.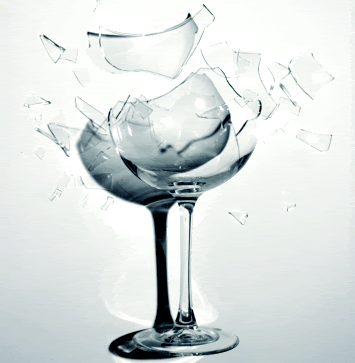 I you have ever seen a movie where a glass falls from a table in slow motion, hits the floor and shatters and then, the film reverses and each sliver, fragment and particle return the glass to its organic natural state, imagine what the music sound like! Now, I have to say that my ears are so locked in on this frequency that separating, blending, dividing rhythms and creating cacophonic patterns and textures are soothing to my soul and are almost as normal as putting one foot in front of the other. Everyone here is so calm and relaxed as they take in the hedonism but at the same time they are stuck and screaming in a cyclical orgasm that does not stop!
I am laughing to myself because I can imagine some pseudo couple saying to each other after a lovely meal, "Hey honey, tonight I am going to take you out to see some cool JAZZZZZzzz, how about that"! They would get here and think that we were all from Mars and planet was in fire! Well, the place is packed with all the colors of the rainbow baking and basking in the freedom of a higher order.
The rhythm is derived straight from the motherland and it is rich, thick and strong. The front line is communicating with the voracity and spirit that comes down from a vortex of history to disseminate the message through musical tongues. Grimes starts out on violin and is ripping so hard that it sounds like a symphony of a thousand happy dogs, Kidd is weaving his tenor through the madness, Fred is blowin' it down with fat bottom richness, Bankhead is the happy medium pleasantly plucking and bowing harmonisms and Isaiah vacillates between drums and congas taking the groove deep in the forest. These cats jam one piece for 30 minutes and the continuous directions in music are extraordinarily fantastic!
The day started out in a mellow tone with Julian Priester schoolin' folks on the theory of solo jazz improvisation over at the Jazz and Heritage Stage. Julian grew up here in Chicago and Jazz along with Gospel music was some of his earliest influences. Julian had and older brother who used to play piano and listen to the sounds of Monk, Bowie and Bird and Julian used to mimic the sounds and created a fantasy world around the music. His parents noticed and made sure that he had piano lessons to shape and hone his desires for creativity.
He joined the jazz orchestra in high school and in 1954 studied at Dusable High School under the tutelage of Captain Walter Dyett who gave Julian the discipline to learn the instrument and made sure the he eliminated the word "can't" from his vocabulary. Positive thinking served Julian very well in life as well as the music. He has learned to take responsibility for erecting walls of fear and has used the power of positive energy to tear down those walls and replace the obstacles with confidence and creativity.
"The trombone is an extension of my voice and the art of the solo is attributed to singing" Jazz was not taught in the schools, just European Classical and Captain Diet made sure that his students knew their instruments and the history before his students were allowed to have jam sessions.
Just the sound of the trombone and drums really allows you to hear the sound of the instrument, hear the melody and hear how complimentary the instruments are with each other. It creates a clear path for those who are trying to understand this music to grasp some of the basic elements without it being encumbered by too much information in the form of other instruments and being turned off. It was quiet and people were processing the sound with delight!
Next it is over to "Jazz on Jackson" the outdoor stage trumpeter Sean Jones will proceed to release his magic. The sun is high, the people are happy there is one half naked hairy guy soliciting women to rub suntan lotion on his back and Sean Jones wastes no time getting' the situation at hand. As lions tend to do, Sean and his quintet explore the beauty and harmonic qualities of he music, lay out lovely landscapes of color and tear up the solos!
Orrin Evans, Luques Curtis, Obed Calvaire, and Brian Hogans all get down with Sean on tunes like, "Transition" and "Summers Spring" which are soon to be released on an up coming album. The piece called "The Storm" was written for a character named Yusoff El Fahkri in a book with the same name authored by Kahli Gibran  .  It was rich with superior rhythms and Sean just lights it up in the higher registphere! All of these compositions are full of tempo, tenderness and intelligent communicative sensibilities. The other composers in the band like Orrin Evans who writes a tune with its roots in Gospel where you feel the peace of the piece and "Black Music" written by Brian Hogans that symbolizes the voice, power and dynamics that Black artistic creativity has been expressing musically for generations.
The ICP or Instant Composers Pool from the Netherlands hit the main stage with strings, brass and rhythms that tell so many stories and provided so many sounds all you could do was sit back and let the music work its magic on you. They were a virtual sound explosion, reaching the outer limits and then crashing back down to beauty! These cats search for notes in the stratosphere and exceed quite well in executing their delivery. This festival should be called the Chicago "Open Ear" Festival for obviously reasons. Chicago music seekers are rewarded with a healthy dose of the extra ordinary and it is all a perfect prerequisite for the great sound master Ornette Coleman!
All of the music at the Petrillo Shell has been phenomenal and uniquely original. Ron Dewar and his quintet are fascinating story tellers as well. They were a virtual sound explosion, reaching the outer limits and then crashing back down to beauty! They have never really played with a singer but the vocal style of Dee Alexander is so extraordinary, they welcomed the idea with open arms. Dee hit the stage divaed out!
I have not had the opportunity to hear her sing before but boy was I surprised! It takes a certain confident spirit to play with a cavalcade of unconventional sounds. Then I heard it, and realized that's it, "The Ubiquitous Butterfly"! Chicago trumpet player Corey Wilkes has a new album out called "Drop It" and on one of the tunes there is a sound that was so fascinating. It is the sound of someone flicking their tongue extremely fast like a humming bird and blowing sweet beautiful tone past the lips to produce a unique effect. It was Dee and the crowd goes wild as she demonstrated the same singing super powers on us figuratively blowing us away with her vocal elasticity!
Ornette approaches the stage and it is a flashing frenzy. Cameras clicking, people screaming and everyone excited about experiencing the Pulitzer Prize winning alto player unload his blanket of "Harmolidics". In the many conversations I have had with Ornette, he always breaks the complexities down to simple mathematics and simple sounds. Of course if you are a genius in comprehending the dynamic aspects of the Coleman Theorem as it relates to light prisms, prime colors, numbers and modifications of sound densities then perhaps it is all so simple for you too! Ornette is a master of layering sound and allowing his players to be free yet have the qualities of inside and outside dynamics simultaneously! A canvas of sound that goes out stretching across the universe and comes back as a reflection of its former self yet spawning new thoughts, ideas and creations on its journey back to a new starting point. Interestingly enough as soon as Ornette finished his set to a bouquet of fireworks bursting in colorful reflections of music lit the sky as the 30th Annual Chicago Jazz Festival came to a close.
LeRoy Downs