Wave Street Studios in association with Jazzcat Productions kicks off the 2nd event in a new live jazz series that will be held at the brand new gorgeous facilities of Wave Street Studios in the Monterey Peninsula.

We encourage you  to come down and enjoy the music live as part of our studio audience but, if you can't make it you don't have to miss out. You are welcome to watch our live stream right here. Here is a sample of one of the quality performances that you will see at Wave Street Studios!
Jazz on Wave Street – Jason Goldman from livenetworkstv jazz on Vimeo.
Click  above for Video of the performance
Los Angeles based jazz band, Jason Goldman on August 16
Download any tune for $.99!!!

Entrance to this event is $20 in advance or at the door.
$20
Wave Street Studios
774 Wave Street
93940 Monterey
California
Please call 831-655-2010 for tickets or email us at tickets@livenetworks.tv
Jason will headline a live concert for a the jazz musical showcase series, and will be broadcast on August 16th at Monterey's Wave Street Studios.
Tickets are now available for the 3rd show in the jazz series, which
kicks off at 8:00pm and 9:30 p.m. on Saturday, August 16, 2008, in the studio at 774
Wave Street in Monterey. The series is a Wave Street Studios production
put together by the "Jazz Cat", LeRoy Downs.
Jason Goldman has gained prominence as a saxophonist, composer and
arranger in the fields of jazz and popular music. He has performed
numerous times with legendary jazz icons Wayne Shorter, Herbie Hancock,
Christian McBride, and Terence Blanchard. Jason has also performed with
producer/singer Paul Anka, Wayne Newton, Chris Isaak, Michael
Feinstein, Queen Latifah and has toured extensively with Michael Bublé.
Jason has arranged for multi-Grammy winning producer David Foster,
Michael Bublé and American Idol contestant Clay Aiken. Currently,
Jason's arrangements can be heard with Warner Bros/Reprise recording
artist Michael Bublé, from which he has received a gold and platinum
record. Several arrangements, including Mack the Knife, Fever,
Moondance, For Once in My Life and Come Fly With Me are featured on
Michael Buble's Come Fly With Me DVD (released March 2004), selling
over 500,000 copies. Goldman's most noted arrangement of the song
Smile, for Bublé, was released on the CD/DVD Caught In The Act in 2005.
Please call 831-655-2010 for tickets or email us at tickets@livenetworks.tv
Entrance to this event is $25 in advance or at the door.
$20
Wave Street Studios
774 Wave Street
93940 Monterey
California
Livenetworks will broadcast this event LIVE at http://www.livenetworks.tv from 7.30 PM PST on 15th of August 2008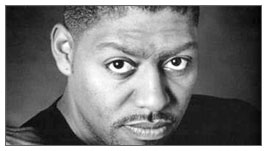 LeRoy Downs