by jazzcat on Feb.21, 2008, under News
We have a path in life and although you look forward to
specific things happening, certain circumstances are inevitable. Originally,
the headliner was Curtis Fuller opening with Nicholas Payton but Curtis could
not make it. I did hear that it was not a health issue so thank God for that.
When you put a rock in the stream, the direction of the flow takes on a new
course. Such is the situation when Russell Malone steps in to fill the space
(pun) here at the Jazz Bakery.
Pinstripe pimpin' and playing his ass off, the combination
of Russell along with Nicholas add quite a different twist in the sound that all
expected to hear. Of course we all miss Curtis but Russell is rockin' the
Bakery with a group of players that know how to hit it hard. The front line is
a monster and the precision on the trumpet along with tenacity of improvisation
coming from the guitar proves that the spontaneous switch in direction takes
flight in a whole new sky!
The rhythm section is comprised of LA's own Nate Morgan on
piano, Tony Dumas on bass and Roy McCurdy on drums, a trio that in their own
right, know how to play the game on such a high level. A last minute switch can
sometimes be a drag because the musicians get locked into a zone where trust is
a major component. This software comes with an antivirus program that Norton
validates will have no bugs and will play with the utmost efficiency. The
Matrix of the music!
I got there for the second set and when it started with a
Joe Henderson composition, I knew that the sparks were going to fly. I could
see in the eyes of Nicholas that the spontaneity of new sound allowed him to
explore different options in the music. Nicholas's sound is shines like a new
Benz off of the showroom floor, classic, clean and ready to roll! Russell is
clean as well, but when he takes his vehicle off road, you better watch out
because you might get hit with some rock or a splash of low down dirty Blues. I
don't know what music was originally planned but the new road maps is a
welcomed detour.
Russell has this way of laying these thick chords all up in
the melody and Nicholas comes right behind him with such a solid tone that is
direct and undeniable in its delivery. Nate Morgan is droppin' these notes like
water flowing down the rapids with ease and power maneuvering all of its
curves, bumps and turns as he glides his way towards destination in through the
out door!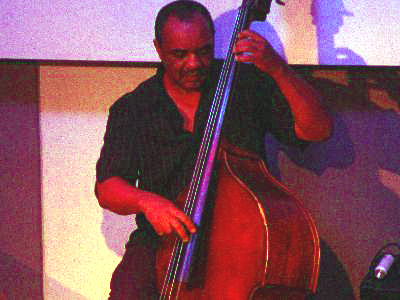 Tony Dumas speaks as the rhythm is thrown his way. He played
with the great Joe Henderson so he definitely knows his way all that music and
adds so many colors to the rest of the tunes. He keeps the music riding on low
register love as Roy McCurdy holds the force down with his polyrhythmic
grooves, marching traps and keen sense of time.
From eighty miles an hour down to twenty in less than sixty,
Russell leads the crew into a version of "Witchcraft" that sings and dances in
four that Frank didn't know nothin' about! These cats are serving smiles with
this head swingin', finger poppin' romance. Back in the day folks use to go
home reflecting on the music and nine months later, "A Child is Born".
It is just a pleasure to sit back and listen to which
direction these guys take the music. The embellishments articulated on the
melody are astounding. Monkering the mix with blues, hand crafting the melody
with precision, and constructing sculptures around new sounds make the fun,
creative, spontaneous and a blast!
LeRoy Downs