by jazzcat on Nov.15, 2007, under News
Hutch is a beautiful cat and the warmth of his persona shines brightly in his performance. Elegant, charming and playing with a wonderful sense of romance, "That Old Devil Moon' is peering through tonight.
I was driving by the Jazz Bakery earlier in the day and I thought I would take a chance and call to see if Bobby was in the area. Luckily he was and we had the chance to have lunch and share stories. That's what the music is all about anyway; tales of love situations, people and Bobby has got a musical lifetime of them to share. He has got that charismatic charm so you can't help but be mesmerized by his intoxicating delivery.
On the stage it is the same way only there are no words just emotions that are brought about by delicate and distinct strikes on the resonating bars of his vibraphone. Tonight Bobby brought a rhythm section that lives in the pocket. Joe Gilman, Glenn Richman and Eddie Marshall are so fluid and locked in that they sync properly every time as Bobby steps aside to let the rhythm roll. The smile on his face is pleasing which signifies that his cats are on point!
" For Sentimental Reasons", the title of Bobby's latest disc on the "Kind of Blue" label, was caressed with those same qualities of the man I spoke of earlier. You can see, hear and smell the Rosemary on this one! Hey may dramatize the swing of his mallets but, they always lands so beautifully in the sweetest spot!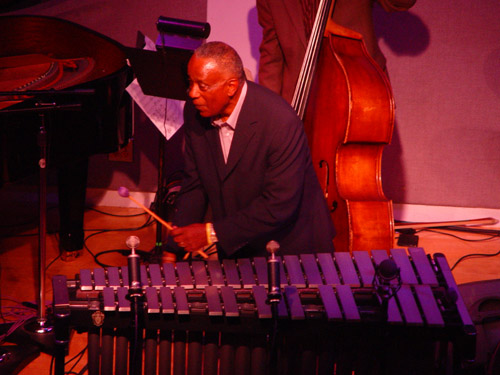 Lovely, however is only one of the many qualities of this band. Bobby is just like the bunny at the dog races; he starts off, the gates open and the cats are off and running. These guys can turn up the tempo to 7/8 and burn like they are walking on hot coals; the twist on the melodies make for delicious surprises with old standard recipes such as "The Jitterbug Waltz"!
Bobby has such a cool command of his instrument as he single handedly takes one mallet and runs through the scales like a trip on a train, "I Thought About You"! How can you have a set without the meaning of the blues? Yes, the presence is there and when Bobby in not playing, he sits back and relishes in the little nuances that the rhythm section paints; almost as if he is an audience member on his own gig.
Hutch has a way of making the vibes sound so dreamy. The audience is so silent and really concentrating on the quality of the tone, melodies and chordal structures as they are encircled by the wispy waves of serenity!
Eddie Marshal must be one of Bobby's favorite drummers. He has laid down some thunderous solos tonight and the big smile on Bobby's face is evident evidence! Bobby joins in with just his four mallets and produces a double time percussive rhythm that he fades to close out the tune.
Enlighten your life and catch Bobby Hutcherson when he comes to your town. Legendary status, resonating romance, ascending tonal peace and lots of wonderful musical love!
LeRoy Downs