by jazzcat on Oct.05, 2007, under News
This is how life should be for all of us; new city, new venue and jazz music with Herbie Hancock. The last time I visited Chicago, as some of you may remember, I went to check out the Jazz Showcase to get a feel for jazz clubs in the city. The Symphony Center is one of the prestigious venues in the city and tonight the seats are stacked to the ceiling with those eager to hear the legend. The city is home to not just the wind but also Herbie himself, as evident by the large faction of the Hancock Tribe present to enjoy and make sure that Herbie feels the Chicago love.
Tonight, Herbie is playing in a configuration that is new for me as well; Lionel Loueke on Guitar, Nathan East on bass and Vinnie Colaiuta on drums. I always wonder what is it that genius is trying to achieve by placing themselves in the midst of such diverse company. Quite an eclectic mix of sound that I am sure will be more than quenching to a thirsty pallet.
Acoustic no, electric yes! It started out with Miles back in the seventies and the intrigue of electric sound has been a part of Herbie's "Inventions and Dimensions" ever since. This is the start of the season here at the Chicago Jazz Festival and Herbie is going to kick it off right! Actually, Herbie made his first appearance right on this very stage when he was only 11 years old with the Chicago Orchestra so tonight is a more than a welcome return.
As he walks on the stage the audience roars! Herbie welcomes his audience with a big warm hello and proceeds to keep them engaged in conversation through out the performance. After his gracious welcome the Symphony Center now becomes Herbie's living room and he introduces his guests and mentions the long list of stellar players that each has performed with.
The new album "River" was released on September 25th and features the music of one astounding and captivating songwriter, Miss Joni Mitchell. Joni has such a natural earthy feel grounding her listener to the planet and perhaps it is this sensibility and her folky lyrics that have made her the subject of many a jazz musician. This is Herbie's second tribute to the lovely one and sure to be just as captivating.
Now I have heard from several friends of Herbie how much he is impressed with his Iphone, and I get a chuckle as he makes mention of it to the audience. Always impressed with technology, Herbie is "Miles Ahead" of many a musician when it comes to incorporating it into his music. We are certainly in for a treat because not only are the keyboards plugged in but, so is the MAC!
"Butterfly", one of my favorite tunes starts the set with fragments of "Watermelon Man" and then, we are off! Herbie duals on acoustic piano and switches back and forth to electric frequently as the sound takes off in all directions. Lionel has many petals at his feet. No, they did not throw flowers yet, but the petals are a part of the gear that takes his already intensely wonderful sound and provides him with infinite galactic musical possibilities. From West Africa to the solar system and beyond all in one plantar tap!
The audience is a big part of the performance and Herbie talks with them and not to them creating lots of laughter, lightness and a perfect environment for energies to unite. His verbal creates the foundation for the visual to help you with your audible. He was born to be a performer weather he played one note or not, you still hear music!
"Muse for New Millennium" is a combination of "Watermelon Man" and "Seventeen", which is a based on an intricate seventeen note structure that Lionel can lay down with proficiency and ease. The instructional, informative preliminary layman lecture by Herbie really keeps the band, the audience and the music in perfect sync. Like painting by numbers! Herbie picks up the keytar, most notably played by another great purveyor of innovation, George Duke.
He brings the rhythm to the funky frontline supporting and leading his players side by side on an exploration into waves and ohms. The electronic exchange between Herbie and Nathan is, okay I'll say it, electrifying! I know it sounds corny but I could not resist. One by one, Herbie walks the stage and exchanges this funky universal language with the cats and the people dig the conversation. That's entertainment!
With all of these electronics, I know that all of the women are watching and thinking, "Boys and their toys" but, the technical side of the music is fascinating and Herbie is always on the cutting edge of the Mac and the music. They are having fun seeing how low they can go with their instruments and believe me; they all can get down pretty low.
"Possibilities" as you must know, is a project where Herbie collaborated with several of the top performers in the pop world and made a major impact on both genres. He collaborated with Sting, Christina Aguilera, John Mayer, and a host of other musical stars for that perfect spontaneous improvisational creation. He pretended that all of the pop artists that were on the album were waiting in the wings to come out and join him and the band on stage but, when he announced their names, no one came out. The price of that ticket would be quite extraordinary indeed. He proceeds to do the tune that he and John Mayer wrote together "Stitched Up', only bassist Nathan East would be providing the vocals. Herbie busted out some sweet "Take 6" vocal harmonic chords while Nathan displayed his multi-octave vocalese while dueting on his bass. Fun, fun, fun!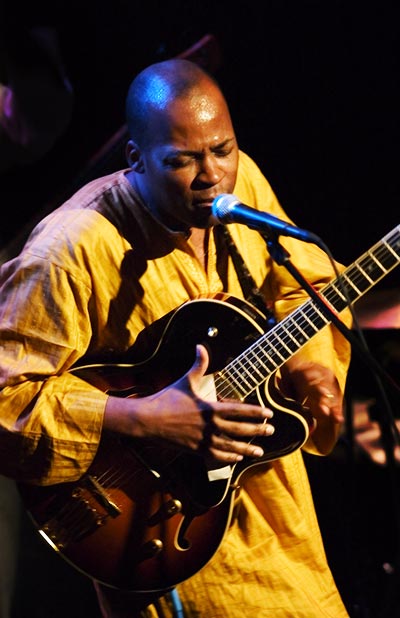 Herbie wanted to do something special for his hometown Chicago. Everyone left the stage and Lionel remained to mix and brew his international musical soup; a solo blend of guitar flavors and West African vocals creating a tribe of songs, stories and visuals that have an intoxicating infectious effect. The boundaries of his instrument are limitless! He plays so beautifully and then scares the audience to death with his modified, amplified, Chubackian love calls. No need to fear though, Lionel is one of the sweetest gentlest creatures on the jazz planet!
The cats are back on stage and the vibe straight ahead! The build up is monumental and Vinnie breaks it down with a killin' solo, his first of the night. Herbie is the coolest super musical genius tech-head around. You will never stop hearing new "Inventions and Dimensions" from this cat.  But, now matter how many new sounds you hear, he will always manage to take the "Maiden Voyage" that sails to new destinations every night as he silences us with tranquility.
The band does another tune from the "Possibilities" album, this one recorded with Herbie and Raul Midon. It's a Stevland Morris tune and Herbie takes liberties and changes the chord structure. That would be a violation in any other musical courtroom but, I "Wonder" if judge Stevie will give him a pardon, or maybe he'll "Just Call to Say I Love You"?
The encore rocked so hard and was so galactically funky that I imagined the cats playing the last note, standing in the spotlight and Scotty beaming them up!
LeRoy Downs