by jazzcat on Aug.24, 2007, under News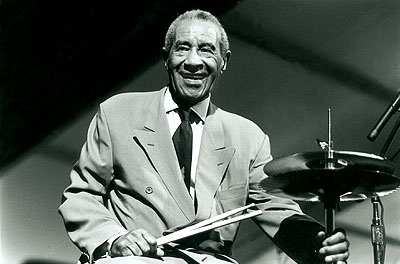 Click Here to sign Max's Guest Book
LEGENDARY JAZZ DRUMMER, MAX ROACH, TO BE REMEMBERED
AT RIVERSIDE CHURCH PUBLIC VIEWING AND FUNERAL ON FRIDAYBill Cosby, Ruby Dee, Maya Angelou, Cassandra Wilson, Sonia Sanchez, Amiri Baraka,
and Billy Taylor Among the Notables Paying Homage to Roach

NEW YORK (August 23, 2007)—Bill Cosby, Ruby Dee, Maya Angelou, Cassandra Wilson, Sonia Sanchez, Amiri Baraka and Billy Taylor will be among the luminaries paying homage to the late jazz great Max Roach at his funeral on Friday, August 24 at The Riverside Church in Manhattan. The daring and innovative drummer, who died of complications of dementia/Alzheimer's disease on Thursday, August 16 in New York City at the age of 83, will be celebrated as he lived: in a ceremony awash with jazz, as performed by some of his most beloved colleagues. Lieutenant Governor David A. Paterson will speak at the event which will be presided over by The Rev. Dr. James Alexander Forbes, Jr. Roach will be eulogized by the Rev. Calvin O. Butts III.

The public viewing will run from 9:00 a.m. to 10:30 a.m. Friday and continue with a public funeral service from 11:00 a.m. to 1:00 p.m. Roach, who is survived by his five children – Daryl Keith Roach, Maxine Roach, Raoul Roach, Ayo Roach and Dara Roach – will be buried in a private ceremony at Woodlawn Cemetery in the Bronx.

WHO: Paying tribute will be: artists Bill Cosby, Ruby Dee, Maya Angelou, Sonia Sanchez, Amiri Baraka, Cassandra Wilson, Billy Taylor, Cecil Bridgewater, Randy Weston, Jimmy Heath, Gary Bartz, Abbey Lincoln, Odean Pope, Reggie Workman, Billy Harper, Elvira Green; Lt. Governor David A. Paterson; Jazz at Lincoln Center curator Phil Schaap; and Roach's children Daryl Keith, Maxine, Raoul, Ayo and Dara
The Rev. Dr. James Alexander Forbes, Jr., the senior minister emeritus of The Riverside Church, presiding; and the Rev. Dr. Calvin O. Butts III, the pastor of Abyssinian Baptist Church, eulogist
WHAT: Public viewing and public funeral service for the late Max Roach
WHEN: Friday, August 24, 2007
9:00 a.m. – 10:30 a.m. Public viewing (Press invited, but no photographers, videographers or interviews)
VIP arrivals at 91 Claremont Avenue (primarily) and 490 Riverside Drive
11:00 a.m. – 1:00 p.m. Public funeral
WHERE: The Riverside Church, 490 Riverside Drive/91 Claremont Avenue, Manhattan

Family Issues Statement On the Occasion of His Passing
NEW YORK, Aug. 17 /PRNewswire/ — A public viewing will be held at
Riverside Church for jazz great Max Roach, who died of complications of
dementia/Alzheimer's Disease at 12:45 a.m. Thursday in New York at the
age of 83.
His daughters Maxine and Dara were at his bedside, according to
family spokesperson, Terrie M. Williams. Roach's public viewing will be held on Friday, August 24th at Riverside Church, from 9:00 A.M. to 10:30 A.M. with a funeral service from 11:00 A.M. to 1 P.M. The legendary drummer will be buried in a private ceremony at Woodlawn Cemetery in the Bronx.
Born on January 10, 1924 in Newland, North Carolina — which he
always referred to as "the Great Dismal Swamp of North Carolina" — Roach is survived by his five children Daryl Roach, Maxine Roach,
Raoul Roach, Ayo Roach and Dara Roach.
The family issued a statement: "We are deeply saddened by his
passing, yet heartened and thankful for the many blessings and condolences we have received, as we grieve. As a musician, educator and social activist, we are fortunate to share his life and his legacy with the world."
In lieu of flowers, the family requests that donations be sent to The Alzheimer's Association in Chicago,Illinois.

Kind words

Hi Folks,

Many of you may have seen this already but I just wanted to pass on this
notice about the passing of one of my heroes, the beautiful, brilliant,
never-ever-to-be-forgotten Max Roach. Les DeMerle taught me Max's "For Big \
Sid" years
ago and it has been looping in my head ever since. I met Max once, many
years ago, while I was working at GRP – one of my co-workers knew I idolized \
him
and she introduced us – we had a really nice chat, and of course it was, and
is, one of my favorite and valued memories.

Peace and blessings for Max Roach. We are all indebted to him for making
this world a far better, and hipper, place.

RED CAT PUBLICITY
jason paul harman byrne
55 92nd street suite C5 brooklyn ny 11209
347 578 7601, redcatpublicity@aol.com
The greatest living drummer on the planet is gone. Long Live Jazz.

Phil Schaap
Curator

:
Jazz Heaven