by jazzcat on Aug.01, 2007, under News
We've lost another one . . .
Dr. Art Davis, the legendary bassist, has passed away
Funeral Services for Dr. Art Davis
Saturday, August 11, 2007
9 a.m. – 11a.m. (Viewing)
11a.m. (Service)
Church at Rocky Peak
22601 Santa Susana Pass Road
Chatsworth, CA 91311
805) 522-5100
72; jazz bassist, educator and activist
By Jeffrey Winston
Art Davis, the classically-trained bassist, author and clinician, passed away on July 29 at his Long Beach home, following complications from diabetes and heart disease.
A virtuoso of the highest order, Davis earned critical acclaim, beginning in the fifties, playing with Clifford Brown, Dizzy Gillespie, Quincy Jones, Clark Terry, Art Blakey, Gigi Gryce, Roland Kirk, Oliver Nelson, Coleman Hawkins, Freddie Hubbard, Zoot Sims, McCoy Tyner, Lalo Schifrin, Eric Dolphy, Abbey Lincoln, Wayne Shorter and scores of others. Art's uncanny timing and robust tone enhanced any ensemble while his arco and pizzicato execution was impeccable.
Davis received his Ph.D. at NYU in clinical psychology. He also held Master's degrees in music and psychology. When he wasn't performing, Dr. Davis maintained a thriving, private practice. Although Art's dual careers propelled him to lofty heights, he remained grounded as a devoted family man. His son,
Kimaili Davis, said, "As I reflect on his life, I realize how much he was there for us."
Click 1st Picture for Video and 2nd Picture for Interview
A native of Harrisburg, Pennsylvania, Art initially studied the piano before switching to both the bass and tuba in high school. He garnered several awards for his command of both instruments, including prestigious scholarships to Julliard and the Manhattan School of Music. Dr. Davis studied with cellist Lazlo Varga and Anselme Fortier, the principal bassist with the New York Philharmonic. Many years later, Dr. Davis would develop a multiple-finger technique for the right hand and publish The Arthur Davis System for Double Bass.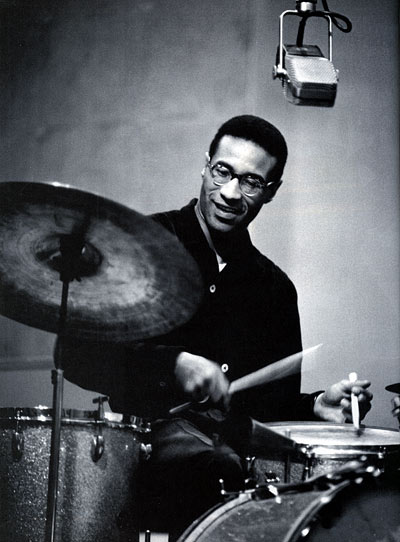 In 1958, Davis made his recording debut with Max Roach, George Coleman and Booker Little at the Newport Jazz Festival. John Coltrane found the budding bassist working with Roach's ensemble at Small's Paradise in Harlem. Coltrane was between sets of his own gig at Birdland, so he invited Art to "practice" with him. Early the following morning, Coltrane arrived at Art's hotel. The ensuing sessions were intense, lasting for several hours each day. John's tenacity and discipline deeply inspired his young protégé. In 1961, he became only the second African American member of the NBC Staff Orchestra, working regularly on the Merv Griffin, Jack Paar and Johnny Carson Shows.
During his close association with John Coltrane, Art Davis played on stellar recordings such as Ole Coltrane, Africa Brass and Ascension. Davis even appeared on an unreleased, original version of A Love Supreme with Archie Shepp. It has remained in the vault for decades. Although his demanding studio schedule prevented him from becoming a regular member of Coltrane's celebrated quartet, the two remained extremely close until his death in 1967. Davis toured with Dizzy Gillespie's band but after two years, he grew weary of the road and chose to freelance around New York City.
Throughout his prolific career, Art also appeared with practically everyone from Lena Horne, Kenny Dorham, Count Basie, Louis Armstrong, Thelonious Monk, Gene Ammons, Lee Morgan, Gil Evans and Hilton Ruiz to Judy Garland, Bob Dylan and Barbara Streisand.
In 1993, Dr. Davis founded Better Advantages for Students & Society (BASS), a non-profit organization that awarded stipends to university students in all disciplines. Two years later, he established The Gladys Davis Memorial Scholarship in honor of his late wife, a health care provider.
Looming larger than life, an outspoken Davis championed many grassroots causes as a tireless advocate and mentor. Though brutally honest, his uncompromising views on race, politics and culture were not always applauded.
Upon learning of his death, fellow bassist John Clayton said," Art continued to contribute to the jazz world until the end. He was an integral part of so many classic recordings, especially in the 60's. LA Weekly critic Brick Wahl adds, "Of all the sets I've seen at the Central Avenue Jazz Festival over the years, the good doctor's were the most daring, gutsy and safety-net-be-damned things I ever saw."
Dr. Davis is survived by two sons, Kimaili Davis and Mureithi Davis; and a daughter, Taisha Jack. Funeral arrangements are pending.
Jeffrey Winston


The World Stage
"He was a real cool cat, I am glad I knew him, vibed with him. He's there with
Horace, Billy, Miles and all the rest,
He's alright.
I have a rare (VHS) film that has never been shown publicly. It is a little concert
(1997, I think) featuring Billy Higgins, Horace Tapscott, Dwight Trible and
Dr. Art Davis, at a small restaurant called, CEBU, it was in the Leimert Park
area and has since been torn down to make way for a housing development. These
giants performed this concert as a benefit for my Malcolm X community festiva
and related youth projects. They did not charge me a dime, and of course they
torn the place up! I'd sure love to have someone look at it, see what can be
done to preserve it, share it with the masses.
As far as I am concerned, they were all the best at what they did
respectively, and Mr. Trible is of course still young, vibrant and doing his
thing to preserve the music/culture. I am proud to have been friends with all
of them.
Boy, those were the days…
Torre` Brannon Reese
323. 864.2656
Torre' Reese
:
Jazz Heaven