by jazzcat on Jun.20, 2007, under News
Playboy, Playboy, what can you say. Los
Angeles so very much looks forward to the music, the sunshine,
and the sites; it is a bowl full of legs and love. Saturday was quite a
pleasant day but you need to plan properly for parking and transportation. However,
once you have arrived, it is like a musical paradise on a concrete beach.
I missed James Carter and the Cos
of good music, which were two performances that I had planned on enjoying, but
the rest of the afternoon had its fill of pleasant surprises. Angelique Kudjo was a bundle of African
energy packed in a body filled with explosive vocal and athletic dance ability! Randy Brecker and saxophonist Bill Evans
excited the crowd with their soul bop band.
More soul than bop, but they express themselves quite well in this
genre. Phil Woods and his quintet
featured Bill Charlap, Brian Lynch, and a few other cats who played more in the
vein I am accustomed to. Phil dedicated
and played a piece by and for the late great Benny Carter, who would have been
celebrating his 100th birthday
.
The Count Basie Orchestra directed by Bill Hughes added a
cool temperature to the heat. They
brought it back to the time when men and women used to dance, celebrate and
make love to the standards. The music
was calming and brought a peaceful mood over a very excitable audience.
What would an outdoor music festival will be without a touch
of Latin soul. Johnny Polanco and Isaac
Delgado respectively had the crowd up and out of their seats; hips swerving to
the clavecian rhythms. Yes, even I was
seen faking my best Cha Cha. Chris Botti
was an artist that the audience seemed to be waiting for. Even though he is an extremely contemporary
artist, he makes sure to higher the best cats from the straight ahead game to
lock in the freshness.
Now the blues is something else. I am talking the straight up blues. I usually take mine with a healthy dose of
jazz, but Buddy Guy doesn't play around with adverbs and adjectives, he gets
down and straight to the point of the matter.
His sound is a mixture of rock, soul and a heavy dose of the deep blue
C. He took his guitar and microphone for a stroll around the bowl jamming and
singing before he got back on stage and played with his teeth.
Sunday was a day I was certainly looking forward to. Partially because I have many good friends in
the line up, and I know that the music is guaranteed to be on point! I unfortunately missed my man Malcolm Jamaal
Warner and his band "Miles Long", but heard they were the right group to kick
off a great day of music. Taylor Eigsti's
band is always an enlightening experience. When you stack a band with the best
players in the game, you can be certain that there will be a check in the win
column at the end of the day. Eric Harland,
Reuben Rogers, and Julian Lage, round out a killer quartet.
Red Holloway celebrated his 88th birthday on stage with his
band along with singer Kevin Mahogany singing the blues and standards in fine
Holloway fashion. Nathan and the Zydeco Cha
Chas gave us a splash of world flavor, while Richard Bona visited all of the
genres in music from jazz, to world to funk, and all the while displaying such technical
virtuosity on the bass. Terrence
Blanchard came out hitting hard. He has
a pretty incredible band and has told me that this is the tightest musical unit
that he has had so far in his career.
This was evident from the seamless a set of love derived from
compositions composed by his musicians along with the extended music from the
film by Spike Lee, "When the levees broke".
New Orleans
lives forever!
There are so many great musicians from New Orleans.
So much so that even our famed announcer Bill Cosby had trouble getting
it right. So I'll say it right for all
of you who may have been confused, Terrence Blanchard, Terence Blanchard!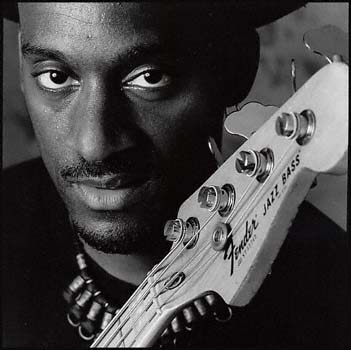 The audience lit up when Marcus Miller hit the stage; jazz
and funk in high fashion. So far, Marcus
Miller and his band were the highlight in terms of audience elation. For the last tune my man, Malcolm Jamaal
Warner came back on stage to join the band and played bass as Marcus switched
to bass clarinet. It was only a few
seconds but it looks like I got to see my man Malcolm play after all!
As the stage rotates, Dianne Reeves followed Marcus Miller
for back to back phenomenal performances.
Women change hairstyles all the time, and Dianne came on stage lookin' damn
good with a whole new attitude. She
brought her whole family out on this trip.
It was her mothers eighty fourth birthday and she was in the audience to
celebrate. As she says quite often, stories are the fabric of our lives and
Dianne continues to bring the emotion of the truth to the forefront of our
imagination.
The next young lady on stage was sporting a whole new
personality, a whole new body, and a ferocious quest to expose and explore the
sexual side of the music. Etta James
came to play in more ways than one. The
race for raunch and good old-fashioned love making was in high demand with the
music. She lets you know exactly where
she's cuming from and exactly where she's going and the audience was right
there with her. I left my prior to
Norman Brown, but I heard his performance on the way out; closing out the
Playboy Jazz Festival with the sounds of the groove. Just another Father's Day weekend in the
sunshine at the Hollywood bowl! Next time bring your father, your mother,
your girl, the food, along with much love and enjoy the music and festivities for
another great summer weekend at the Playboy Jazz Festival.
LeRoy Downs