by jazzcat on Jun.20, 2007, under News
I am elated to be in "The City" once again. Unlike Los Angeles, San
Francisco has so many neighborhoods that are packed
with character. It is always a treat to walk and to explore the people and
places on the street before taking in another dose of jazz nourishment.
Tonight's performance is at the Palace of the Fine Arts and
I would like to thank Mr. Redman himself for my tickets for the evening. I
arrived early and as I picked up my tickets at will call, I happened to see
that Taylor Eigsti looks like he will be attending the performance as well.
Cats supporting cats is what the music is all about.
I sat in my seat and as the Palace was filling up, it is
interesting to listen to the conversations in the crowd. I was only eves
dropping a little bit but, the people behind me, who were seniors and seemed to
be subscribers, most of whom did not even know who Joshua Redman was. The
knowledgeable one read the program out loud to the others, stressing all of
Joshua's achievements and accomplishments and successfully impressing his
peers, giving him instant credibility as the jazz aficionado of the group. What
I am impressed about is that even though these folks did not know the music,
they came out to experience this thing called jazz. That is so important and
crucial to the preservation of this music so please, make it your
responsibility to turn someone on to the music. We have to because even those
who do know the music and the artists aren't always staunch supporters.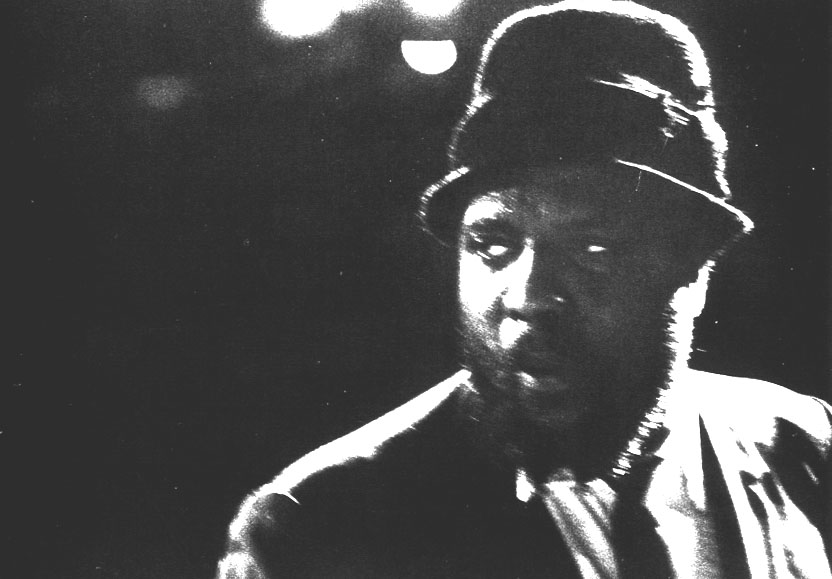 This summer season is all about the music of Thelonious Monk
as you very well know, and the SF Collective, as they have continued to do,
will travel all over the country sharing their arrangements of the masters
music along with their own compositions. There have been some great seasons of
music honoring Herbie Hancock, Ornette Coleman and the music of John Coltrane
but, for the moment, this will be the last for the artistic director Joshua
Redman. He is to be commended for his fine work not only as an extremely proficient
leader of the worlds finest collective of musicians but, also for taking on the
initiative as artistic director to bring us this music composed and arranged
with the finest quality and standards in mind.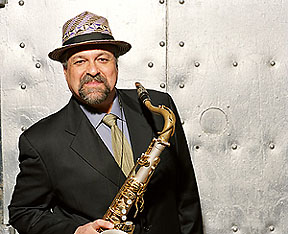 He will be replaced by Joe Lovano, who will join in this
last performance of the Spring Season, before the band begins touring over seas
for the summer. Joe also appears on Josh's latest album for the Nonesuch label
entitled "Back East".
The opening act for tonight's performance is a band whose name
makes a strong statement, "Plays Monk". These are a group of Bay Area locals
that stand up and stand by that name. Scott Amedola on drums, Ben Goldberg on
clarinet and Devin Hoff on bass are favorites amongst music lovers in the city
and it is easy to hear why.
Monk's music alone is quiet extraordinary and when you
commit to specializing in playing the compositions, we the audience expect to
hear the foundation and the core expressed with youthful creative ideas and
interpretations of the music. We were not disappointed. These three fine young gentlemen represent such an important
stake in the future of the music one because they are exposing their younger
generation as well as that generation's parents who may not know the music and
two because they their delivery is in such fine fashion. Piano less Monk is
quite fascinating in this particular situation with clarinet. Ben Goldberg
plays with such inviting melodic Monkisms that anyone would truly fall in love
the music. Each member of the trio has so much space to work; the ideas
expressed are clear, open and not locked into the structure that controls the
music. "Boo Boo's Birthday", "Work", "Four in One", "Reflections" and "Skippy"
are just a few of the pieces performed. What I find quite interesting is that
you would think that the strong signature of Monk would not allow you to find
such freedom in the framework of the music but, this trio possesses the key to
imagination that let's freedom ring!
I must admit I like my music complicated; like an unsolved
mathematical algorithm that needs to be dissected many times to find the
solution. Generally, you can lose most of your audience that way but, "Plays
Monk" has taken the simple complexities of Monk's music and presented it in an
easily digestible way to many a new ear while still pleasing an experienced
one; a noble feat indeed!
After a very lovely opening set of music I know that more
good things are in store. Josh hits the stage and let's everyone know that the
Cleveland Cavaliers were victorious in their NBA playoff game. His natural
humor is a perfect aphrodisiac for great music. Another trio to set the game in
motion comprised of one of the most sought after bass and drum duo's in rhythm,
Reuben Rogers and Eric Harland. "Surrey with
the Fringe on Top", an old classic starts out the set. There is never a dull
moment when these cats are playing because each resides on the apex of the
mountain top in terms of their skills on their respective instruments. One
thing I particularly appreciate is that each time these three come out to play;
they are ready to give it their all and take the music that they play every
night further than the night before. Yes, the music is taken seriously but, you
feel the real essence of their character when they play. These are fun and
exciting individuals and that joviality comes across passionately when they
play.
Every concert is not just a gig, it is a chance to
creatively express language, ideas, emotions and push to seek as much
exploration from the music as you can passionately get. You will never see
these cats sit back and ride the wave of popularity as many in this business
seem to do. Their mission is to seek and destroy normal complacency and replace
it with integrity through innovative, natural musical elation and resolution.
Mathematics, a system of numbers, notes and sounds that are multiplied,
fractioned, replicated, accelerated, staggered and laid out in a fashion that
always adds up to a positive solution.
"Zarafa", which is a composition on Josh's new disc "Back East",
was inspired by his mother who was in the audience celebrating her 75th
birthday today. Many of Joshua's compositions are created with the love of his
mother in mind. The tune expresses a strong and cerebral journey through worlds
and lands with the proud strength of the lord of the jungle. I gather that it
is the courage, wisdom and strength that a strong mother gives a son as he
carves his own path into the future: gaining knowledge, hurdling obstacles,
seeing the enormity of a new world, experiencing life's emotions and creating a
beautiful unique story that will live forever with honor, integrity, love and
music.
In a relay race, there is a certain way that you pass the
baton to your teammate as not to waste any energy or lose any speed, keeping
the unit harmoniously in sync at all times. Joshua does this as he gives a
great introduction to a very warm welcomed Joe Lovano. This concert in
particular is a wonderful transition and exchange of musical expressions,
experiences and a symbol of respect and mutual appreciation for each artist as the
baton is passed and they both proceed now as a quartet performing Wayne
Shorter's "The Indian Song".
Man, these guys' sound great together, two beautiful
spirits. Joe wrote this tune "Blackwell's Message" for drummer Ed Blackwell. If
you don't know the man or his music, you get a great sense of soul, spirit and
of course the message and how he would have delivered it. Joe and Joshua
actually recorded this piece together on a 1992 album of Joe's called "Tenor
Legacy". It was almost as if Ed was dancing on stage to his own rhythm. Eric
Harland was killin' on drums with hints of Monk in his licks.
The Gene Ammons and Sonny Stitt tune "Blues Up and Down"
closes the set much to the chagrin of the audience. They were hungry for more
although they left extremely well nourished. As music imitates real life, Joe
picks up where Joshua leaves off and there is no skip in the record, just
seamless sounds of the "Oneness of Two"!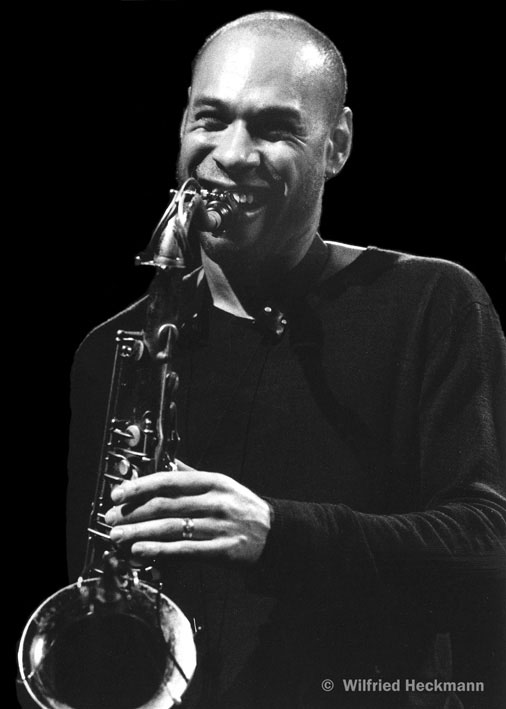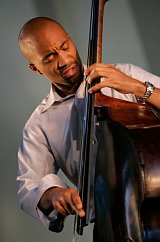 The encore desert expressed with a standing ovation brought
back Ben Goldberg on stage to improvise Thelonious's "Epistrophy". Such a
fitting ending to a superb performance, if I had to I could not "Think of One"
that would have been finer!
LeRoy Downs