by jazzcat on Mar.25, 2007, under News
Second set at the Bakery and it is filled with youth. One of
the missing ingredients and just what this music needs; a huge dose of future
listeners! Grammy award winner Billy
Childs and Los Angeles Times jazz journalist Don Heckman are here with the rest
of us tonight to experience the steaming sounds of the one and only Mr. Mulgrew
Miller.
Mulgrew was just in New York
at the International Association of Jazz Educators conference and played some
great sets there and at Smalls in the Village. The cat is literally burnin'
from the East to the West! "If I Should Lose You" swings open the first set and
sets the head shaking, foot tapping tempo for the remainder of the gig. If Red
Bull gives you wings, then there must be half a case missing in the dressing
room!
Mulgrew has been at this for decades and is recognized on
the scene as being one of the most important melodic cats around. Some of the
best music in Jazz is where experience meets young energetic talent. Both Ivan Tavloy and Rodney Green have
something to learn and both have something to give to the situation which makes
for intriguing possibilities in the music.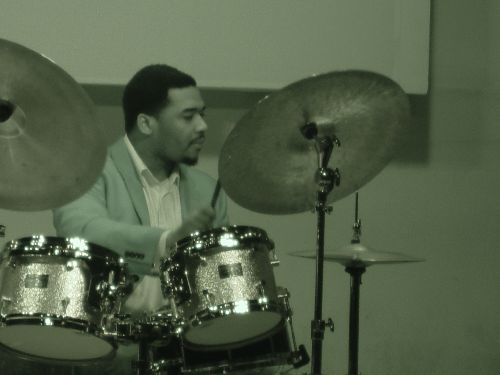 Mulgrew plays so open that Ivan and Rodney have room to
express ideas and showcase their talents.
Mulgrew is so bright tonight and the color of the music is just rolling
off of the ivory like red satin wrapped around coke bottle curves. "Day to Day"
is the tune; an original from Mulgrew. Miller
acknowledges Billy's brilliance and is pleased that an old friend is
present. Mulgrew is sounding so fabulous
with complimented faint dissonance lacquered with the rich classic signature
that speaks his name; romantic tango which bounces his ballads in an energetic,
sexy sound preciously waltzing on molecules; "Body and Soul". I must admit that in the past, I have not
been a great fan of slide piano but, Mulgrew makes it so delightful. If I had experienced this dynamic sound
first, I would have been a lover since day one.
Sweet!
Click Albums and enjoy!
Mulgrew is part of the piano series at the wonderful MaxJazz
label and his latest recordings include two albums recorded Live at Yoshi's and
one recorded Live at the Kennedy
Center! I would imagine
that the exchange rate between passionate melodic beauty and a little legal
tender is a perfect match!
LeRoy Downs