by jazzcat on Jun.06, 2006, under News
Pianist Hilton Ruiz Passes this Morning
Latin music and Jazz artists get together for Hilton
WHO KILLED HILTON RUIZ?
By SANDRA GUZMAN
/June 14, 2006/ —
Family, friends and fans of Hilton Ruiz gathered
yesterday at the Hell's
Kitchen church Sacred Heart of Jesus for a mass
held in his honor.
the jazz pianist's body was still in New Orleans*, his death shrouded
in
mystery, and a 20-member Congressional Hispanic Caucus is calling on
that
city's mayor, Ray Nagin, to investigate the musician's death.
(*Hilton's body was finally returned home and after a funeral in
Manhattan,was buried today July 15th in the same cemetery as his mother in
the Bronx)
"This was a very special and gifted man whose life was cut
short … I
really feel there is a cover-up …" said an outraged Aurora
Flores,
herself a musician, who attended the mass.
"Nydia [Velazquez]
and I were concerned that not enough was known about
the circumstances
surrounding the death of Hilton," said Congressman
José Serrano, who together
with the Brooklyn representative penned a
letter to the mayor of New Orleans
calling for an official inquiry.


"There was talk about whether he was
attacked and it's important for
everybody to know what happened," added the
Bronx congressman.
Ruiz, 54, one of the most versatile and gifted
pianists of his
generation, died on June 6 after a two-week coma which New
Orleans
Police Department reported was caused by a fall on a sidewalk – a
story
Ruiz's family and friends are not ready to believe.
born-and-raised musician traveled to New Orleans on May 18
to record a video
for his upcoming CD, which was to be dedicated to the
victims of Hurricane
Katrina.
What happened next is a mystery.
In the early hours of
May 19, Ruiz was found unconscious, his skull
fractured, lying in a pool of
blood outside a Bourbon Street bar.


Ruiz's wife, Aida, says that she was
shown a video by New Orleans
authorities where she saw Hilton walking into
the frame, wobbling and
falling on the concrete.
"We see him fall, but
he already looked bruised," said Aida, who has
more questions than
answers.


"As of today, the investigations into his fall have not been
clear.
Reports from the New Orleans police indicated that the cause of
his
death was due to a fall; however, early reports stated that Mr.
Ruiz
might have been beaten," reads the letter to Mayor Nagin by the
members
of Congress.
A spokesman for Mayor Nagin says the mayor was
traveling and unavailable
for comment.
be held tomorrow at the church where Ruiz
was an altar boy.
And one
fan at the mass yesterday vowed to be there again when his body
– due to
arrive today – is to be properly viewed.


"For Hilton to dedicate the CD
to the victims of Katrina and become a
victim himself. .. There is a certain
irony in that, and it's very
devastating to all of us who loved him and his
music," said Flores.
Hilton Ruiz mass, tomorrow at 10 a.m., Sacred Heart
of Jesus, 451 W. 51
St., between Ninth and Tenth avenues.
New York
Post

OK! Lets get on this for Hilton Ruiz…
*Last week,
Congresswoman Nydia Velazquez along with all of the members of the Congressional
Hispanic Caucas officially requested the office of Mayor Ray Nagin to open an
investigation and for his office to report directly back to them.
What we need to do is contact the members of the Congressional Hispanic
Caucus and demand that they petition the The US Department of Justice to open an
official investigation citing the civil rights violations which lead to the
death of Hilton Ruiz.
You can contact the Congressional Hispanic Caucus at:
Office:
1609 Longworth HOB
Washington, DC 20515
Phone:
(202) 225-2410
Fax:
(202) 225-0027
Here is the list of the members and their congressional districts.
109th
Congress
OFFICERS
CHAIR
Grace Flores Napolitano (CA-38)
1st VICE CHAIR
Joe Baca
(CA-43)
2nd VICE CHAIR
Raúl Grijalva (AZ-7)
WHIP
Lucille
Roybal-Allard (CA-34)
MEMBERSHIP
Xavier Becerra (CA-31)
Dennis
Cardoza (CA-18)
Jim Costa (CA-20)
Henry Cuellar (TX-28)
Charles A.
Gonzalez (TX-20)
Luis V. Gutierrez (IL-4)
Rubén Hinojosa
(TX-15)
Robert Menendez (NJ-13)
Solomon Ortiz (TX-27)
Ed
Pastor (AZ-4)
Silvestre Reyes (TX-16)
John Salazar (CO-3)
Linda
T. Sánchez (CA-39)
Loretta Sanchez (CA-47)
José Serrano
(NY-16)
Hilda Solis (CA-32)
Nydia Velázquez (NY-12)
Kudos to
Congresswoman Velazquez and Congressman Jose Serrano for being on top of this
from early on.
FOLKS-
THIS IS NOT THE TIME TO SIT BACK AND STAY
SILENT!
NOW IS THE TIME TO ACT!
Peace and Blessings:
Ray
PS. Please alert your congressmen, representatives in your local
government, your family and your friends to raise their voices and to write
letters and e-mails to address this atrocity, a practice that possibly been
going on in that city for a long time.
Important numbers and addresses:
Office of the Governor
Attn: Constituent

Services
P.O. Box 94004
Baton Rouge, LA 70804-9004

Telephone Numbers:
866-366-1121
225-342-0991

or 225-342-7015
Facsimile: 225-342-7099
Office of the Mayor:
Mayor C. Ray Nagin
504 569 2900
e-mail:psmith@mayorofno.com
Jazz radio in New Orleans: WWNO/KTLN Radio: 504 280 7000;
info@wwno.org(send
e-mails to news
department)
INJUSTICE TO ONE IS INJUSTICE TO

ALL

New York, NY –June 6, 2006– Famed Puerto Rican/New
York Composer, Pianist and Jazz musician Hilton Ruiz passed away this
morning at 3:51 a.m. at the East Jefferson General Hospital, in New
Orleans, Louisiana. He was still on life support when he peacefully
expired. His daughter and wife, both named Aida, were by his side.
Hilton Ruiz had been in a coma at the New Orleans hospital Intensive
Care Unit with severe trauma to the face and a fractured skull. The
circumstances surrounding this tragic incident are under investigation
by the New Orleans Police Department.
In the meanwhile, Ruiz' family and friends will celebrate his life and
music in a special, after-work benefit jam session will be held in
Hilton Ruiz' honor to assist the family with the medical and now
funeral expenses. Confirmed guest performers include Zon del Barrio (7 pm) joined by saxophonist Ivan Renta & vocalist Frankie Vasquez; Chembo Corniel and Chaworo (9 pm) and Willie Martinez & "La Familia Sextet" (10 pm). Hilton Ruiz' music and videos will be playing.
WHEN/WHERE: Tuesday June 6, 2006 @ 6 p.m. – 12 midnight Doors Open @ 5 p.m.
LQ's
511 Lexington Avenue (between 48th & 47th Streets)
New York, NY
Suggested donation: $20
Other confirmed guest artists include the following:
Luisito Quintero * Andrea Brachfeld * Robert Glasper,* Annette
Aguilar * Andy Gonzalez * Grady Tate * Papo Vasquez * Craig Harris *
Grady Tate * Pete Nader * Sweet Sue Terry * Mark Whitfield * Avery
Sharpe * Terry Burrus * Ben Lapidus * Bobby Sanabria * Dario Boente *
Bill Sims, Jr. * Ray Mantilla * Chaney Sims * Norman Hedman * Gary
Bartz * Poet Papoleto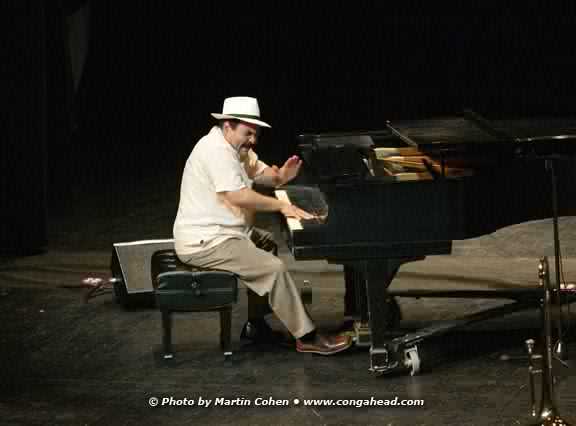 Hilton Ruiz' music and videos will be playing.
Musicians wishing to participate in "A Benefit Jam Session for Hilton
Ruiz" should call Event organizer Eddie Rodriguez at 917-678-6695 or
email Eddie at eddierodriguez01@aol.com to be placed on the Musicians
Guest list.
"This is a very sad day for Latin and jazz music" said promoter Eddie
Rodriguez. The question remains, how did something like this happen to
an Internationally known jazz artist in the City where Jazz was born?
We are urging all those who care to write letters to the Mayor of New
Orleans:
Ray Nagin
Office of the Mayor
1300 Perdido St. #2E10
New Orleans, LA
504-658-4900 or 504-658-0900
or email Sally Forman at: sally.forman@mayorofno.com
This event will help pay for the medical expenses as well as funeral
and burial costs involved with transporting Hilton to New York.
Hilton Ruiz will be viewed on Monday, June 13, 2006 at the Barrett
Funeral Home located at 424 West 51st Street & Ninth Avenue.
212.265.0335
Born in New York City on May 29, 1952, Ruiz was a child prodigy,
appearing on the Sandy Becker television show, performing at Carnegie
Recital Hall at the age of eight, and playing in an accordion symphony
at nine. Well-trained in all areas, he studied classical piano as well
as Latin and received jazz guidance from the great Mary Lou Williams.
"I was pretty lucky," he says, "in being exposed to a lot of different
kinds of music, and studying them with good teachers."
By his early teens, Ruiz was working with a variety of Latin soul bands
and, at age 14, recorded with a group called Ray Jay and the East
Siders. But jazz was always close to his heart, and his obviously
superlative improvisational skills quickly opened doors. Before he was
twenty, Ruiz had worked with Frank Foster, Joe Newman, Cal Massey,
Freddie Hubbard and Joe Henderson—an impressive list for an established
player, a remarkable list for a relative newcomer. Rahsaan Roland Kirk,
Freddie Hubbard, Tito Puente, Clark Terry, Ismael Rivera, Mongo
Santamaria, George Coleman and so many others. He was a Student of the
Great Jazz Master, Mary Lou Williams.
A short discography includes:
2005 Tribute to Puente
2003 Enchantment
1997 Island Eyes
1994 Hands on Percussion
1993 Heroes
1993 Excitation
1992 Manhattan Mambo
1992 Live at Birdland
1991 A Moment's Notice
1989 Doin' It Right
1988 El Camino [The Road]
1988 Strut
1986 Something Grand
1984 Cross Currents
1981 Live at Jazz Unite
1977 New York Hilton
1977 Steppin' Into Beauty
1976 Rhythm in the House
1975 Piano Man
This event is sponsored by LQ's and Latin Works Music.
All donations are to be made payable to Aida Ruiz (check preferred).
For further information call: Latin Works Music 917-678-6695
May 27, 2006
We have just been informed by the Ruiz Family that a special Recovery
Fund has been set up to accept checks for financial assistance…
Please send all checks to:
Joel Chriss & Co.
300 Mercer Street
NY, NY 10003
All checks should be made out to Joel Chriss & Co. and marked @ the bottom of the check Hilton Ruiz Recovery Fund
No amount is too small and all is much appreciated.
At this time we have no new updates on Hilton's condition. He remains
in a coma with his family by his side. Your prayers and contributions
are greatly appreciated.
May 26, 2006
New Reports regarding the investigation of Hilton Ruiz
We've received and urgent appeal for financial assistance from the
family of pianist Hilton Ruiz who remains in a coma in a New Orleans
hospital.
Please wire transfer money to the below bank account. She wants people
to call her when they have sent something so she will know that it's
there.
Aida Ruiz
Chase Bank
ACCT #: 711211359
ROUTING # 065400137
Her Phone # 201-925-6416 (leave message if she doesn't answer)
Thanks to all for your generosity in this time of need for the Ruiz family.
Jim Eigo
Jazz Promo Services
Here is the most recent news story from today's Times Picayune.
http://www.nola.com/search/index.ssf?/base/library-103/114862331818280.xml?nola
Ruiz's relatives are satisfied with the New Orleans Police
Department's account of the incident as an accident, said Mary Howell,
a local lawyer and spokeswoman for the Ruiz family.
"Mr. Ruiz was on Bourbon Street and stumbled while walking across the
street, hitting his face on the side of the curb," NOPD spokeswoman
Bambi Hall said.
"The evidence is clear. No one beat him, no one robbed him and there was no criminal act whatsoever," Hall said.
For nearly a week, rumors that the famed jazzman was beaten after
leaving a Bourbon Street bar had circulated from coast to coast.
Newspaper reports quoted family and friends questioning police reports
that Ruiz stumbled and fell, hitting his head.
"There were a lot of different accounts that the family investigated,"
Howell said Thursday. "The family is now convinced that this was an
accident, a tragic accident."
Howell said the family is "very appreciative" of the efforts shown by
NOPD Superintendent Warren Riley in getting to the bottom of Ruiz's
condition.
Ruiz, whose 54th birthday is Monday, was found unconscious and bleeding May 19 about 4:30 a.m.
Ruiz's heart stopped on the way to the hospital, but he was
resuscitated, according to Joel Chriss, Ruiz's longtime friend and
manager.
Howell said Ruiz remained in critical condition Thursday night at East
Jefferson General Hospital. Ruiz, of Teaneck, N.J., was in the city for
radio and television interviews promoting a pending CD showcasing New
Orleans music, Chriss said.
Ruiz is renowned in jazz circles for his Afro-Cuban jazz and bop
music. His teachers included jazz pianist and composer Mary Lou
Williams, and he spent four years working with saxophone player Rahsaan
Roland Kirk.
"I'm incredibly saddened," Chriss said. "But I'm trying to stay
positive. We all know the reality may not turn out well. I know he
wanted to live long and play music until he was an old man. The fact
that that may not happen is very sad."
The accident has taken an emotional toll on the family, especially on
Ruiz's ex-wife who is his best friend, Chriss said. Chriss said she's
"a mess" right now and "that no one in the world knows either one of
them better than the other." Those close to Ruiz said they're hoping
the beat will go on for the one-time child prodigy, who at 8 years old
played a gig at Carnegie Recital Hall.
Ruiz was performing with Latin groups in his early teens. His first
recording, at age 14, was with a group called Ray Jay and the East
Siders. While still in his teens, Ruiz worked with tenor saxophonists
Frank Foster and Joe Henderson and trumpeters Joe Newman, Freddie
Hubbard and Cal Massey.
The many musicians with whom he has since worked have included Tito Puente, Dizzy Gillespie and Charles Mingus.
He was among musicians featured on the 1997 video "The Best of Latin
Jazz," and his song "Something Grand" is part of the "American Beauty"
soundtrack.
"We're all praying for a miracle," Chriss said. "Where there is breath there is hope."
Trymaine Lee can be reached at tlee@timespicayune.com or (504)-826-3301.
This is the first report that came out about Hilton

greetings all,
sorry to be bringer of such news…
Hilton Ruiz is in a New Orleans
hospital in a coma. I need to send out
an email message to be passed on telling people what has happened and
to ask for everyone's prayers and healing thoughts.
He has been in hospital five days now… that would be he went in on
Friday, 19 May. He was punched hard in the face, all his face bones
were broken, he collapsed, was taken in ambulance to hospital, on route
he had cardiac arrest….. Hilton is in a coma, on life support in
intensive care unit of a New Orleans
hospital. The condition is
extremely serious. The doctors are taking very good care of him.
I have spoken to Aida his wife, and to Aida his daughter, who are both
there with him, by his
side, holding his hand, speaking to him, pouring out their love and
asking him to pull through. Both Aida's ask that everyone pray for
Hilton's recovery. We also ask that prayers be for them, sending them
strength and courage for all they are going through. Send LOVE, the
greatest healer of all.
If anyone wants to get in touch with me, that is fine. I will do my
best to respond.
my email: johnstub2445@yahoo.com
On Wednesday, 17 May, here in New York City,
Hilton had just finished a
recording dedicated to and to benefit the musicians and people of New
Orleans, who had suffered so terribly from the effects
of Hurricaine
Katrina last year. He then flew down to New Orleans to make a
promotion video for the recording. We are all truly shocked and
devastated at learning that he is now in such a dire situation.
Let us let the universe know that we believe Hilton is strong and will
soon be back in New York City and at his home in New Jersey surrounded
by the many who love and cherish him.
peace and harmony through music,
Katherine Gogel-Stubblefield
we are eternally grateful to Jazz Foundation
www.jazzfoundation.org
www.jazzfoundation.org/index2.html
:
Jazz Heaven