by jazzcat on May.10, 2006, under News
One of today's finest bass players is here at Catalina Bar and Grill tonight. If you are not
here, I sure hope you have some sort of viable excuse. Music is the passion
that feeds the soul and the sound of Charnett's bass is the dip in the cool ass
walk of jazz.
I thought tonight was initially suppose to feature a dear
friend and jazz saxophone legend himself Mr. Prince Lasha. Perhaps many of you
may not be familiar but, the Prince grew up with Ornette Coleman and played
with cats like Eric Dolphy, Sonny Simmons, Elvin Jones and Charles Moffett and
was a big influence on Charnett's musical upbringing. However, certain
circumstances lead the trio to be featured which includes Tigran Mamasyan on
piano and Charnette Moffett on drums.
I bet you are thinking how can Charnett be playing on bass
and drums, is he that talented? Well, when you are raised in the music, you are
obliged to bring one up as well. On drums this evening is Charnette Max Moffett .
How fitting that the son of a bass player and the grandson of a drummer would
contribute to keep the family torch of jazz music burning for future
generations.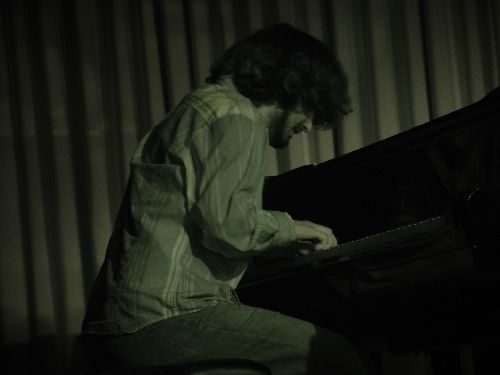 Tigran likes to feel the keys before he plays. No really, he
runs his hands over the instrument to feel its texture. Smooth, cool, weighted
and engineered perfectly to express his exact sentiments at the precise time he
wishes to. It looks like a ritual of giving thanks for the creation that brings
him together as one with the piano. He always keeps his fingers in close
proximity to the keys intangibly connecting him to the spirit of the music.
Usually when a bass player pulls out his bow, you are in for
a beautiful mellow tone. With Charnett, you not only get that, but also a trip
to India, Italy or any
other far off exotic land. His skills are mesmerizing and most people have
never seen or heard a bass played like this before. Tapping the strings with
the end of the bow in perfect percussive rhythm produces a sound that is quite
distinct. He then switches to electric not just for the funk, but to serenade
as well. There is so much to be said and so many languages to say it in and
Charnette seems to be well versed in the multitude of musical vernaculars.
The piano has ears. Tigran can hear the nuances and dance
through, with and around the music. Charnett Max is keeping the proud name of
the Moffett in the history books. Father and son is already a strong statement
in and of itself. When the two share music together, the love, admiration and
mutual respect that the bloodline of the two generations have for each other
makes you feel that the future of jazz music will be bright for us all.
Charnett's new album is called "Internet" and just like the
title implies, his global vision literally takes you all over the world and
back. Charnett encourages the audience to clap to the rhythm of one of his
songs. Audience participation is required for a couple of Charnette's pieces. He
coaxed us with, "Come on LA!" I felt so much responsibility to represent all of
you who were not there; I had to clap three times as loud. When the young Charnett takes his solo, you can see the look
on dad's face that seems to say, "That's right son, just like we practiced"
"Internet" is a plethora of notes, tones, slaps and
harmonics that sing! Charnett does a rendition of our national anthem, "America" which
would be killin' for the opening of any major sporting event. "Mr. OC" was written for Ornette Coleman who,
along with daddy Charles Moffett , shared half of their names to bestow upon the
bassist that we all know today. This tune is played on electric bass and
exemplifies the softer, more gentler side of the man.
Great musicians will take their instruments well beyond
their original intention. Charnette expresses himself in musical conversations,
his concern for humanity and through the music he expresses the joys, pains and
elations of life. The motto that he leaves you with is "Enjoy your Life, the
Gift is Love for All".
LeRoy Downs