by jazzcat on Feb.15, 2006, under News
Pioneering Jazz Pianist Alice Coltrane Comes to
UCLA Live in a World Premiere Performance of her latest album, "Translinear
Light," Feb. 18
"[Translinear
Light] is a poetic, well-rounded, and utterly convincing portrait of the
artist at the top of her game… a defining, aesthetically brilliant statement
from a master composer, improviser, and player."—All Music Guide
LOS ANGELES—UCLA
Live presents Alice Coltrane, the acclaimed musician, bandleader,
spiritualist and wife of the late jazz legend John Coltrane in a special world
premiere concert of works from her latest album, "Translinear Light."
The performance features Coltrane on organ and synthesizer, her son Ravi
Coltrane on saxophone, Reggie Workman on bass and Jeff "Tain" Watts on drums. The evening opens with dynamic Los Angeles jazz vocalist
Dwight Trible and his Quintet. This concert begins at 8 p.m. on
Saturday, Feb. 18 at Royce Hall on the UCLA campus. For tickets call
310-825-2101, visit www.UCLALive.org,
or contact Ticketmaster. The approximate running time is two hours
with one intermission.
"Translinear Light," is Alice
Coltrane's first release in 26 years. The 2004 album marks her triumphant
return to the recording scene after a period in which she devoted herself to
pursuing spiritual enlightenment. This mother-son collaboration reflects a
strong sense of family and marks the fulfillment of a dream for son Ravi
Coltrane. He is an accomplished musician, composer, bandleader and head of his
record label RKM records, who was the driving force behind his mother's return
to the studio.
"I feel more proud and more happy
about this than any musical project that I've been involved in," says Ravi
Coltrane.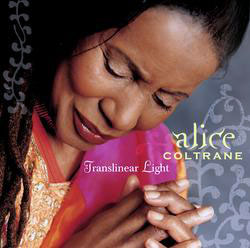 "Translinear Light" continues John Coltrane's
investigations of Eastern music as well as Alice Coltrane's extensive
involvement with Indian-influenced spiritual music. The recording showcases
Alice Coltrane on the ethereal Wurlitzer organ and synthesizer playing. The
initial recording sessions began in April of 2000 with Ravi recruiting all-star
sidemen including Jack DeJohnette and Jeff Watson on drums, and Charlie Haden
and James Genus on bass. In November of 2002, to help launch the simultaneous
release of Verve's deluxe edition of John Coltrane's "A Love Supreme" along
with Ashley Kahn's book "A Love Supreme: The Story of John Coltrane's Signature
Album," Coltrane agreed to perform with her son in a special engagement at New
York's Joe's Pub, which led to her association with Verve and the realization
of this long overdue recording.
"All this is so amazing," says Coltrane
of her long-awaited return to the recording scene. "I didn't want a second
career and my son knows it. For years I had been telling people, 'My time came
and went.' But Ravi had been asking me over a
five-year period to do this, so I finally decided the timing was right.
Something was on my son's heart, so I felt I could surely make time. And it did
seem to work out very well."
Known
as a singer's singer, jazz vocalist Dwight Trible and his Quintet open
the show with a combination of vocal virtuosity and imaginative improvisational
skills. Trible has aligned himself with the great Jon Hendricks and Eddie
Jefferson, and stands firmly planted in the jazz singer's domain of soulful
scatting and complex phraseology, delivering his horn-like vocal riffs with
luxuriant resonance and power. He has also received numerous awards for his
humanitarian efforts. Members of the
Dwight Trible Quintet include John Rangel on piano; Trevor Ware,
bass; Daniel Bejarano, drums; Derf Reklaw, percussions and Joshua
Spiegleman on woodwinds.
Alice
Coltrane was born in
Detroit, Michigan,
on August 27, 1937, the fifth child in a family of six. Her interest in music
bloomed early in childhood. She studied classical music for many years, but
later became more interested in jazz. She has recorded more than 15 albums,
written numerous books including "Monument Eternal," "Divine Revelations," and
"Endless Wisdom" and has performed concerts in music halls throughout the world
with some of jazz's finest musicians including Sonny Stitt, Charlie Haden,
Ornette Coleman, Reggie Workman and Ben Riley.
For
more than 25 years, she has been sharing her vision with others as the founder
of The Vedantic Center and the Sai Anantam Ashram located in Agoura,
California. Conveying the spiritual and devotional purpose of music, Coltrane
has recorded albums such as "Transformation," "Lord of Lords," and "Journey to
Satchitananda," as well as tapes and CDs of spiritual chants such as "Turiya
Sings," "Divine Songs," "Infinite Chants," and "Glorious Chants."
She is
also the founder and director of the John Coltrane Foundation. The development
of youth as the next generation has been one of her deepest concerns. In May of
2002, she spoke at the Cal Arts graduation commencement where she received an
honorary Ph.D.
Ravi
Coltrane, tenor and
soprano saxophonist, bandleader, and composer has fronted a variety of jazz
lineups, recorded critically-hailed albums as leader, produced recordings by
other artists – including his mother, worked as sideman for jazz luminaries,
overseen important jazz reissues, and founded an independent record label.
Born the second son of John and
Alice Coltrane in 1965 in Long Island, New York and raised in the Los Angeles
area, he was named after Indian sitar legend Ravi Shankar.
Jeff
"Tain" Watts is among
the most in-demand jazz drummers in the world today. Watts majored in classical
percussion at Pittsburgh's Duquesne University, where he was primarily a
timpanist, followed by enrollment at the Berklee School of Music, where he
pursued jazz studies alongside such talented players as Branford Marsalis,
Kevin Eubanks, Greg Osby, Aimee Mann, Steve Vai and Marvin "Smitty" Smith. He
joined the Wynton Marsalis Quartet in 1981 and proceeded to win two Grammy
Awards with the ensemble. Watts left Marsalis in 1988. After working with
George Benson, Harry Connick. Jr. and McCoy Tyner, he joined the Branford
Marsalis Quartet in 1989.
Reggie
Workman is an internationally
acclaimed bassist, composer, arranger, record/concert producer and educator.
His versatile style fit into both hard bop and avant-garde settings. In
recognition of his contribution to the artist community spanning a period of
more than 40 years, the Mid Atlantic Arts Foundation named him a Living Legend
in 1999. Workman has also received numerous Meet The Composer grants. He was
also honored by Orchard Hill College (1974), Harvest Enterprise (1991), and
Trane Stop Resource Institute (1989).
Tickets to Alice Coltrane are available
for $45, $35, $25 at the UCLA Central Ticket Office at the southwest
corner of the James West Alumni Center, online at www.UCLALive.org
and at all Ticketmaster outlets. For more information or to charge by
phone, please call 310-825-2101. UCLA students may purchase tickets in
advance for $15. Student rush tickets, subject to availability, are offered at
the same price to all students with a valid i.d. one hour prior to show time.
Supported by the Henry Mancini Tribute Fund.
UCLA
Live
UCLA Live is an internationally acclaimed
producer and presenter of music, dance, theater and spoken word, bringing
hundreds of outstanding and provocative artists to Los Angeles each year. From
the ancient to the modern, the local to the global, and the underground to the
world-renowned, UCLA Live is committed to supporting the development of new and
existing work by both major and emerging artists. Lectures, residencies, and
extensive outreach programs expand the impact of its unparalleled performances.