by jazzcat on Dec.06, 2005, under News
Well what a mystery he is! We call him the Prince and he is all of that and more. A true gentleman knighted for life with the power of the straight ahead. Living high above in his penthouse palace; he even has his own pot of gold. Let me tell you how the mystery and intrigue unfolded for me…
I was in San Francisco to witness another one of our living legends, jazz icon, master and genius of virtually all woodwind instruments, artist Yusef Lateef. He performed at Herbst Theater located in the Civic Center section of the city. I was in my seat waiting for the performance to begin when the usher escorted this gentleman to the end of my row. He had a wooden cane with the heads of three wise men carved in it, a corn-cobbed pipe and a black beret, just like the one I always wear. I over heard the gentleman mention to the usher that he just had dinner backstage with Yusef. It was Yusef's 85th birthday and indeed a time to celebrate the life of the man and his legacy of music.
Of course my ears perked up and I stood up to let the gentleman pass. It just so happened that his ticket seated him right next to me. As I stood up we made eye contact but, the gentleman decided to sit a few rows back in a seat that was a little less encumbered. I went back down to the usher to ask who the gentleman was and he replied, "He is some kind of Prince."
I knew that there was only one Prince of jazz so I walked back towards my seat and as I faced the Prince, we knew that there was going to be some kind of encounter. As he saw me walk toward him, he cleared the chair next to him for me to join him. We had not even said any words to each other but, we knew that there was much to share and talk about. "Are you Prince Lasha (as I pronounced it with a soft "a")? Lasha son, Lasha (as he pronounced it with a hard "A". People always make that mistake". "Man, you do not have a clue all of the things I have to tell you!" "Well, perhaps we can sip some champagne on the break and talk about it." "Most definitely!"
We shook hands and I immediately went out into the lobby and bought a glass of champagne so that we would not have to wait in a long line during the short intermission. The great producer Orrin Keepnews came out on stage and told everyone that Yusef was the only one in the business that was older than he was. He introduced his lifelong friend of jazz and the concert began.
At intermission, the Prince and I sat on a cozy bench in the lobby and exchanged stories. I told him how I use to work for the jazz station in Los Angeles 88.1 FM KKJZ and how I use to play his albums, "The Cry" and "The Firebirds" that he did with his jazz mate Sonny Simmons, who the Prince would refer to as his worthy constituent! I also told him that I was a guest host on the television show, "Jazz in the Modern Era" where I selected all of the music for the show and I played one of his tunes. He proceeded to pull out a notebook from his bag. In it were pictures of him and Trane, him with Sonny Rollins, Eric Dolphy, recordings with Woody Shaw, Herbie Hancock and more. It was his pot of gold!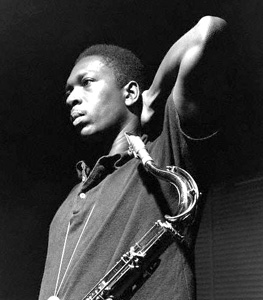 I was so happy to meet his acquaintance and he felt the same way. I saw Jeff Tain Watts and Eric Reevis walking through and I pointed out that there were a couple of today's legends. I grabbed them and made and introduction. Tain was familiar with the Prince and the cats chatted briefly. I had asked Prince if he had a ride and he said no. I replied, "Tonight, you are hangin' with me!"
I went back to see more of the concert while the Prince waited for me. He said, "Take your time young brotha, we have all night!" I went back in to hear about three more tunes and went back to the lobby where the Prince was patiently waiting. "Let's go eat!"
click picture for restaurant information
I said and we were off. I have some very good friends who own a fabulous Mediterranean restaurant in Berkley called, "Zatar" I was staying with them for the weekend and I called to tell them that I was bringing a Prince to dinner. The restaurant had already closed but, they went out of their way to wait for me and the Prince to arrive. On the way there, the Prince pulled out a CD of some music he recorded with Herbie Hancock some thirty years ago. He just happened to have all of these pictures and CDs with him because he brought them to share with Yusef. The disc of burned music went in and instantly, Herbie Hancock playing with Prince Lasha on a recording I have never heard. It was incredible! "Why have I never heard this before?" "I have been holding on to this music for three decades because I did not want the record companies to take all of my publishing. Now it is time to release it and you are hearing this music for the first time my dear brotha!"
We arrived at Zatar and I was just in awe of the music and what a great event the world was about to witness. It was just like the lost tapes of Thelonious and Trane that were just found. Only I heard it first, on a car CD player, with Prince Lasha in the passenger seat!
We ordered the "Feast for Two", which is what I suggest you order when you go there to dine. The Prince is a quick witted ladies man as he is never short of a few words for the lovely ones. We sat, dined, laughed and had a great time with my friends and a wonderful meal. I think that the Prince was pleased.
The Prince once again pulled out all of this material for me to take a closer look at and share. In 1960-64, his albums were ranked in the top ten by Downbeat magazine right there along with Charles Mingus, Eric Dolphy, Ornette Coleman, John Coltrane and the likes. I was so enamored with all of his history, I wanted to share my jazz endeavors with him. We went back to where I was staying in Oakland and I pulled up "TheJazzcat.Net" for him. I showed him articles I had written and pictures with some of his close friends. He and Ornette were schoolmates' together back in Texas. Everyone I thought I knew, he had known, played or recorded with. This was and is the magic of Prince Lasha!
We stayed up until 3am when I dropped him off at his penthouse in Downtown Oakland. I mentioned to him that I was producing a jazz television show and that I would have to come back up to Oakland and film a piece on him. "We will have to certainly do that my dear brotha!"
The very next week my friend Michael Graves called and said that he was a few hours away from Los Angeles traveling up to the Bay Area. I knew that this was divine intervention and I had to continue the rest of the journey with him to go and film the Prince. One of my cameramen and good friends lives outside of Oakland and was free that weekend to do some filming. Perfect!!!!
I did an interview and filmed the Prince in his penthouse in downtown Oakland, over his brother and good friends palace, at an up and coming well-to-do restaurant in Oakland called, "The Blackberry Bistro"
click picture of Robert Dorsey – owner for information
, at Lake Merritt and at the Lake Merritt Bakery, where the Prince has been dining for over 30 years! I captured some incredible footage of the Prince playing his baritone, soprano, flute and piccolo on the rim of Lake Merritt with birds swirling about. This footage is classic! Unfortunately, my computer crashed so I cannot share this footage with you right away but, be patient. As soon as I can get back up an online with a box that works, I promise to post some of this footage for you. I also lost all of the great pictures that I took but not before I uploaded some to share with you!
Enjoy the pictures and look for the Prince on the Cover of the November 2005 issue of All About Jazz. If you missed it, find it! If not,
click the picture below for the online version of the article on AllAboutJazz.com
Also, in the very near future, Price Lasha will be releasing some extraordinary music on his own label, "Birdseye Records". He has one out now that he just recently recorded with Odean Pope called, "The Mystery of Prince Lasha"! If you would like to receive a copy, please send me an email with your address and I will make sure that we get one to you. My email address is

Peace and Love my people!
LeRoy Downs