by jazzcat on Nov.25, 2005, under News
Positive, intention,
sound, technique and old souls are a few elements that keep us grounded
in the rich history of the music. Wallace Roney puts together a fierce
team of burners and although their identity is maintained, you feel the
presence of Miles and Trane.
A
tsunami* of sound crashes and blankets our beings with a tenacious
fire reminiscent of years past. The quintets and sextets of the sixties
are alive and well only this time they are accompanied in 2005 with a
DJ who scratches and blends beats and sounds under, on top of and all
through the music.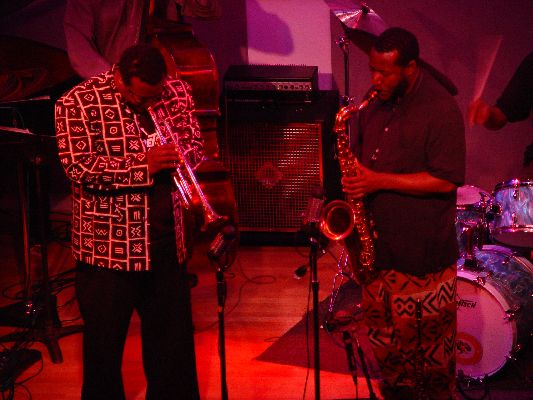 The
Roney boys are kicking some serious ass and backed up by a rhythm
section that lives on the Autobahn. Out front tonight with Wallace and
Antoine, Azar Lawrence adds on more embers to the already flammable
content.
I
peer to my left and see that the Jazz Bakery has some new art on the
wall. One of the most evident is a painting of Miles and Trane, I knew
they were here!
The
set is one tune right into the next. The ballads are long tone beauties
with mystical spoken word mixed in by DJ Val, creating a séance like
feel. "Brown Sugar, Brown Sugar, you taste so good".
No
resolution from the ballad and straight into the deep, dark, scratchy,
vampy, full funk sound. From resolution to revolution with no
restitution! Deep
in the woods the cats are shrieking, the dogs are loose and the chase
is on. Screaming sounds exude from bodies. The fire is burning but,
there is no pain, only hedonistic elation.
It's
a new millennium and the players of today are morphing the music to
higher heights and expanding the boundaries of jazz music to the outer
limits while still keeping tradition alive. The Wallace Roney band is
an exciting ride into the present and the future. Catch them when you
can!
LeRoy Downs
* (my appologies if the use of this word is offensive or insensitive. I truley do not mean it to cause harm or ill feelings)