by jazzcat on Nov.11, 2005, under News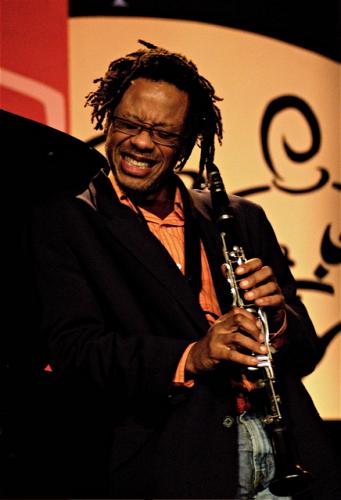 Well, the afternoon concerts here at SF Jazz are quite a bit
different. The main focus of these
performances is on the children. As a
matter of fact, they take precedent over their parents who brought them here. The adults are to sit quietly while the
children are encouraged to ask questions, clap, dance, and do all of those
things that the child in us would love to do.
The set is limited to forty-five minutes so that the
attention is kept on the music and the ADD doesn't take control. At the end of the performance, there will be
a question and answer session only for the kids. The adults can hold all of their questions
until the evening performance.
Don Byron came out on stage and seemed to be the perfect
host for this performance. The set is
very kid friendly; and that is not to say that the music is dumbed-down in any
way. It was just like an episode of "Sesame Street" back
in the day when they had someone cool like Miles or Joe Henderson visit the
show. Don't act like you don't know what
I'm talking about because I know that you were watching, too. For some of you, "Sesame Street" is probably an everyday
occurrence. You would have loved it. It is not every day that you see tomorrow's
musical minds be afforded the opportunity to go to an adult concert that is
specifically targeted at them and be catered to.
Klezmer music. What
is it and who are Sam Musiker and Dave Tarras? Well, Don's performance today is
in the Klezmer tradition, and Sam and Dave are two twentieth century clarinetists
who collaborated, recorded and blended Jewish folk music with the
characteristics of jazz and produced music for happy times.
Don speaks to the audience like it is filled with children,
and for the most part that is true. However,
at the same time, this is great information for adults who would probably never
take time to ask the questions that pique their curiosity. Don shows the kids how he bends the notes
with his clarinet and then proceeds to have each of his players demonstrate
their instrument as he explains how it works.
He is very personable and wonderful with this musical power that he has
over the children. He has all of their
wonder, amazement, energy and attention right in his hands and the kids feed on
it like ice cream.
Some of the children obviously have some experience with
music. One kid yells out, "The bassoon
is a double-reed instrument." Wow, this
is a pretty intelligent group of youngsters.
I get to take home some knowledge as well! Don realized who he was dealing with and went
on to play more interesting music.
Klezmer music is fun and celebratory. It is music for happy and festive occasions. I visualize the weddings where the bride and
groom are in chairs and their party raises and parades them above their heads. Don's show is like a clinic and he gives the
name, history and interesting artifacts about each piece. While he is playing, children are dancing,
some with their parents and others in a group down near the stage. Enjoying live music performances should be a prerequisite
for the life of children everywhere. Children
don't forget these experiences and multiple exposures to the music will
intrigue young minds, create artistic thinkers, breed budding musicians and
re-emphasize the importance of jazz, culture and music back into the world.
It is amazing how kids respond to this music. Well, this music does invite happiness and
good times. So when it is loud, the kids
rage with energetic abundance. When it
is quieter, the kids get real quiet, too.
"Tanz" is Yiddish for "dance"
and dance they do! Right next to me is a father dancing with his little
daughter. The bonding is lifelong and
unforgettable. When that girl becomes a
woman she will tell others how she used to dance with her father and those will
be some of her fondest memories as a child.
Family, dancing and music–a perfect combination for a Sunday afternoon!
Although the setting is informal, you still get great
quality music from the players. Don
gives a little of his history, where he grew up and how the music influenced
him. There were some younger babies that
were making a little noise while Don was speaking, but when the music started,
what sounded like noise turned into the joyful sounds that we all like to make
when the music is especially good to us.
I heard some of the kids screaming to the sound of the clarinet and the
oboe just like we would be screaming while watching Trane at the "Five Spot."
These days, people are too concerned with etiquette and
embarrassment to just let it out. But
there is nothing like the brash truth of youth.
Well, if we did let it out like that, we would probably be escorted out by
security.
There is no mistaking Klezmer music. It is rich with culture and stands out
prominently as its own special music. Forty-five
minutes came and went by so enjoyably quick.
The children were the magic to the music and their attention was not at
a deficit.
When the lights came up, the first kid to ask a question was
named Thelonious! You got to dig that! The Q & A session ranged from the
intelligent to the not so, but everyone stayed around and had fun
participating!
The one note that I wish to leave with is that whenever and
wherever I go to see and hear jazz music, I usually see one predominant color
of people and they do not look like me! To them, I would like to say thank you
for supporting jazz music. Without you,
where would the music be? And, to those who do look like me, I invite you to
come out and be recognized in the jazz populace. Be present, especially when you are afforded
the opportunity to bring your children. YOUKNOWHADIMSAYIN'!
LeRoy Downs