by jazzcat on Jun.13, 2005, under News
Bubbles, beach balls,
sunshine, big booties good food and jazz music always add up to big fun
at the Playboy Jazz Festival. It is the 27th anniversary of
an event that has brought jazz music and so much joy to the Hollywood
Bowl here in Los Angeles for a great many years. Would you believe that
out of two entire days of music, I was only able to see two
performances.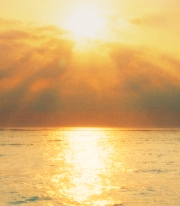 I went on Sunday and
caught Ledisi, the soul sistah from the Bay Area who funkified the
stage with a voice and band that rocked the house. What a great way to
kick off a final day of music. This will get the audience geared up for
the mood that they are to encounter for the rest of the afternoon.
Quite frankly, the
audience at the Playboy Jazz Festival is primarily a soul, smooth,
blues and funk audience anyway. The promoters at the Playboy Jazz
Festival do still book quality jazz acts to perform, but in my
experience, those artists always seem to be overshadowed by the music
of the more "popular" artist. Popular meaning radio friendly, in
rotation, easy listening and music that is propelled by the business of
music.
Oh, but don't get me
wrong, the cats who represent creative instrumental music are still
holding down their space and the festival could not be called a jazz
festival without them. This year Joshua Redman was there with is
Elastic band and so was Chico Hamilton, Joe Lovano, Dave Liebman, Dee
Dee Bridgewater, Kenny Burrell, Joey DeFrancesco,The Thad Jones
Orchestra and the Heath Brothers (RIP to Brother Percy) and a few
others.
The other act I saw
was Chico Hamilton and Euphoria. My main man Eric Person was in town
and performed with these cats and which was definitely a treat for me.
I heard that
The Saxophone Summit with Joe Lovano, Dave Liebman and Michael Brecker
kicked some serious ass! I wish I could have been there. And of course,
rounding out a weekend of fun was Mr. George Benson who continues to
elate audiences all over the world with his classic hits.
Perhaps next year I will not be so over booked and will be able to report more.
I will see you then!
LeRoy Downs
:
Jazz Heaven