by jazzcat on May.01, 2005, under News
Mingus Mingus Mingus
in a word or three says it all! It is so great and so important to
continue to be in touch with Charles Mingus's Music! It is not only the
music, but it is also that Taurian energy that runs through my body
that keeps me connected. Having a birthday just two days apart from
Charles's, the one similarity among us Taurians that I continue to
notice is the passion and desire to let the truth be told. The
"Underdog" is an appropriate description because even though we are
big, strong and beautiful, our undeniable contributions are generally
overlooked by the masses. Therefore we must be bold and demand that the
truth be heard through our creativity.
When I did my
overnight jazz show, Charles Mingus's music was quite often a feature.
I like to play music that is emotionally provocative, cognitively
challenging, creatively stimulating and where its composer has taken a
conversation from real life and "transformed it on the bandstand!"
Charles has always delivered some of the most stimulating arrangements
of musical statements and has made sure to choose the right array of
musicians that would capture the essence of his vision.
It has been the
destiny of Sue Mingus to take her late husband's music and continue its
legacy on into future generations. She spoke about his music, the
Mingus Big Band, Charles's birthday on April 22, 1922, his
contribution, as a child growing up in Watts, to Simon Rodia's towering
sculpture and some unreleased music that Sue is about to release as an
unedited session introspective with the real "Charles Mingus". I say it
that way because I am sure that it will be interesting to hear the way
Man Mountain Mingus gets the most out of his musicians and his
compositions. Sue also mentioned that there has been a large sum of
money collected to build a Charles Minus recreation center near the Watts Towers here in Los Angeles.
Charles, as most of
you know, has written a book called "Beneath the Underdog" in which he
shares the details of his life, loves, fantasies and challenges. Sue
has written a book as well called "Tonight at Noon"
which she was wonderful enough to give to me. She says that she was
much kinder in her writing about Charles's life than he was. When you
read it, you will see how a young girl, with a very conservative
upbringing ends up in a new world of cacophonic music, a language full
of confusing but meaningful expressions, one dimensional psychological
interpretations of life and wild "loco" adventures.
On stage at Royce
Hall tonight is where the Mingus Music is kept alive by the Mingus
Big Band under the direction of saxophonist Craig Handy, who lead the
band through some politically emotionally moving hard hitting Mingus
musical expressions. Boris Koslov is the bass player tonight and he is
actually playing Charles's lions head bass. I watched him throughout
the performance and wondered what it would be like to play the actual
bass of a legend? Boris arranged "Tensions", one of Mingus's more
powerful tunes, and added his own flavor to the piece. There is no
doubt that this particular bass has that phat low register sound,
undeniably Mingus. Craig said that "You have to have some big feet to
fill Mingus's shoes", I was thinking of something else!
Mingus
was one of the few musicians who stood for justice in a world of
injustice and used the stage as his soap box. But, that was only part
of the man. If you listen to all of his compositions, most of them are
saturated with love and beauty. Progressive, percussive, vocal screams
of elation and agony. Speak, listen, hear my call "Don't Let it Happen
Here""Oh Lord Please Don't Drop that Atomic Bomb on Me" "While I Eat
that Chicken" with "The Black Saint and the Sinner Lady" under "Peggy's
Blue Sky Light" while wearing "The Shoes of the Fisherman's Wife" as
the "Passion of a Man" realizes that "Orange was the Color of her
Dress" as he plays his "Love Chant" for the "Invisible Lady". The
mental matter is deep, complex and genius. While listening, I imagine
Mingus on a street corner in Harlem, at a podium, preaching to a crowd
of impoverished people by playing his bass and the audience, each with
their own instrument, responding all at the same time with trumpets,
trombones, baritones, flutes altos, drums and every other instrument
you can think of getting riled up by the wrong doings of the haves
versus the have-nots!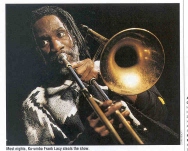 Frank Lacy has a
great personality on trombone and vocals. He added his vocal flavor to
"The Invisible Lady" where the beauty is the passion and the screams
are cries for freedom. This is one time that you do not have to "give
the drummer some" because tonight, Johnathan Blake took his in a
dazzling display of percussion. All of the cats in the band were
outstanding and are true representations of how Mingus would have
wanted his legacy to continue. The only thing that I would have changed
about the concert is the volume. I think the knob on the volume needed
to be cranked all the way to the right. This is powerful, in your face,
up front music and it would have been great to physically feel the
tremendous punch of the vibration. If you ever loved Charles Mingus
Music, these are the cats to see, The Mingus Big Band! For more
information, check out the website at www.mingusmingusmingus.com!
LeRoy Downs