by jazzcat on Nov.08, 2004, under News

Additional Photos
Last set, last night, I stroll into just what I expect at Catalina Bar and Grill, the lovely sound of vibe music. Hutcherson on Monk is a wonderful thing. Tonight Bobby is here with some of the Los Angeles
local heroes; Joe Bagg on piano, Tony Dumas on bass and Ralph Penland
on drums. The second set is full of mellow swing as the four date stint
winds down to a close. Bagg certainly tears up an organ and proceeds to
do the same on the piano. I am sure that every pianist is inspired by
Monk. I spoke with him after the gig and he said that he felt something
different the last time he played with Bobby. It seemed as if his
playing elevated to a higher level that was significantly noticeable to
him. That just goes to show you that all of the pros keep learning some
thing new every time they play, especially when you have the
opportunity to play with such a jazz master like Bobby Hutcherson.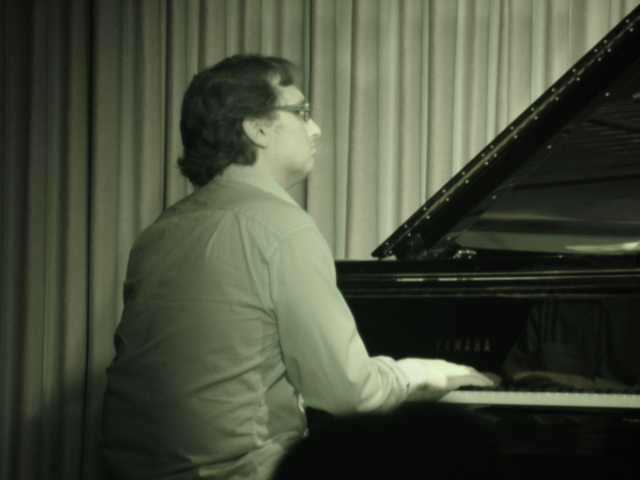 Bobby has got to be one of the sweetest, nicest,
coolest and most loving musicians in this business. He always travels
with Rosemary, his wife, and this time his son Teddy was on hand to
check out the set. Bobby's laugh and smile are unmistakable. When he
plays, you feel all of the joy his character emanates. As a new tune
begins, Bobby starts to play and the room is as quiet as 12 inches of
snow outside on a Brooklyn night. (I
bet you did not know that I knew what that was like!) Something sparked
Bobby to play a solo lullaby version of "Have Yourself a Merry Little
Christmas" and the audience was enamored. For me, it was the official
beginning of the Holiday Season and this was the absolute most
beautiful way to bring it in!
Bobby and Joe traded in a wonderful duo
conversation before handing it off to Ralph for his charismatic solo.
Bobby stood there nodding with acceptance as Ralph rolled out his
thunder. Always there underneath of it all holding down the rhythmic
bottom is Tony Dumas. Dumas is a constant source of creativity that
allows the other musicians to hear his intricacies leading them on to
more creative directions. Just the thing that a great bass player can
provide, space and creativity. Bobby plays with such brilliant colors,
no doubt one of the most delightful and enchanting sounds in jazz.
As always I am on hand to enjoy and pay my
respects to such a great master of this music. Don't miss out on your
next opportunity to see Bobby Hutcherson. Experience real music!
Coming up at Catalina Bar and Grill this month will be Charnett Moffett (Solo), Cedar Walton Trio w/ David "Fathead" Newman, Bill Charlap Trio and more….
Check them out online at www.catalinajazzclub.com. Also, take a look at the virtual tour that I shot for them. I think that you will enjoy it!
LeRoy Downs