by jazzcat on Jan.02, 2000, under News
Hello,
My name is LeRoy Downs of Jazzcat Productions. This site is called TheJazzcat.net. Here I post articles, interviews, reviews and photos of jazz events in my travels from the east to the west coast. I also do a weekly jazz interview show that is broadcast on 1410am KRML in Carmel as well as a jazz radio show on 88.1 fm KKJZ in Long Beach.
Starting in June, I will be looking to book a variety of jazz bands in Northern California and looking forward to developing a relationship with your venue. I am working with a venue in Monterey California where I will be hosting and scheduling jazz bands each week and wanted to see if we can schedule these same bands in your area on a regular basis.
The first date that I am looking to book is Saturday June 14th. I have two groups that work as part of the Los Angeles Jazz Collective, the Brian Swartz Sextet and the Matt Otto quartet.
Click the picture above for an article I wrote on my site about The Collective.
Click pictures below for links and bios on the artists.
Brian Swartz
WWW.BRIANSWARTZ.COM
www.myspace.com/brianswartzmusic
iTunes Music Store – The Brian Swartz Trio – Three
Matt Otto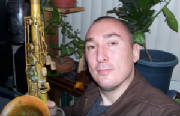 I would love to speak with you about your venue, how it works and how
we can get these artists and many others to perform at your venue.
I will be contacting you to speak about booking June 14th as well as other dates and artists soon.
Thank you so much
LeRoy Downs
TheJazzcat.net
1410AM KRML or KRMLRadio.org
88.1 FM KKJZ or Jazzand Blues.org
TheJazzcat@LeRoyDowns.com
310-220-3434