by jazzcat on Sep.25, 2014, under Events
The Angel City Jazz Festival is in full effect with some of the most progressive and prolific jazz music that Los Angeles has ever seen or heard! This festival is booked with the creative in mind, those seeking more extraordinary experiences in composition, integrity of sound and original, organic vibrations in music.
Performances this week include:
Thursday September 25th @ The Blue Whale
Slumgum and Matana Roberts Anthem
Slumgum is a perpetually inventive quartet of adventurous musicians.  The band's unique voice is shaped by unbridled imagination and diverse influences that include jazz, free improvisation, world music, and modern classical music.  They collaborate with a facility and playfulness that is rare for an ensemble, giving their musical curiosity room to explode and yielding daring results.  All of these qualities find a home in the band's innovative and colorful compositions.  Performing live, Slumgum delivers their original music with spontaneity and a blend of grit and finesse.  For the audience, Slumgum's exhilarating music projects their sheer joy in playing together.
Internationally documented, Chicago-born, New York City-based sound experimentalist Matana (m(a)-ta-na\) Roberts, works in many performance/sound mediums including improvisation, dance, poetry, and theater. A dynamic saxophonist, composer, improviser and mixed media sound conceptualist, she aims to expose the mystical roots and the intuitive spirit raising traditions of American creative expression in her music and art. Her innovative work has forged new conceptual approaches to considering narrativity, history, and political expression within improvisatory structures.
Friday September 26th @ The Red Cat

Cathrine Pineda and Toshiko Akiyoshi
 "Cathlene Pineda has the ears, touch & sound of a seasoned player decades beyond the date on her driver's license – what a surprise to find that she is still at the beginning of her career. Record companies, this is your wake-up call – she's a player to watch….and a name to remember." – John Schneider, The Global Village KPFK-fm
Award-winning pianist and composer Cathlene Pineda has carved out a significant career in creative, improvised music, both as a composer, and as a performer. Her extensive classical background combined with a unique approach to harmony makes her a fresh and innovative contribution to the Los Angeles jazz scene. She was recently featured on KPFK's "Global Village Thursdays" with John Schneider and invited back to perform her original music with her trio.
This performance will mark the premiere of a new work commissiond by the Los Angeles Jazz Society featuring a collaboration with most recent Poet Laureate of Los Angeles Eloise Klein Healy, inspired by her poem 'Passing':
Over the course of a six decade career, pianist, bandleader, and composer-arranger Toshiko Akiyoshi has made a unique and vital contribution to the art of big band jazz and has also made a unique and vital contribution tot he international presence of outstanding female jazz artists!
Saturday September 27th @ Zipper Hall
Wadada Leo Smith's Silver Orchestra / Anthony Braxton Trio
 Silver Orchestra is an ensemble consisting of twelve instrumentalists and was created with a vision that concerns an exploration of musical languages and systems with a developed experimental performance practice for the larger ensemble.
The creative orchestra as a unit is a perfect universe organized by the musical director as a utopian model. This model is also a social organism which functions within the context of democratic ideas and embodies the individual and the collective expressions. Silver Orchestra's music is the result of the particular view of its creator, the composer/improviser/performer. Sonic-unit fields within the context of the performance space are used to redefine and orchestrate a complex music field where the relations of its instrumental tonalities, sound, rhythm, range, weight, spatial depth, silence, and space (horizontal and vertical); its velocity/density/textural structure (with their rates of evolution scored) are the elements of building a new creative orchestra. With this musical construction, the Silver Orchestra creates a multi-sonic spectrum, that when realized in performance is much larger in sound form than ensembles employing the triadic and harmonic traditions. The rhythm-unit fields play a vital role as to how the sonic fields will shapes the philosophical and psychological meaning that is always inherited within every constructed music object.
Anthony Braxton is recognized as one of the most important musicians, educators, and creative thinkers of the past 50 years, highly esteemed in the creative music community for the revolutionary quality of his work and for the mentorship and inspiration he has provided to generations of younger musicians. Drawing upon a disparate mix of influences from John Coltrane to Karlheinz Stockhausen to Native American music, Braxton has created a unique musical system that celebrates the concept of global creativity and our shared humanity. His work examines core principles of improvisation, structural navigation and ritual engagement—innovation, spirituality and intellectual investigation. His many accolades include a 1981 Guggenheim Fellowship, a 1994 MacArthur Fellowship, a 2013 Doris Duke Performing Artist Award and a 2014 NEA Jazz Master Award.
Sunday LeRoy Downs hosts performances at Barnsdall Park starting at 2:30pm
There are 2 stages at Barnsdall park – The Outdoor Stage and the Gallery Theater!
The Outdoor Stage
The Brad Dutz Quartet 2:30 pm
The Brad Dutz Quartet blends 20th century acoustic classical chamber music with elements of improvisation and jazz. The combination of marimba and cello mixed with bass clarinet and oboe treat the listener to an unusual palate of instruments rarely heard in new music.
The Brad Dutz Quartet first carne together in 2005 for a New Music Festival at the Red Cat Theater. BRAD describes the group; "I wanted a chamber group that was acoustic and jazz-influenced as well as classically based with unusual colors". The compositions and instruments create that.
Gavin Templeton Trio 3:30pm
Gavin Templeton is a Los Angeles based saxophonist, woodwind player and composer. He has been recognized as "a pivotal force in the L.A. progressive jazz scene" (Glenn Astarita, All About Jazz) for both his personal contributions to new music as well as his collaborations with a variety of internationally recognized performers and composers.  Templeton has recorded alongside Nels Cline (Rolling Stone's 100 Greatest Guitarists), avant-garde jazz legend Vinny Golia, and Grammy nominated big band leader Alan Ferber among many others. As a solo artist and composer, Templeton has released three different albums over the last three years to critical acclaim, and, as a performer, Templeton is quickly becoming an in-demand concert artist. He will be performing as a featured artist at the 2014 Angel City Jazz Festival and at the 2014 Monterey Jazz Festival with the Daniel Rosenboom Quintet. 
Michael White Trio 4:30 pm
Michael White is a truly original and groundbreaking violinist in the realm of jazz. He is also a composer, educator, innovator, and major recording artist formerly on Capitol, Columbia, Impulse and Elektra/Asylum records. In the 1960s, he introduced his unique violin style into the jazz scenes of the Bay Area and New York, playing with luminaries such as John Coltrane, Sun Ra and Pharoah Sanders among many others. In the early 1970s, he was a founding member of the first fusion group, the "Fourth Way". He released five albums with the Michael White Quartet on Impulse records, and toured throughout the United States and Europe. He has performed in Lagos, Nigeria with Stevie Wonder and Sun Ra. He continues to play with Pharoah Sanders, appearing on Sanders' 1996 album Message From Home. In 1998 he released an album of duets with Bill Frisell entitled Motion Pictures.
Daniel Rosenboom Quintet 5:30pm
Daniel Aaron Rosenboom (b. 5/7/1982) is a creative and prolific trumpet artist, composer, and producer. Named the "Face To Watch" in Jazz for 2013 by the Los Angeles Times, he has been recognized with grants and awards from ASCAP, the Yvar Mikhashoff Trust for New Music, the American Composers Forum, and the Meet the Composer foundation.
Rosenboom has recorded six full-length albums under his own name, and the most recent, Fire Keeper, will be released on Orenda Records on March 18th, 2014. Additionally, he has released three full-length albums with his "hardcore-Balkan-jazz-rock" group PLOTZ!, four full-length albums with his "spontaneous composition" jazz-rock group DR. MiNT, and has appeared as a featured collaborator on albums by Vinny Golia, Harris Eisenstadt, Trevor Anderies, Dorian Wood, David Rosenboom, RootSystem, Geoff Gallegos's NineNet, Killsonic, Got Monk?, and The Industrial Jazz Group.
Azar Lawrence Quartet 6:30pm
Azar Lawrence has been a force since he graduated from high school, releasing several albums of his own before the age of twenty-five; Bridge Into the New Age, People Moving People, and Summer Solstice, Shadow Dancing and People Moving. In recent years he released Legacy and Music of John Coltrane, Speak The Word and Prayer For My Ancestors. During the eighties he wrote and performed for Earth Wind Fire, on their highly acclaimed release Powerlight. He collaborated with Earth Wind & Fire's leader Maurice White.
Azar is known to bring jazz to popular music and he can also be heard on the late Frank Zappa's music to playing in Busta Rhyme's video, In The Ghetto. His credits are numerous from early on one being the highly acclaimed Grammy award winning album; Marvin Gaye's, Hear My Dear.
The Theater Gallery
Josh Nelson Discoveries 4:00pm
On Discoveries, Nelson taps into his inner child to find inspiration through the works of Jules Verne and H.G. Wells, but the pianist's music doesn't come off like a reflection of these authors' retro-futurist tendencies. Nelson's writing is modern, in the here-and-now, and crafted with a broad harmonic vocabulary that helps to create a rich musical mélange to fire the imagination. His ability to build intricate, interlocking motifs, while simultaneously painting broad swaths of complex colors in swirling fashion makes him a man with few equals
 Aruan Ortiz Trio 5:00pm
Aruán Ortiz is a critically acclaimed Cuban pianist, award-winning composer, and a solid producer and educator, not only on the New York City scene, but internationally as well.
Named "the latest Cuban wunderkind to arrive in the United States" by BET Jazz, this classically trained violist and pianist from Santiago de Cuba, considers himself "a curious person who loves music", and portrays his music as an architectural structure of sounds, incorporating contemporary classical music, Afro-Cuban rhythms, and improvisation as primary material for his compositions. He has received a number of awards such as Latin Jazz Corner's Arranger of the Year (2011) for his contribution on the album, "El Cumbanchero" (Jazzheads 2011) by flutist Mark Weinstein; Best Jazz Interpretation, Festival de Jazz in Vic, Spain (2000); and Semifinalist, Jas Hennessy Piano Solo Competition, Montreux, Switzerland (2001). 
 Craig Taborn Solo Piano 6:00pm
Taborn became one of the most in-demand musicians in New York. Although his time with James Carter would come to a close, the Roscoe Mitchell and Hugh Ragin projects continued and Taborn formed another longstanding collaboration with Tim Berne. He also played in projects for Drew Gress, Chris Potter, Dave Douglas, and Mat Maneri on the jazz side as well as serving as a hired gun for Bill Laswell and Meat Beat Manifesto. In 2004, he issued Junk Magic on the Thirsty Ear label, turning away from the traditional piano trio and incorporating all kinds of electronic elements.
Taylor Ho Bynum's West Coast Ensemble 7:00pm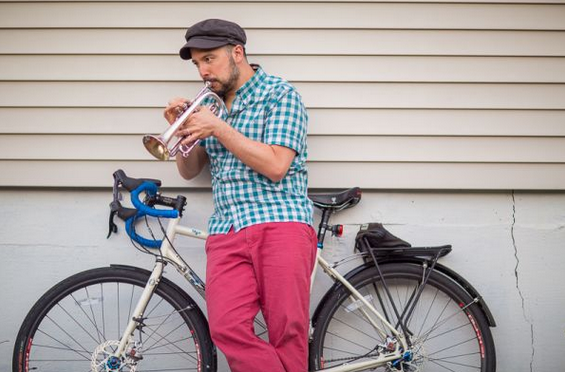 Taylor Ho Bynum has assembled an all star ensemble of west coast luminaries to perform for his Acoustic Bicycle Tour, which is an ongoing performance journey where Taylor travels solely on bicycle, presenting solo concerts and playing with ensembles of area musicians. The endeavor is an act of composition, a performance art piece, a philosophical statement, a celebration of musical community, and an exercise in extreme physicality. There are clear analogies between choosing to travel by bike and choosing to pursue a career in creative music: the trip may be slower and more arduous, but it is ultimately more rewarding in its acoustic pleasures and unexpected delights.
 Arthur Blythe Tribute and Benefit Concert 8:00pm
He made his big splash on the jazz scene after he moved to New York in his mid-30s and subsequently played with the Gil Evans Orchestra, Jack DeJohnette and McCoy Tyner. Renown for his ripe, passionate, vibrato-rich sound, Blythe recorded on Columbia Records through much of the 1980s and his most recent recorded appeared on the Savant label between 2000 and 2003.

He recently underwent a serious kidney operation, which affected his ability to walk and swallow foods. He is also struggling with Parkinson's disease. While he's slowly regaining strength at a rehabilitation centre in California, he needs financial support to pay bills and to get the help of a good neurologist.
Proceeds from this concert will be donated to Arthur Blythe to help him cover health care expenses.
 

A Big Thanks to Jeff Gauthier and Rocco Somazzi of Angel City Arts for having the vision and tenacity to present cutting edge creativity in Los Angeles
:
Angel City Jazz Festival