by jazzcat on Sep.30, 2012, under News
The Angel City Jazz Festival will open its 5th annual season at the Los Angeles County Museum of Art at 6:00pm on Friday October 5 with a FREE outdoor concert featuring the winner of the Angel City Jazz Young Artists Competition
Second Angel City Festival Weekend
Oct 12 – 14
At Royce Hall at UCLA
7PM
New York-based composer, bandleader and pianist Vijay Iyer's latest release, Accelerando —the follow-up to his Grammy-nominated, critically acclaimed Historicity—is on track to be named the jazz record of 2012. With its collection of stunning originals, mixed with covers ranging from Henry Threadgill and Duke Ellington to the pioneering electronic soundscape artist Flying Lotus and the 1970s the funk/disco band Heatwave, the record represents yet another step in Vijay's seemingly endless evolution.
The legendarily influential alto-saxophonist Steve Coleman joins the trio in the second set for a rare guest appearance. The sonic impact of Coleman's playing cannot be understated. For more than four decades, he has pushed the concept of jazz in ways few others have. With more than 20 records as leader and as part of the visionary collective of composers known as M-Base, Coleman remains a vital part of the exploratory, improvised sound that is contemporary jazz. As Iyer puts it: "To me, Steve is as important as Coltrane … What sits behind his influence is this global perspective on music and life. He has a point of view of what he does and why he does it …."
# # #
***Friday***
October 5th Angel City Free Concert
6Pm – 7pm
winner of the Angel City Jazz Young Artists Competition
The Anthony Lucca Quintet
Having the winner of Angel City Jazz Young Artists Competition open the festival at LACMA is a new tradition now in its second year. The competition is an avenue for young jazz musicians in the Los Angeles area to create and collaborate with one another in an effort to expand upon the traditional concepts of jazz and improvisation. In line with the theme of the 2012 Angel City Jazz Festival "Artists & Legends," the competition will give young musicians the opportunity to have their original music heard and evaluated by working jazz professionals.
The winner of the 2012 Angel City Jazz Young Artist Competition is The Anthony Lucca Quintet. Anthony Lucca is Los Angeles based pianist and composer. He has had the honor to perform at various festivals on the west coast such as the Monterey Jazz Festival, the Playboy Jazz Festival, and the Long Beach Jazz Festival to name a few. In addition to jazz performance, Anthony also composes and directs musical theater. He is currently a sophomore studying with Alan Pasqua at the Thornton School of Music. The Anthony Lucca Quintet is a collective group of some of the University of Southern California's finest jazz musicians.
followed at 7:00pm by a set from noted trombonist Phil Ranelin's Jazz Ensemble.
Friday October 5th
7Pm – 8pm
Phil Ranelin's Jazz Ensemble
Phillip Arthur Ranelin was born in Indianapolis, Indiana where he grew up under the influence of J.J. Johnson, Wes Montgomery, Earmon Hubbard, Pookie Johnson, Russell Webster, Willis Kirk, Jimmy Coe and Melvin Rhyne. Ranelin is loved and respected around the globe as a master trombonist of the J.J. Johnson tradition, former Freddie Hubbard sideman and as co-founder of Detroit's famed TRIBE Records. Ranelin has studied and played with some of the most highly respected Jazz and classical educators in the business, including professors David N. Baker, Larry Ridley, Nathan Davis, Bunky Green, Dr. Louis Smith and Donald Byrd with whom in 1976 he received the key to the city of Detroit.
Ranelin is joined on this Angel City Jazz Festival date by a stellar ensemble including Mahesh Balasooriya on piano, Pablo Calogero on reeds, Randal Fisher on tenor sax, Trevor Ware on bass and Don Littleton on drums.

Your Host LeRoy Downs
The 2012 Angel City Jazz Festival is co-presented by The Jazz Bakery, and the theme for the 2012 festival is "Artists & Legends," with influential artists sharing the stage with their legendary mentors.
***Saturday***
Saturday October 6th Angel City Concert
At the Redcat Theater
Saturday Oct 6th
7:30pm – 8:30pm
Symposium- Honoring and Breaking with Lineage
Join moderator Greg Burk (LA Times, LA Weekly, Metaljazz.com) and panelists for a lively discussion about the theme for the 2012 Angel City Jazz Festival.  Panelists include singer and Jazz Bakery artistic director Ruth Price, musician/educator Bobby Bradford, and writer Steve Isoardi discussing, "Honoring and Breaking with Lineage" in jazz.
Ruth Price – Bobby Bradford – Steve Isoardi
Saturday October 6th
8:30pm – 9:30pm
Anthony Wilson – Larry Goldings – Jim Keltner
Anthony Wilson, Larry Goldings, and Jim Keltner approach the familiar guitar-organ-drums trio format with a new spirit of play and possibility.  Fitting naturally into the "Artists and Legends" theme of the 2012 Angel City Jazz Festival, legendary drummer Jim Keltner provided the soundtrack for both Wilson and Goldings as they grew up listening to Keltner's unmistakable sound playing drums for artists like John Lennon, Steely Dan, Bob Dylan, and many others.
First Weekend Oct 5 – 7
***Sunday Oct 7th***
The Edison Plaza at the John Anson Ford Theater
 
4:00pm: Go Shlomo (Adam Benjamin & Jason Harnell
5:30pm: Matt Zebley Group
7pm: Brian Swartz Trio
At the John Anson Ford Theater
October 7th Angel City Concert
5:00pm – 6:00pm
Peter Erskine – Vardan Ovsipian – Damian Erskine
Peter Erskine began playing the drums at the age of four and has been at the forefront of world-class jazz ensembles for 40 years.Following his four years in Weather Report (having recorded five albums with them – including the Grammy Award winning "8:30″), he began to play with Mike Brecker, Mike Mainieri, Don Grolnick and Eddie Gomez in the group Steps Ahead. Erskine's other touring and recording credits (600 albums & film scores) include Steely Dan, Diana Krall, Chick Corea, Joe Henderson, Freddie Hubbard, Gary Burton & Pat Metheny, Joni Mitchell, Kurt Elling, Sadao Watanabe, Eliane Elias, Mike Stern, Kate Bush, Miroslav Vitous and Jan Garbarek……
Vardan Ovsepian is an Armenia-born pianist/composer whose studies include Yerevan State Conservatory, Estonian Music Academy, Helsinki Jazz Conservatory, and Berklee College of Music. Performs solo as well as with artists such as Mick Goodrick, Peter Erskine and Jerry Bergonzi. In addition to teaching at The Musical Suite in Newburyport, MA, performed and taught master classes at Fairbanks Summer Arts Festival….
5:00pm – 6:00pm
Mark Dresser Quintet Featuring Bobby Bradford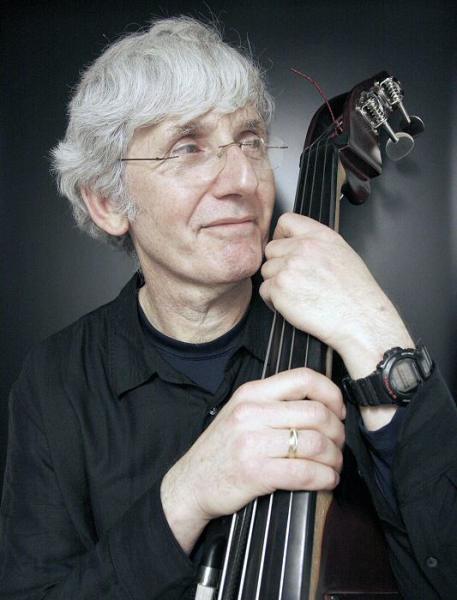 Mark Dresser is an internationally acclaimed bass player, improviser, composer, and interdisciplinary collaborator. Since 2007 he has been researching, performing, composing, and collaborating in the field of telematic performance, which explores the musical, technical, and social dimensions of live performance between multiple locations through high speed Internet. He was a co-coordinator, composer, performer, and conductor of Deep Tones for Peace, a 2009 Internet performance including thirteen internationally bassists collaborating live between Jerusalem and New York City as well as ResoNations (2009), a five site international telematic performance for peace (2009). Collaboration is central to Dresser's artistic activities.
Bobby Bradford grew up in Mississippi and moved with his family to Dallas, Texas in 1946. He moved to Los Angeles, California in 1953 where he reunited with Ornette Coleman, whom he had previously known in Texas.[1] Bradford subsequently joined Coleman's ensemble but was replaced not long after by Don Cherry when he drafted into the U.S. Air Force. Bradford began a long running association with the clarinetist John Carter, a pairing that brought both increased exposure. Following Carter's death in 1991, Bradford fronted his own ensemble known as The Mo'tet, with which he has continued to perform since. He is also the father of jazz vocalist Carmen Bradford.
7:00pm – 8:00pm
Ambrose Akinmusire Quintet
Akinmusire studied at the Manhattan School of Music before returning to the West Coast to take a master's degree at the University of Southern California and attend the Thelonious Monk Institute of Jazz in Los Angeles. In 2007, Akinmusire won the Thelonious Monk International Jazz Competition and Carmine Caruso International Jazz Trumpet Solo Competition and released his debut recording Prelude…To Cora on the Fresh Sound New Talent label. He moved back to New York City and began performing with Vijay Iyer, Aaron Parks, Esperanza Spalding, and Jason Moran, taking part in Moran's innovative multimedia concert event In My Mind: Monk At Town Hall, 1957. It was also during this time that he caught the attention of Bruce Lundvall, President of Blue Note Records.
8:30pm – 9:30pm
Archie Shepp Quartet
Archie Shepp populates his musical world with themes and stylistic elements provided by the greatest voices of jazz: from Ellington to Monk and Mingus, from Parker to Silver and Taylor. His technical and emotional capacity enables him to integrate the varied elements inherited by the Masters of Tenor from Webster to Coltrane into his own playing but according to his very own combination: the wild raspiness of his attacks, his massive sound sculpted by a vibrato mastered in all ranges, his phrases carried to breathlessness, his abrupt level changes, the intensity of his tempos but also the velvety tenderness woven into a ballad. His play consistently deepens the spirit of the two faces of the original black American music: blues and spirituals. His work with classics and with his own compositions (Bessie Smith's Black Water Blues or Mama Rose) contributes to maintaining alive the power of strangeness of these two musics in relationship to European music and expresses itself in a unique mix of wounded violence and age-old nostalgia.

Your Host LeRoy Downs
******************************
Friday October 12th
At the Redcat Theater
Marilyn Crispell
is a graduate of the New England Conservatory of Music where she studied classical piano and composition, and has been a resident of Woodstock, New York since 1977 when she came to study and teach at the Creative Music Studio. She discovered jazz through the music of John Coltrane, Cecil Taylor and other contemporary jazz players and composers. For ten years she was a member of the Anthony Braxton Quartet and the Reggie Workman Ensemble and has been a member of the Barry Guy New Orchestra and guest with his London Jazz Composers Orchestra, as well as a member of the Henry Grimes Trio, Quartet Noir (with Urs Leimgruber, Fritz Hauser and Joelle Leandre), and Anders Jormin's Bortom Quintet. In 2005 she performed and recorded with the NOW Orchestra in Vancouver, Canada and in 2006 she was co-director of the Vancouver Creative Music Institute and a faculty member at the Banff Centre International Workshop in Jazz.
"From her first album in 1991, it was clear that this pianist and composer would stay around," the New York Times said of Myra Melford. Melford has not only stuck around, but she has flourished. She has appeared on more than 20 recordings, including nine as a leader , performed in more than 30 countries, won major awards for composition and piano performance, and worked with some of the world's most innovative musicians. Melford's staying power is the product of ceaseless musical travels; she's always going somewhere. As Francis Davis noted , "Myra Melford is the genuine article, the most gifted pianist/composer to emerge from jazz since Anthony Davis."
Saturday October 13th
At Royce Hall at UCLA
8PM
The Great Flood is a film-music collaboration by filmmaker Bill Morrison and guitarist/composer Bill Frisell, based on and inspired by the catastrophic Mississippi River Flood of 1927 and the ensuing transformation of American society.The Mississippi River Flood of 1927 was an epic disaster, wreaking horrible havoc on an entire region of our country and displacing thousands, including scores of Delta blues performers who took their music north to cities like Chicago. Composed by jazz great Bill Frisell, The Great Flood is an evening-long suite accompanied by Bill Morrison's film that tells the story of these musicians and how their migration transformed American music forever.The Mississippi River Flood of 1927 was the most destructive river flood in American history. Musically, this Great Migration fueled the evolution of acoustic blues (including artists who witnessed the flood, such as Charley Patton and his "High Water Everywhere," as well as Memphis Minnie and her "When the Levee Breaks") to electric blues bands that thrived in cities like Memphis, Detroit, and Chicago, becoming the wellspring for R&B and rock, as well as developing jazz styles.
Sunday October 14th