by jazzcat on Sep.03, 2012, under News
South Africa, South Africa, oh where can I begin! This is one of the world's most gorgeous cities and I must say the place to be for great food, music, culture and knowledge. They say that you come to South Africa as one person and you leave South Africa as a whole new being; enlightenment being the key factor in the cerebral transformation.
Jazz, of course being the major reason for this excursion to Johannesburg, Joburg or Jozi as some may affectionately call it, but as you will soon see, culture is rich, the music is tight and the city welcomes your presence with open arms and good graces. Just after touching down in Joburg, we hop on the Gautrain, a quick and convenient way to travel from the airport to Sandton, Rosebank, Pretoria or many other locations in Joburg in less than 15 minutes. A similar trip by car may take up to an hour in high traffic times.

We meet up with the Blue Tour's shuttle service, our main source of transportation on this trip. First stop, the luxurious 5-Star West Cliff Hotel, located on the side of a cliff and set in the exquisite surroundings of pristine gardens and stunning views. It is wintertime in Johannesburg and the heat is dry as cool breezes blow.
We drop our gear and are off to one of Africa's beautiful restaurants, Moyo. After 15 hours on a plane, Moyo is a great place to sit back, relax, dine as we bond with both "Neo" and "Neo", our hosts from the Joy of Jazz and the South African Tourism Board. Yes, what are the chances! We are about to embark on a wonderful life experience that not only includes great music but also the lifestyle of a new culture.
If you have been to South Africa then you know but, if you are longing for a trip to the motherland, you have to realize that as an American you have been inundated with media, which might lead you to believe that when you arrive, your plane will land right in the middle of a Safari. I have had many conversations with South Africans and they smile at the thought that this is what we believe. Don't worry, you will get to see some animals but first, let's explore the city and the "Joy of Jazz"!
This is the 13th season for the "Joy of Jazz" and the line up features some well known American musicians as well as a host of South Africa's finest. The Joy of Jazz Press Conference was held at the Crown Plaza where most of the musicians traveling to the country stayed for the week.
Addressing the press, was the Mayor of the city of Johannesburg, Parks Tau. He Graciously welcomed us while speaking about how the "Joy of Jazz" is a great festival for South Africa, the employment positions that it brings as well as affording Johannesburg the opportunity to welcome guests from around the world to experience this city.
Two-time Grammy winner Earl Klugh is one of the head liners for the festival and he talks about his memories as a child in Detroit, driven to practice guitar all day long and the opportunities along the way. He was teaching guitar lessons in a music store and the owner happened to be a good friend of Yusef Lateef. Yusef happened to over hear Earl playing classical guitar, appreciated his sound and one year later, Earl got the call to go out on the road. He discussed the interesting mix of individual musical styles existing amongst his current band members and let everyone know that they can expect to hear some new music as well as some of his contemporary hits.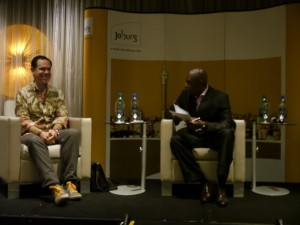 Kurt Elling says this is the first time on this continent and when asked if he wanted to come and perform at this year's Joy of Jazz festival answer was an unequivocal YES!
Kurt's father was a church musician and he has always been around music and singing. He developed a sense of counter point with the music and has always been enamored by the sense of what music can do to uplift people and their spirits. He came to jazz late in the game but was inspired by greats such as Chicago's own Von freeman, Ed Peterson and many others that he met at jam sessions in Chicago. He would wait all night to get up on the stage to perform and said that they always invited him back and he felt the love and admiration of the jazz musicians.
Singing was a gift given to him and even though he studied other instruments, singing came naturally, it was social, and he just had to get his voice out. Jon Hendricks, Shelia Jordan and Andy Bey are all folks who have given him praise. Here in Joburg, Kurt plans on having a special rapport with this audience since this is the first time he is here. He wants to take his time to get to know the audience as they get to know him. His next album will feature music that was written in the Brill building in New York; a building where songwriters gathered and wrote many famous compositions.
Maysa Leak is an R&B singer who first saw Al Jarreau perform and was immediately influenced. She sang background vocals with Stevie Wonder for Spike Lee's, "Jungle Fever", auditioned for the British acid jazz band "Incognito" and sang, "Don't You Worry About a Thang", got the gig and had a hit song called, "Deep Waters". When she sang at North Sea Jazz festival she was approached by Carl Griffin who asked her to be a solo artist and of course the answer was yes. She is very honored and happy to be here in South Africa for the first time and plans to capture the hearts of South Africans with her smooth sounding Neo Soul!

Bakithi Kumalo is certainly one of South Africa's heroes. Born here in Soweto, he rose to fame as the bass player who played with Paul Simon on the famous album "Graceland". Now of course you all remember the music and its popularity but when you are here in South Africa, even so many years later, you feel the enormity of what an accomplishment that was as well as what the music represented globally during the apartheid regime in South Africa. Bakithi's mother was a singer and his whole family played music. His mother is the one who bought him his first fretless bass. His uncle had a band and one night, the bass player was playing too many bad notes. He convinced his uncle and was able to play. His hands were too small and he had to play the bass sideways.
Bakithi now lives in Philadelphia and says it is tough. He wanted to marry Diana Ross (he jokes and says with a big smile) and admired the playing of Stanly Clark and Marcus Miller. He met his wife Robbie in NY and that was it for him. Robbie speaks six different languages, sings and tours with Bakithi. He was playing with Hugh Masakela at that time and told Hugh that he was going to stay in New York. The huge popularity of Paul Simon's "Graceland" opened up people's eyes in South Africa and the rest of the world!
Wycliffe Gordon was at the press conference as well. He too grew up around Gospel music. Wycliff's brother played trombone and just like most younger brothers, he wanted to play the instrument his brother had. He met Wynton Marsalis in college and played with him as a senior.  As an educator, he continues to learn himself as he passes those things on to the
next generation.
Swazi Dlamini is from one of the townships in Africa and became a household name after her first album, "My First Love". Church is also her foundation and she has made a career by mixing gospel and jazz into her sound. In 2003, Swazi had an idea of who she was musically and took a chance on going from backup singer to soloist and became one of the most celebrated artists in South Africa. You can find her on the corner where Gospel meets Jazz!
For dinner that evening we went to a place in the Rosebank Mall. No, it wasn't the food court but a very nice place called Katzy's, with great food and some local entertainment. Seton Hawkins, who works with Lincoln Center in New York and was born in South Africa  is also a walking encyclopedia when it comes to South African musicians. He invited one of the famous South African saxophonists to join us for the evening, McCoy Mrubata. McCoy was not playing at this year's Joy of Jazz but has played at the festival in the past and is definitely one who represents the spirit of South Africa when it comes to jazz music.
With sunshine and a great breakfast behind us, it is off to discover Soweto. I just learned that Soweto stands for South West Township and there are many townships in Africa. These townships have a deep history and it's not a pretty one. They are full of the truths and injustices of the past Apartheid regime where color and class separation were written into law by the Afrikaans and the British ruled and dominated the land.
Our trip into Soweto opened up some eyes into the differences of the living conditions amongst those who are without. We had a chance to see only a small part of Soweto, but it is clearly indicated that the wealthy of the world should band together and do their part to raise the quality of living conditions drastically.
We arrived at the Hector Piertson Museum. Upon entering we were greeted by the CEO of South African Tourism Thulani Nzima. He introduced us to a special lady whose presence would soon shock our systems into reality.
Her name is Antoinette Sithole and she is the sister of Hector Piertson, the first child shot in the peaceful march that turned into the bloody Soweto Uprising. 500 people died that day in June of 1976 marching for their rights. The Afrikaans were attempting to make their language the official language taught in the schools and the natives of Soweto marched in protest; the police were ordered to open fire.
From there we traveled down the road to the Mandela House. It was all so moving to stand inside the walls that housed Nelson Mandela feeling the space, the size and trying to imagine his mindset as he concentrated on moving a people forward in one sense and neutralizing the mentality of an oppressor in another. This is the place where he was arrested and taken into custody for some 27 years. Courtesy, kindness and honorable manners were a few of his weapons of non-violence, although not afraid to talk about arming a people if necessary. Here you see some of his writings, his books, pictures, the stove they cooked on and a Heavy Weight Belt given to him by Sugar Ray Leonard.
It was a Wednesday and the square was supposed to be bustling with businesses, shops banks, hotels and the like. This did not seem like the case with just a few local peddlers selling their wares in the square however, one impressive monument remains to be the center of attraction and that is the Freedom Charter.
The square is the place where over 3000 anti-apartheid resistors made their way to gather and form a Freedom Charter in June of 1955; a new vision in light of the oppressions of apartheid, the police and the apartheid regime. The charter that was adopted is still in existence today and remains to be the new South African Constitution. Its amendments and declarations giving the rights to the people have been cast in stone surrounded by the brick monument that protects it.
After taking in all of the historic experiences of the day and becoming more in touch with the roots of South Africa, it's off to the first night of music for the "Joy of Jazz"! Throughout the weekend there will be several stages emphasizing the sounds of jazz music from here in South Africa and abroad. Tonight there is only one stage with music and security is high because the President of South Africa is in the house for some jazz!
The Sax Summit to be the first to grace the stage tonight. Over the years there have been many versions of Sax Summits but this one features the women of the world lighting up the stage. Shannon Mowday, Rosemary Quaye, Tineke Postma and Grace Kelly performing the music of Kippie Moketsi, known to many as the self taught South African Charlie Parker.

Brass has never been so lovely sonically, in all facets of the word. The Sax Summit surmises the energy of international cohesion; universal languages through sound emoting together and becoming one with the spirits and people of a nation!
Eddie Palmieri together with Brian Lynch stir up the sounds of Latin America and as usual, the rhythms and beats of the music physically move the souls to celebration. His percussive style on piano is in every way a tribute to the joyful side of the music. South Africa is transported to another side of the world and back as they dance with the melody of Palmieri!
Manu Katche opens up the sound with his dynamic drumming. Playing with the likes of musicians such as Sting, Kyle Eastwood, The Black Eye Peas, Joni Mitchell, Jeff Beck as well as a host of other international stars has helped him shape the openness in his groove letting you explore as you feel the rhythm.
The headliner of the evening Earl Klugh was a crowd favorite. Playing with his long time cohort Nelson Rangel, he soothed his audience with the smooth side of the music capturing some exciting moments and relishing in the nostalgic sound of classic past hits like "Midnight in San Juan".
We visited Freedom Memorial Park, a peaceful and cerebral place built to honor all of those who lost their lives in the struggle for freedom. All of the fallen comrades who fought in the many wars and struggles of South Africa are represented here with their names etched in stone to commemorate their plight.
This is a place where families and friends can come and find the names of their loved ones on the wall, emote and travel down the labyrinth of solace to Isvivane, which symbolizes a resting place for the spirits. You grieve at the wall, contemplate down the path, and release your suffering at Isvivane, where you begin your process of healing.
 Freedom Park sits high upon the hill and can be seen from as far as the Church Square in the city of Tshwane.
After a quick trip to Sandton City and the Nelson Mandela Square for some shopping, it was off to the second night of music in Newtown at the Joy of Jazz Fest. On this night, my eyes and ears first lay upon the sound of Africa with Thandiswa Mazwai. As always with good music, you don't need to speak the language to understand and feel the presence and the power of a sound. Thandiswa Mazwai, born in Soweto makes it clear with her native tongue that she is speaking to the heart of the continent and all are captivated under the rhythmic chant, groove and shout of her soulful sound.
The constant gentleman of the Ellington Orchestra always represent with an heir of distinction as they deliver solid statements of tradition in the classic vein. The versatility of the audience is right on par and swingin' hard as the harmony of the horns grace the melody with style and grace!
Wayne Henderson leads the Tribute to Miles Davis Band which includes bassist Edwin Livingston and drummer Ndugu Chancelor. Off the road with Natalie Cole and in South Africa for the first time, Edwin is pleased to discover the city, get to know some of the South African musicians and is happy to be honoring Miles here in Africa. After they take "Seven Steps to Heaven", Wayne gives the crowd the option of choosing the last song of the set and they roar, "Summertime" and end the set with the audience singin' and grooving on "Keep on with that same ole feelin"!
From Switzerland, Eric Truffaz fuses muted trumpet over organ chords and digs into a deep groove as he serenades folks on the Bassline Stage!  His mix of electronic keys with floating trumpet, strike a mellow tone with the natives and the trance-like vibe is on.
Monte Alexander makes no bones about representing his native Jamaica as he proceeds to break it down with his high-energy performance on piano. At one point he goes to the side of the stage and pulls out the Jamaican flag indicting all those who wish to take a short trip to the island!
Mory Kante is joined by a large ensemble of musicians and a pair of back up singers who know how to back it up! Mory switches between singing and playing the kora but never letting the energy of the music drop below 90 miles an hour! Again, the sound of Africa along with the feel of percussive, festive celebration rings in the air. He engages the audience to be a part of the music and together they rocked the Conga Stage!
What can you say about Lizz Wright! Everything that is right of course. She is so grounded in the earth and the low-lying breeze that is her breath slowly rises and levitates us all. Lizz is so soulful and real as she dances to the sound of her band before continuing to amaze us with her rich and robust tone. I believe this is her first time in Johannesburg as well and the next day after her performance, she took a tour of Soweto. Africa has a way of making you look at your life and connecting to a land that was once so far away. I can't wait to hear and see how this experience emerges in her.
When traveling, many people always wonder how traditional food tastes, is prepared and what are some of the South African specialties. Well, to demonstrate that, we were taken on cooking safari. No, not out in the bush but over to Taste Buds Cook Club, where we were presented with aprons, chef hats, a kitchen full of ingredients and recipes to try our hand at the tradition.
It was a great experience where we pair up with a partner in the kitchen and go for it. Our party included people form Botswana, France, the DRC, Japan and America, which made for great times. The cuisine of South Africa is a mix and blend of European, Asian African and Middle Eastern countries that it affectionately calls its own. Music and food are two of the bonding elements of the Universe, so it is quite natural that we all became great friends over the breaking of South African bread!
The last night of music at the Joy of Jazz still featured some of the same performances from the night before, but gave you a chance to catch up on what you may have missed. And it is a good thing too; there were some fantastic South African artists that I was glad to include as a part of my musical experience. One of them being a cat whose name says it all, Afrika Mkhize, what an outstanding pianist! His quartet was one of the most exciting performances I heard, delving deep into melodic implications and intellectual phrasing of chord structures. Afrika loves festivals because it gives him an opportunity to talk, hear, share ideas and be inspired by other young jazz musicians on the cutting edge of sound. However, those sentiments go both ways!
Swazi Dlamini, proud to be an African, swings her set with groove as she and her husband excite the crowd reaching falsettos' as they swim through all the octaves. With a Gospel base and the feel of jazz, rhythm and blues, Swazi touches not only the spirit but the soul as well!
Jimmy Dludlu sings, plays and rocks his guitar. He likes to move around the stage and get in close proximity of his musicians to jam with them, bringing a smile and a higher energy to the sound. It is clear from the tone that George Benson ranks among one of Jimmy's favorites, but he takes the style and shines his own personal light the subject. Jimmy certainly has a, " Point of View" and he shares that feeling with us through his life's experiences channeled through his guitar.
Jane Monheit seduces South Africa with her sassy flair and long tones and yes, they love it! So no matter which side of the rainbow that she finds her self on, she will always find "Home". And, let's not forget about hometown hero Bakithi Kumalo, who is joined by his wife Robbie on stage as they share their love  along with the love of the country and the music.
Johnny Mekoa speaks from the heart, as life has not always been so easy. Johnny grew up in Johannesburg and realizies that it was not that long ago that he himself would not be able to play in such a venue as the Market Theater.He shares with us as he expresses and reflects on the changing times. Now that he is here, he gets to share his music with everyone and the joy of the music rises above the pain of the past.
The "Joy of Jazz" has come to an end but the adventure continues on as we explore the Sterkfontain Caves. This is the place, located not to far from the city of Pretoria, where an almost complete skeleton was discovered, giving us a look into the precursor of human kind. The water table eroded the rock through the years and created a separation forming these incredible massive caverns. The caves reveal secrets as to how man used fire, tools and many other survival tactics through their years of development. It is known as the Cradle of Human Kind. The Maropeng museum, built just a few miles away from the caves, is open to all visitors and is filled with exhibits pertaining to these ancient discoveries.
I missed the day of safari but figured you can't go to South Africa and not see any animals. So we ended up at the Rhino and Lion Park, which is a private game reserve that has animals roaming free. As we drove around on the bumpy dirt road we did come across gazelles, water buffaloes and ostriches. The predators, such as the cheetahs and the lions were sectioned off so that they did not end up eating the rest of the park. The rangers fed the lions and cheetahs while the crowd of cars feasted their eyes to see some sort of natural behaviors. More like a zoo than the hunt except everyone was inside the cage only protected by our vehicles.
The days have been long but, when you are in South Africa, you can't sleep on opportunity. Lois Gilbert of JazzCorner.com has a friend Sophiso who was kind enough to come by the hotel and take Lois, Josh Jackson and me over to Melville, a swingin' place to go and hear music on a Sunday night! Unbelievable the sound of the music booming from Andile Yenana and his trio. I rarely use the overrated word "amazing" but, I am telling you these cats are what is happening in South Africa.
My first question is why weren't these musicians featured at the festival? Andile was not playing the keyboard but he was the keys, with his progressive Tynerisms that lifted my spirits and connected me with that cerebral sound I have been looking for. I had a chance to speak with the drummer who I pulled close to me and hugged like a brother. Like in many places these days, there are politics when it comes to music and art. Not everyone gets it or takes their time to understand it but, there is freedom in the truth of the music and Andile is the TRUTH!
On our last day before we started our journey back to America, we visited the Apartheid Museum. This stop was an important piece of our journey. Upon entry, you were either classified as "White" or "Non-White". 
It is so easy to be comfortable at home and to only see blips of someone else's reality on CNN. When you spend time in the museum, and you read of the atrocities and the rights that Nelson Mandela, Steve Biko, Walter Sisulu, Oliver Tambo and so many other political leaders fought for, you realize how connected we are as a people. We are not different states and different countries; we are one as a people.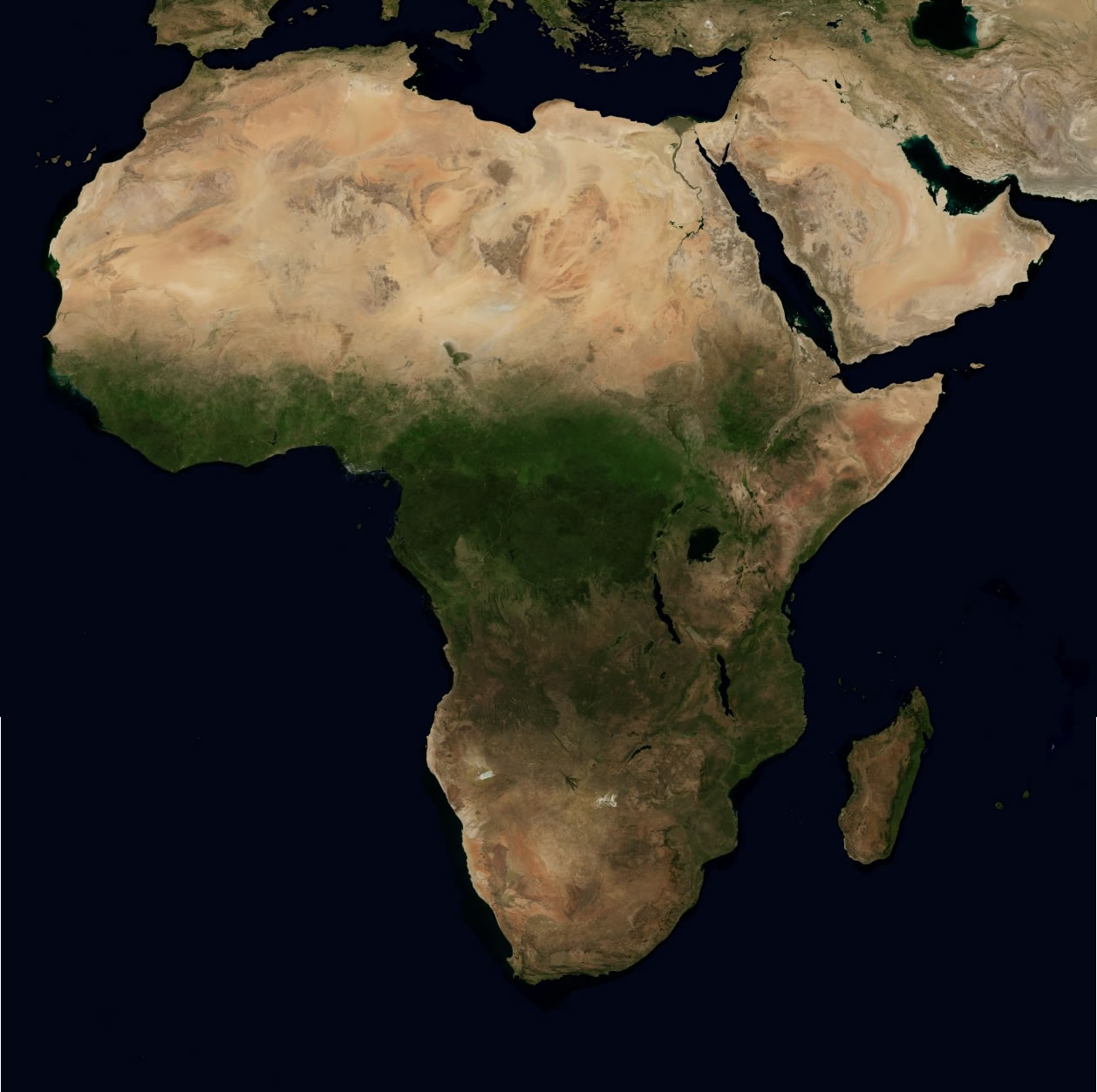 We have so much to learn and book knowledge just does not cut it. We all need to travel and physically discover other worlds before we can begin to understand different cultures and understand ourselves better.  I would like to thank Lois Gilbert of http://jazzcorner.com and Peter Tladi and Neo Motlhala from Joy of Jazz and South Africa Tourism for making this trip possible http://www.joyofjazz.co.za.
See you in Joburg!
LeRoy Downs