by jazzcat on Feb.23, 2009, under News

Oh my, this was one of the most fantastic times that a jazz lover could ever have. Seven days at sea with the most incredible jazz artists, a ship full of people who know and love the music and stops at some very incredible places in the Caribbean that will make you want to sell the farm and live the glamorous life in tropical hues of blue!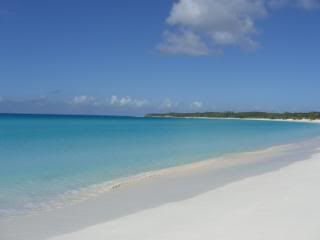 I have been one of the hosts of the Monterey Jazz Festival for the last decade but I was still so very excited when I got the call for Playboy. This was my first so I had no idea what a jazz cruise would entail but let me tell you, it is non-stop hedonism for those who live, feel and breathe the music.
Now many of you might somehow have the impression that there was a ship full of bunnies parading around, not true. There were maidens on this voyage as well as kings and queens of jazz, but everyone was treated like royalty, artists and guests alike. The precious sound of music surrounded by a rolling world of blue was like a paradise of pinch yourself reality!
We boarded the ship in Fort Lauderdale and people were partying, eating and getting acclimated to the ship long before we started to sail the seven. Dianne Reeves, a few friends and I decided to take a quick tour. We walked into the Vista Lounge, the premier concert hall where she would be performing the next evening, and she got a big smile on her face and said, "I am going to enjoy this"!
Michael Lazaroff is the executive director of the Jazz Cruises LLC and on the first evening at the Vista Lounge he introduced Dane Butcher who works with Michael and oversees the entertainment on-board, Len Pace the radio veteran from Florida, myself as a radio personality from Los Angeles and Mr. Marcus Miller, escorted on stage by two playboy lovelies!
There were several stages and places to see music, listen to comedy, dine, enjoy the ocean air and see the stars in the sky as well as in the music. On day one, James Moody and Eldar graced the stage of the Vista Lounge each feeling the excitement of being the first to kick off the inaugural celebration! James at 84 years young still possesses the poise, graciousness and superior sound quality of a distinguished gentleman of jazz. Humor and humility are two of his great qualities as he and his wife Linda not only enjoy Moody music but, are also seen in the audience listening to performances and conversations of other admired artists on the ship.
Eldar and his trio light the stage up with their magic. Extremely proficient in capitalizing on creative energy, Eldar takes youthful imagination and sculpts classic lines into new sculptures of sound!
The Ocean Bar was one of the smaller venues on board where many trio's quartets, and solo performances were performed. Pianist Peter Martin opened this stage and engaged the audience in a repertoire of classical and original music while creating smiles with humorous interactions between compositions.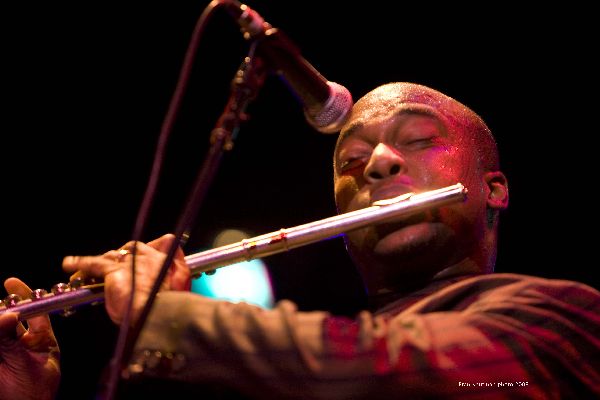 Lighting up the stage and horicating with the audience for most of his performances on the ship was the extraordinary James Carter and his organ trio of Gerard Gibbs and Leonard King. James being the proficient one on many wind instruments always adds enthusiastic exploration of the outesphere in his performances. Giving folks a taste of the possibilities, permeating interpretations and limitless boundaries where the music can be taken at any given moment. In an interview with James, we talk about his style and Cartarian approach to the music!
On Monday we were sailing the sea for the day and you could see in faces of the guests on board that they were very pleased about envisioning their next six days soaking up the sun, taking in the ocean breezes and experiencing more incredible performances. The ship was at capacity and the evening shows in the Vista Lounge were equally divided so that nine hundred folks could attend each performance. During the day there were other cool events that you could attend. There was an autograph session in the Crow's Nest where Marcus Miller, Roy Hargrove, Eldar, James Carter and the New Birth Brass Band got a chance to meet the audience and sign autographs.

Click below for video of "50th Anniversary of Kind of Blue"

This was Playboy Jazz Cruise T-Shirt day and everyone who wore their Playboy Jazz Cruise T-Shirt received free drinks for a limited time period. I am sure you can imagine how well that was received. I co-hosted "The History of Jazz" with Marcus Miller. Quite a subject to cover in one hour I am sure you will agree. I had no idea what we were going to talk about and had been asking the directors on board what was "The History of Jazz" all about and they all said, " Oh, don't worry about it you and Marcus will have fun". So I show up and go back stage and see Marcus and we go onstage in about five minutes and I said, "Marcus, what are we going to talk about" and he said, "Oh, don't worry, we will have fun". Then he said that since it is the 50th anniversary of "Kind of Blue" let's talk about that. As spontaneous as spontaneous can be, we had a wonderful conversation and Marcus's precious insight to the Prince of Darkness himself gave us some true insight to Miles introspection and we listened to the music and broke down some key elements that were pinnacle in creating a historic recording!
The other host on board was Len Pace who has been a key figure in jazz radio in Florida for over thirty years. He was just as busy hosting stages and conducting a few interviews of his own. One of them was with Roberta Gambarini where he and the audience got a chance to get up close and personal with the artist in the intimate question and answer session.
Of course it is impossible to be everywhere on the ship at once and some other cool events like "Celebrity Bingo With Comedian Alonzo Bodden, Wine hour with Keb' Mo and even a passenger jam session where all of the guest on board who had some skills could bring their axes and get down!

Check back for on-board interview with Dianne Reeves
On stage in the Vista Lounge I introduced Dianne Reeves and her band with Reuben Rogers on bass, Peter Martin on piano, Romero Lubambo on guitar and Kendrick Scott on drums. Dianne always has such a warm and embracing relationship with the audience that they are all caught up in every lyric, every story and surrounded by the overall beauty of being at sea away from the rest of the world certainly adds to the euphoric feeling of happiness in and around the music! We had a wonderful time doing our interview up in the Crow's nest and once again the intimacy of the conversation with fans and artists gathered around was so tuned in you could hear the silence of the crowd locked on to her frequency taking in and processing all of the information.
The Lido Deck was the outdoor deck where there is a pool, places to sit and eat, ping pong tables, an outdoor stage and vast expansive views of deep blue! This is a wonderful place to hang during the day but the place was hoppin' every night late with after hour jams and theme parties. The New Birth Brass Band was workin' it hard on this deck as well as Marcus Miller and Friends and Poncho Sanchez. The ship Pajama Jam was a blast! The guests were partying and having a good time expressing their personalities in their evenings finest and yes, some things visually are best kept behind closed quarters but it certainly gave "hanging out' an entire new meaning!
Keb Mo' came on late Monday night with the Marcus Miller band and it was another all out jam session. Marcus has that way about whoever is on stage with him and his band; the main emphasis besides great music is a high degree of good time and fun. Keb is one tall, mellow cool cat who keeps it super real by putting the blues all up in ya!  He is so very personable and his songs are composed of lyrics that penetrate egos and sync with the human in us all.
On Tuesday at high noon I had a standing appointment on the basketball court with Reuben Rogers, Peter Martin and Kendrick Scott before we arrived in San Juan and we docked to explore the island. With the wind blowin', the ship rockin' it was challenge to bust your three pointers but we got lots of great exercise tryin'! Marcus Miller also had a shoot out with folks on the cruise who wanted to join in. The drummer from the Frost Jazz Quartet told me he took the prize!
Some of the points of view in San Juan are pretty damn spectacular. It is great to see people from the ship descend upon the town. Took a bus that winded up and down the small tight streets filled with shopping are restaurants. I was looking for a nice place with a patio an umbrella to have a cup of tea but settled on a small café on the docks with the gorgeous view, oh and yes the view of the scenery outside was lovely too!
Besides enjoying Marcus Miller play, you also had an opportunity to watch him express his "Way to a Woman's Heart" through is onboard cooking class! Doesn't matter what the dish was, I am sure Marcus in the kitchen with an apron on cookin' was enough to send estrogen levels up to the flash temperature!
Keb Mo was back in the Vista Lounge with two solo performances followed by James Carter and his Organ Trio. Keb on stage with just him and his guitars makes that largest venue on the ship seem like a fireplace and a living room. Most artists have the set list that is going to be played for the evening and that is what the audience gets but, Keb asks them what they want to hear and proceeds to fill their requests. That is one gracious brotha!

Check back for on-board interview with James Carter
James and his organ trio come on stage and warm the audience up before they turn up the gas and light the pilot! Leonard King is spectacular on the drums and Gerard Gibbs has fun layering chords of synthesized vocals for a super harmonic sound. If you ask him how he does it, he will not claim any accolades for the sound but he is certainly responsible for it. James will swoop you up with swoon in one second and light the screamin' torch on you the second but, you don't get burned, just scorched with ecstasy!
St. Barths has to be one of the most exquisitely beautiful places on the earth, not to mention one of the most expensive! A group of friends and I rented a car and off we went to explore. We came across some natives at a cemetery filled with flowers and they guided us to the Ile de France Hotel were we had a wonderful relaxing lunch for hours followed by blue waters, clear skies and half naked French women on sandy beaches! Is there any reason why you would not think that this is my favorite island? We had the place much to ourselves before Herbie Hancock, Roberta Gambarini, DJ Logic, Marcus Miller and others found the gorgeous hideaway! Definitely the place to be!
The Frost Jazz Quartet was a group composed of some young cats out of the University of Miami who worked out some great compositions at the Ocean Bar Stage later to be followed by Renee Rosnes, Todd Coolman and Adam Nussbaum. They were all originally supposed to be performing in different configurations on the ship but just as jazz is improvisational, they worked their magic of trio and wound up with one great set of music!
This is also the stage were some other magic took place as well. Orrin Evans would play with his trio of Dwayne Burno and Montez Coleman. Romero Lubambo serenaded the audience with a very intimate set of solo guitar performance before inviting his wife Pamela to sing and then special guest Dianne Reeves onstage to join him.
Later Project Logic would be performing with the Marcus Miller band. DJ Logic has been up every night entertaining everyone on board in the Crow's Nest and Northern Lights with some after hours get your groove on dance music mixes that put more swerves, slips and dips in backsides of the passengers. But, here at the Ocean bar, folks are going to experience an entirely different phenomenon where Logic mixes and scratches over the textures of funk filled, jazz fused explosions with a line of cats at the mic like Roy Hargrove, James Carter and a host of others who step up to lay down so spontaneous soloocity!

Check back for on-board interview with Poncho Sanchez
Next stop was Nevis where we mingled with the locals and took a "Funky Monkey" tour the around the island exploring old sugar mines and cemeteries before laying out on beds at the beach. I had to get back to the ship for an interview with the great conguero Poncho Sanchez! We had a good time as Poncho explained the soul of the "Clave" and how he layers each distinctive sound of the congas and bongos to come up with the rich, illustrious flavors of his Latin soul sauce!
Roy Hargrove hits the stage at the Vista Lounge and as usual delivers his impeccable tone. His band includes Orrin Evans, Dwayne Burno, Montez Coleman and alto player Justin Robinson and he is also joined by vocalist Roberta Gambarini who sits in on the set. This was monkey suit night so tuxes and formal gowns were in high demand. It goes to show that the ship could not just clean up at the buffet but when it came to lookin' good, they could fill that order as well. Of course some would have preferred that Formal night be at the beginning of the cruise so that they would not be exposed through buttons, seams or half zipped dresses but it was all good!
Herbie Hancock and Marcus pack the Vista Lounge as Marcus talks with the man whose name is synonymous with jazz improvisation. Herbie is a big kid genius that has for most of his years been on the leading edge of technology and has forged this electricity with the pathways that create new and beautiful sounds and approaches to them. Plugged in or unplugged, Herbie always takes and shapes the music with "Inventions and Dimensions". He makes sure that this "Maiden Voyage" is complete as we visit on more popular island inhabited by cantaloupes and the beat of seven teens!
Alonzo Bodden held down the stage right after Herbie with politically intelligent humor right out of our own headlines. Just tellin' it straight like it is, he has the audience belly laughing about banks, Bush and the state of our economy. A big joke indeed, unfortunately it's on us but, hopefully soon we can stimulate the swing of the pendulum in the other direction.
On Saturday there was a feast prepared for us all on Half Moon Cay, an island owned by the cruise line. Although a bit windy and cool, we braved the conditions to experience our last encounter with turquoise before sailing back to reality. This was the last night on board and Marcus Miller closed it out on the Vista Lounge with a killin' performance. They hopped off the stage and took the funk right into the audience for close encounters of the groove kind.
Speaking of encounters, this was quite a well-rounded, hedonistic success. Any way you look at it, when you have jazz, food, blues skies, pastel waters, extraordinary talent and an energy that permeates happiness, the great escape of the 1st Annual Playboy Jazz Cruise was not to be missed and if you slipped on this one, make sure your presence is felt for round two!!
LeRoy Downs