by jazzcat on Jul.12, 2006, under News

Slide Show
The Jazz Showcase is a lovely, nice-sized venue located right in the middle of Chicago's beautiful downtown loop. The walls are filled with pictures and memorabilia of today's and yesterday's greatest jazz musicians. A huge backdrop dons the iconic face of our master jazz luminary Charlie Parker.
When you call on the phone, show up at the club or witness the introduction of the players for the evening, you will see the gentleman who seems to be the main man here at the Jazz Showcase "Joel Segal".
In the true tradition of a messenger of the music, Winard Harper is on a two week tour, traveling with some of the freshest young jazz talent around. When you hear Winard hit, you know that Bu must be smiling! It is five-piece fun embellished with excitement and percussive imagination fueled by the energy of youth.
The drum roll is on in full force and it is about power, percussion, musicality and showmanship. The music not only beats with the pulse of a New York bebop heartbeat, Winard is entertaining as he showcases his thunderous displays of rolls, bashes and syncopated, polyrhythmic roars. He seems to realize that music can not only sound good, it can be entertaining as well. And I mean entertaining as real fun down-to-earth entertaining. Not the kind that shucks and jives. It is plain to see that Winard has a friendly rapport with his audience and he has the skills to back that up.
This sort of relationship with the players, the music and the audience is a key element in performance today because, generally with jazz music, the only sense that is engaged is the audible. Winard has a playful way of engaging his audience with humor, love and charismatic charm. It is fun and lighthearted to have some humor and some engaging visuals as well. It puts a big smile on the music. Smiles turn into laughter, which leads to good feelings and subconsciously, jazz music and good vibrations become intangible synonymous with each other!
Winard introduces his players like they are about to come out on the floor for an NBA game. His crew is comprised of Massachusetts man Sean Higgins on piano, bassist Ameen Saleem, Michigan tenor Stacy Dillard, Ailoune Faye on percussion, and the youngest member of the band who does not like being reminded of that, Josh Evens on trumpet.
Josh Evans is firing off brash riffs on his trumpet as if he was hangin' out with Lee and Freddie for a pre-game warm-up session. Stacy sounds reminiscently warm, pleasant and peaceful as his tones glow and caress with the calming tenderness of love. Sean has been to church in the hood a few times and has said a few prayers, because he did not know that the blues could feel so bad yet sound so good! And they all said in the "Mornin'", "Yes, Lord"! Ailoune Faye blends his percussive flavor with Winard while Ameen lyrically swings the line. Tonight and every night these cats are the modern-day swinging messengers of the music. The standards have a bounce and melodic line that says 21st century while paying much respect to the 20th!
These cats are visibly young but audibly ageless with romantic ballads that have eyes closed and bodies swayin' like a cool summer breeze. Tunes like, "I've Never Been in Love Before" and "Talisha" sound like love from a black and white movie.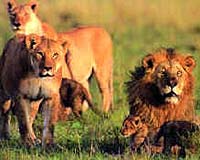 Winard played this wonderful West African log drum instrument that dropped us right into the lion's den in the jungles of Africa. You can run, fight or be eaten! The music dances and moves like tribal goddesses with the strength and power of warriors. The band joins in and the tribe morphs through years of evolution. As the skins shed, we are brought here to this place and time, Chicago 2006, where the beat of the drum has prevailed with funk, soul splendor and love. Yes, the lions have retreated and we are blessed with victorious life.
If that is a typical night at the Jazz Showcase in Chicago, that city has got it going on! What is really cool is that on Sunday there is a matinee where you can bring your kids to check out the music and ask questions. Wow, don't we need that!
As Arnold used to say, "I'll Be Back"!
Click picture above to listen to an inteview with Winard on "Live with the Jazzcat"
LeRoy Downs