by jazzcat on Aug.06, 2005, under News
Well, once again I will be the Master of Ceremonies at the 48th Annual
Monterey Jazz Festival. It is an honor and a pleasure to be connected
with such an organization that is commited to putting on one of the
finest jazz festivals in the world.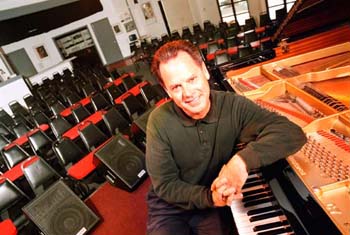 The people who work for the MJF are a great group of individuals. Tim
Jackson, Paul Fingerote, Shawn Anderson, Jan Takashita, Zorrina Rico
and Stephanie Brown are just a few of my friends who all work hard
to make the festival a seamless and beautiful event for you all to
enjoy.
I will be on the Night Club Stage for 3 nights of entertainment and I invite you all to come over and let's have a good time!!!
Here is the schedule for the Night Club
FRIDAY NIGHT (9/16/05: 8:00 PM – 12:00
AM)
8:00 pm: Donny McCaslin Band
9:30 pm: The Lost Chords with Carla Bley & Steve

Swallow
11:00 pm: John Handy "40th Anniversary"

Quintet
SATURDAY NIGHT (9/17/05: 8:00 PM – 12:00
AM)
8:00 pm: Sheila Jordan-Steve Kuhn Duo
9:30 pm: Andy Bey Quartet
SUNDAY NIGHT (9/18/05: 7:00 PM – 10:00
PM)
7:00 pm: Christian McBride Situation
9:00 pm: John Scofield Trio with Steve Swallow &

Bill Stewart
Click on Monterey Jazz Festival for details on tickets, schedules and other great happenings at Monterey. I hope to see you there!!!!!!!!!!!!!
LeRoy Downs